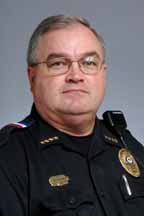 Lynn Buford
Delta State's Chief of Police Lynn Buford recently joined other law enforcement officials from Mississippi and Louisiana attending the second annual FBI Regional Command College located on the campus of The University of Mississippi.
The Command College was made possible by a joint collaboration process from the FBI and the Mississippi Association of Chiefs of Police. According to Executive Director of the MACP, Ken Winter, the Command College opened many new doors of communication and training for the 56 state law enforcement attendees from agencies both big and small.
"It gave some small town chiefs and departments that include only 5 or 6 men the opportunity to receive a level of training that they would not otherwise get," Winter said. "You had small departments and large departments along with state police, representatives from the Bureau of Narcotics, and several Sheriffs here. Throughout the week we also gave them the opportunity to have an interchange of ideas and open up the lines of communications."
FBI Special Agent Steven Godfrey, Sr., said the Command College is a form of training much like LEEDS, the Law Enforcement Executive Development Seminars, a two-week seminar for executives that requires them to travel to Quantico, Virginia for training. The seminars only accommodate 30 students at three different times during the year. However, according to the FBI's website, approximately 80 percent of the law enforcement agencies in the United States have fewer than 25 sworn officers. Godfrey said the FBI knew they were leaving many of these agencies out of the mix.
"Several years ago the FBI realized we were not reaching medium and small departments who could not afford to send their chiefs, sheriffs or executives to Virginia," he said.
In response, the FBI created the concept for local Command Colleges where small town agencies may send officials to receive a week of training in three basic areas: leadership, ethics and legal instruction. Godfrey said the instructors of the Command College were from either the local field office or from the FBI Academy in Virginia.