Affirmative Action and Equal Employment Opportunity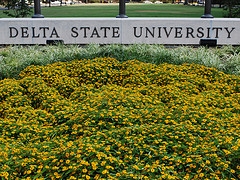 Welcome to the home page for the Affirmative Action and Equal Employment Opportunity for Delta State University. Human Resources is responsible for the implementation, monitoring, and evaluation of the University's Affirmative Action Program and to ensure compliance with all federal regulations. Human Resources is responsible for investigating complaints of discrimination and serves as a liaison between the university and federal enforcement agencies concerned with equal opportunity and non-discrimination.
---
Equal opportunity in employment is governed by a variety of federal laws. The major applicable federal laws are Title VII of the Civil Rights Act of 1964, the Americans with Disabilities Act, Rehabilitation Act, Age Discrimination in Employment Act, Equal Pay Act, and Vietnam Era Veterans Readjustment Assistance Act (VEVRAA). These laws prohibit discrimination in all terms and conditions of employment – including hiring, compensation, training, promotion, and termination – based on race/ethnicity, color, national origin, sex, disability, veteran's status, and age. The majority of these laws are enforced by the federal Equal Employment Opportunity Commission (EEOC).
In addition to those mentioned above, equal opportunity in higher education is also governed by Titles VI and IX.  Like their employment law counterparts, these laws collectively prohibit discrimination in educational programs or activities based on race, national origin, and sex. These laws are enforced by a division of the Department of Education known as the Office for Civil Rights (OCR).
Affirmative action in employment applies to federal contractors such as Delta State University and is governed by Executive Order 11246. Essentially, Executive Order 11246 prohibits discrimination by contractors based on race, sex, color, and national origin, and requires federal contractors to prepare annual Affirmative Action Programs (AAPs). Executive Order 11246 is enforced by a division of the Department of Labor known as the Office of Federal Contractor Compliance Programs (OFCCP). At Delta State University, Human Resources prepares annual AAPs for faculty, staff, and individuals with disabilities & veterans.
Affirmative action does not require any employer or educational institution to hire or admit any certain individuals. The concept of affirmative action in employment is for employers to rid themselves of obstacles that might prohibit minorities and women from receiving fair treatment and to produce applicant pools of diverse and qualified individuals from which to select employees. The concept of affirmative action in educational admissions essentially allows educational institutions to consider race as one factor in making an individualized consideration of applications.
Office of Civil Rights
Region IV – Atlanta (Alabama, Florida, Georgia, Kentucky, Mississippi, North Carolina, South Carolina, Tennessee)
Office for Civil Rights
U.S. Department of Health and Human Services
Atlanta Federal Center, Suite 3B70
61 Forsyth Street, S.W.
Atlanta, GA  30303-8909
Phone: 404-562-7886
Fax: 404-562-7881
TDD: 404-331-2867
1. What are my basic Civil Rights?
As an employee or student, you have the right to be treated equally regardless of :
age
race
color
national origin
disability status
gender
religious beliefs
sexual orientation
2. What are "Protected Classes"?
In the employment recruitment process, members of the "Protected Classes" include
Asian-Americans
African-Americans
Native Americans
Females
Vietnam-era veterans
Hispanics
People with disabilities
3. If I think my rights have been violated, who do I contact?
Please visit or contact Human Resources at Kent Wyatt Hall 249, or call 662-846-4035.