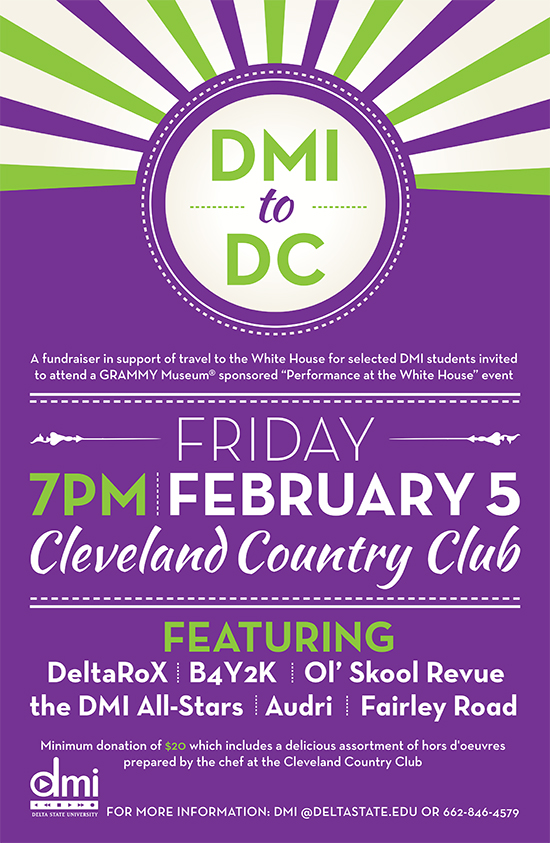 A Mardi Gras themed fundraising music show will be held at the Cleveland Country Club Feb. 5 at 7 p.m. The DMI All-Stars, a select group of DMI entertainment industry majors, will perform music in a variety of genres as they prepare to perform at Mississippi Night during GRAMMY Week in Los Angeles the following week. Also appearing will be DMI bands Ol' Skool Revue, DeltaRoX, B4Y2K, Americana trio Fairley Road, and soul/hip-hop artist Audri.
The event is a fundraiser to benefit 10 DMI students who have been offered the opportunity to travel to Washington, D.C. next month to attend the educational program "The Music of Ray Charles." The program, which will be held Feb. 24 at the White House, is sponsored by the GRAMMY Museum® at L.A. Live. The students' trip to the nation's capital will also include several tours around Washington.
Funds raised from the evening of performances will help cover the students' travel expenses. A suggested minimum donation of $20 will be accepted at the door.
"Everyone is invited to come out and support the DMI program by enjoying great music, food, beverages and time with friends," said Tricia Walker, DMI director. "The chef of the Cleveland Country Club will prepare complimentary hors d'oeuvres and there will be a cash bar."
For more information, contact the DMI at 662-846-4579.
The DMI is an independent center of study under the College of Arts & Sciences at Delta State University, offering a bachelor's degree in entertainment industry studies. The focus of the DMI is to provide students with a broad and thorough education in the technological, creative and business areas of the music and entertainment industry. For information, visit http://dmi.deltastate.edu.