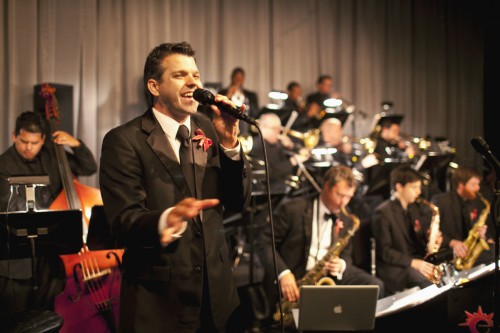 Jeremy Davis, Clay Johnson and their fiery hot 17-piece big band Fabulous Equinox Orchestra, will perform at the Bologna Performing Arts Center on the campus of Delta State University Oct. 20 at 7:30 p.m. The event will also feature a pre-show dinner and live music in the Jimmy & Hazel Sanders Sculpture Garden.
All across America, audiences have fallen in love with these two sophisticated Southern gentleman and their high-energy show. Along with the greatest songs, the best original arrangements, and phenomenal musicianship, the duo brings their rich friendship and charm to the stage.
Fashioned in the style and swagger of legendary entertainers like Frank Sinatra, Davis and Johnson are putting their own stamp on the great American songbook, graced with a touch of Motown, Ray Charles, Johnny Cash, Elvis and more. The show offers a freshness and relevance that speaks to every soul.
Prior to the show, the sculpture garden will feature a special dinner and live music. Delta Meat Market will be cooking on site offering select items for purchase. Tours will also be available of the recently installed sculptures in the garden. Dinner is scheduled from 5:45-7:15 p.m., and the main performance begins on stage at 7:30 p.m.
Tickets to the show are $25-35 and are available at the BPAC Ticket Office, open Monday-Friday 10 a.m. to 5 p.m. Call 662-846-4626 or purchase tickets online at www.bolognapac.com. Tickets to the performance are not required to attend the dinner, as food purchases may be made on site.
For more information, stop by the Bologna Center Ticket Office, call 662-846-4626 or visit www.bolognapac.com.