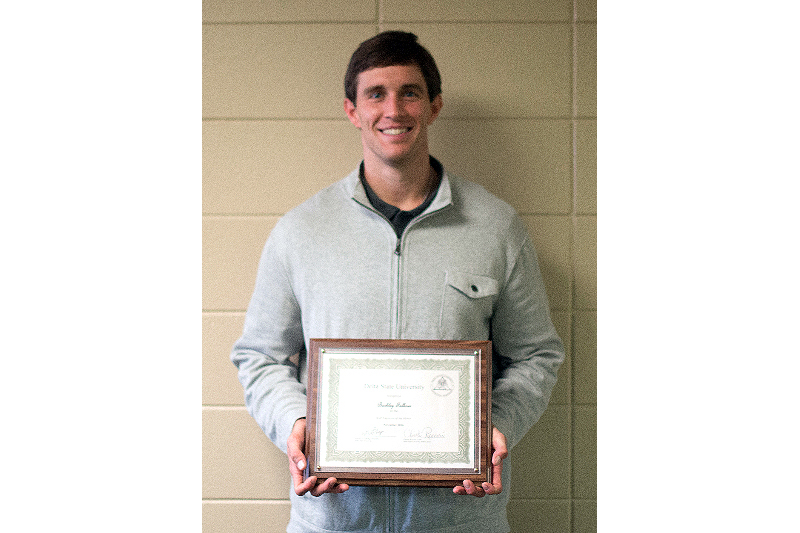 The Delta State University Staff Council recently honored Barkley Falkner, compliance and operations coordinator for DSU Athletics, as the November 2016 Employee of the Month.
Barkley, an Oxford native, is entering his third year in the position. He is a 2009 graduate of Sam Houston State University with a Bachelor's of Business Administration in accounting. He obtained his Master of Science degree in sports administration from Delta State this past May.
"I would like to thank whoever nominated me for this award and everyone I would work with — because it is truly a team effort on a day-to-day basis," said Falkner. 
Before coming to Delta State, Falkner spent five seasons playing professional basketball abroad in Denmark, Germany, Slovakia and Uruguay. In his spare time, he loves being active in the outdoors and helping run the family-owned business Falkner Farms.
Each Employee of the Month winner receives a plaque, monetary award, an engraved insulated coffee mug, a free parking decal courtesy of the Campus Police Department, a box of treats from The Sweetery, a parking spot of their choice, marquee announcement and website recognition.
Delta State's Staff Council serves as a liaison between the administration and the staff to provide a formal process for staff to discuss issues involving university policies and procedures and to forward ideas, recommendations and opinions to the president.