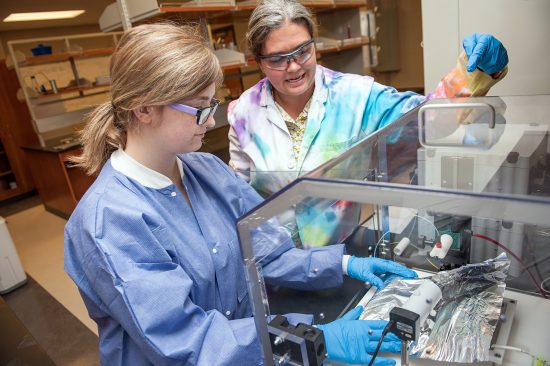 Dr. Sharon K. Hamilton, assistant professor of chemistry, recently coordinated a two-week research experience at Delta State University for Sarah Tierce, a rising senior at the Mississippi School for Mathematics and Science in Columbus.
Tierce, a Cleveland native, also worked with Katie Penton, a graduate student in Hamilton's lab, as they explored the creation of a new degradable nanofiber that can be used in biomedical applications such as drug delivery and wound healing.
Tierce's experience is part of a renewed effort to reestablish connections between the Delta State University Chemistry and Physics Department and the science faculty at the Mississippi School for Mathematics and Science.
"Dr. Elizabeth Morgan, a chemistry teacher at MSMS, and I worked together to make this high school research experience possible," said Hamilton. "Dr. Morgan helped identify interested and motivated students that would benefit from working in a research lab over the summer. I believe Sarah, a rising senior at MSMS, gained great insight into what research means and how a research lab functions."
Hamilton added that this experience provides a great opportunity for high caliber students to learn about Delta State and its great learning atmosphere on campus and in the department.
"Moreover, this provided a chance for one of my graduate students, Katie Penton, to provide mentorship to a younger student — an invaluable skill in the workforce," said Hamilton. "I would love to host more high school students in my lab. I believe it gives students a cutting edge when it comes to college applications, and it puts Delta State at the forefront of their mind when applying for colleges their senior year."
The research is a collaborative effort between Hamilton and Dr. Gisela Buschle-Diller in the Department of Biosystems Engineering at Auburn University. The work is supported by the Mississippi INBRE, funded by an Institutional Development Award from the National Institute of General Medical Sciences of the National Institutes of Health under grant number P20GM103476.
Dr. Joseph Bentley, chair of the Department of Chemistry and Physics at Delta State, was also thrilled to rekindle the relationship with MSMS.
"Our department is very pleased to have a student from MSMS doing research with Dr. Sharon Hamilton this summer," said Bentley. "Dr. Hamilton is our new organic chemist and is doing exciting polymer research. This collaboration is just one of several efforts reestablishing a connection with MSMS that our department enjoyed previously, in large part thanks to Dr. Henry Outlaw, who was instrumental in maintaining the DSU/MSMS relationship. In the past, faculty from MSMS helped DSU host education workshops for local Delta teachers and this is a tradition the Department of Chemistry and Physics and MSMS look forward to renewing. In the future, we hope to host more MSMS students in research experiences at Delta State."
Learn more about the department at http://www.deltastate.edu/artsandsciences/chemistry-and-physics.