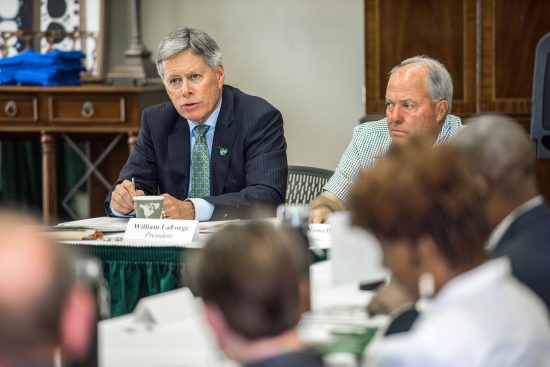 Mayors from across the Mississippi Delta recently gathered at Delta State University for the third annual Delta Mayors' Summit hosted by President William N. LaForge.
The university invited the mayors as a way to engage in discussion about campus and community activities, and to continue forging collaborations and partnerships in the Delta.
"It was a pleasure to host the third Delta Mayors' Summit on our campus," said LaForge. "I always enjoy the opportunity to visit with our local mayors, hear about their activities, and learn how Delta State can be engaged with them in partnerships. We are collaborating to ensure continued improvement of local government management."
LaForge was excited to build on the success of previous summits, a conference he instituted after becoming president in 2013.
This year's meeting focused on campus updates, a summary of university initiatives, topics for Delta State's annual race relations conference, student recruitment, as well updates from a number of campus leaders.
The mayors in attendance also had an opportunity to discuss common challenges and successful initiatives in their respective communities, and agreed that it is important for them to have open dialogue in order to continue to improve the region's opportunities and quality of life.
"I look forward to continuing our collaboration with the mayors of the many municipalities in the Delta," added LaForge.
Follow all Delta State University news at www.deltastate.edu.