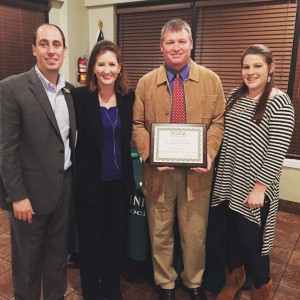 The Delta State University National Alumni Association recently held its annual South Central Mississippi Chapter event in Brookhaven. This year, the chapter recognized Dr. Bob Watson '89 as its Outstanding Alumnus of the Year.
Originally from the Delta, Watson graduated from Cleveland High School and Delta State University before graduating from Mississippi State College of Veterinary Medicine in 1994. In 1996, he married Dr. Dianne Watson, also a veterinarian. Together, they own Brookhaven Animal Hospital.
Watson was selected as Mississippi's Young Veterinarian of the Year in 2004. He served as vice president of the Mississippi Veterinary Medical Association in 2009 and as president of the MVMA in 2010.
He and Dianne attend Mt. Zion Baptist Church, where he serves as a deacon. When not following his children's' ballgames or rodeos, Watson enjoys hunting and fishing.
Over 50 alumni and friends attended this year's event at Mitchell's Steak and Seafood, with 11 prospective students in attendance.
Alumni Director Jeffrey Farris gave a report on the university. Assistant Alumni Director Jordan Thomas was also in attendance and streamed the entire program live on Periscope. Sponsors for this year's event were: WGK Engineers and Surveyors, Inc., Nena Smith School of Dance, Trustmark Bank and Magnolia Electric Company.
To view photos from the affair, visit https://www.flickr.com/photos/dsualumni/albums/72157664530756642.
To stay up to date on the Alumni Association's activities, follow these social media sites: Facebook (Statesmen Graduates), Twitter (@DSU_Alumni), Tumblr (http://www.dsualumni.tumblr.com), LinkedIn (DSU alumni), Instagram (dsualumni) and You Tube (dsualumni1). Save the date for this year's Go Green Weekend (April 2), Pig Pickin' (Sept. 24) and Homecoming (Oct. 15).