CLEVELAND, Miss.— Following the national holiday in his remembrance and on the cusp of the presidential inauguration, Delta State University paused for a candlelight ceremony in honor of one of the nation's most revered civil rights leaders, Dr. Martin Luther King, Jr.
Sponsored by DSU's Office of Student Life, the ceremony was hosted Tuesday, Jan. 19, at 6:30 p.m. in Jobe Auditorium. It was also streamed live on the DSU Office of Student Life's Facebook page.
The event, themed "Remembering the Light," was an opportunity for the DSU students, faculty, staff, and community members to reflect on the profound impact of King's legacy—even today.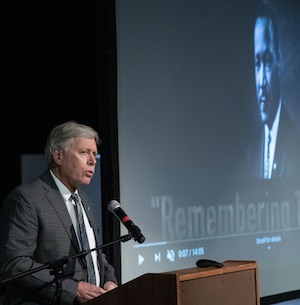 "He was such a visionary in so many ways," said Delta State President William N. LaForge as he welcomed those in attendance, both in-person and virtually. "He was a crusader who brought important messages, very important communications, to this country particularly in a time of great need…how timely are those messages remain today."
LaForge noted that the observance of MLK Day is chance for us to not only commemorate King, but to also continue his work.
"This is a chance for us to dream—to dream a bit bigger, to dream a bit more—about how things really should be. It's a fair challenge for us to say, 'we have a dream' because those dreams can only turn into reality if we make them work," he said.
During the event, program participants lit candles in King's honor. The candles represented unity, faith, harmony, dream, life, liberty, and healing.
"This celebration of Dr. King's legacy is important—not simply to reflect on the life and work of a good man who led a movement, but one who moved this nation forward," said Jonethia Coleman, president of DSU's African American Student Council. "We want to remember Dr. King and the Civil Rights Movement for what was accomplished in the fight against segregation, poverty and war."
DSU SGA President Richard Word agreed on the importance of the ceremony, noting King's commitment to harmony.
"Throughout his life and career, Dr. King championed harmony between all people," he said. "Dr. King is quoted as saying 'let no man pull you so low as to hate him.' Hate and harmony are very opposite. As Americans, we should seek harmony with our fellow man—now more than ever."
During faculty remarks, Michelle Johansen, DSU's coordinator of Diversity, Equity, and Inclusion, said that despite King's untimely death, he left us a rich, vast library of sermons, speeches, interviews, and insights into his progression from a young twenty-five-year-old pastor in Montgomery, Ala., to the most recognizable figure in the civil rights era by 1968.
"For this Martin Luther King celebration in 2021, after all we have seen and gone through in the last year … I hope we will all keep 'calling each other in'… that we extend grace to each other when we try but fall short," she said.
Other program participants included an introduction of the president by student Davonte Henderson; prayer by DSU Assistant Director of Housing/Youth Pastor Willie Grant; a musical selection by student Jayla Isom, accompanied by Rejohn Toten; and remarks by DSU Interim Vice President of Student Affairs Dr. Kurt. Keppler.
DSU's Director of Student Development Rochelle Owsley closed the program by leading the audience in a rendition of "We Shall Overcome."
"We all have light within us," she said. "I want you to think about your light and letting your light shine, and hopefully we'll one day be celebrating your dreams as well."