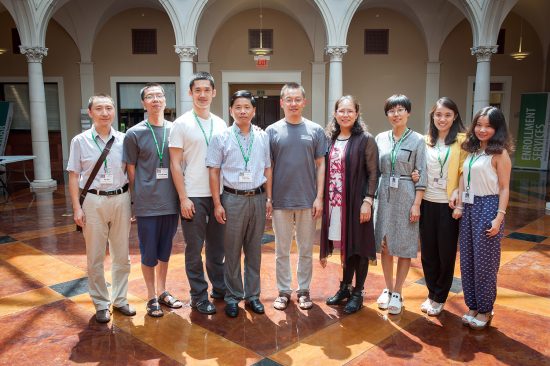 A group of nine faculty members from Anyang Institute of Technology in Anyang, China are visiting Delta State for an intensive two-week exchange program, as both universities will explore future international exchanges.
The trip, being coined as China Summer Camp, is the result of a partnership that Dr. Charles McAdams, Delta State provost and vice president for Academic Affairs, helped form after visiting AIT earlier this year.
The AIT delegation, which arrived July 3, will be on campus until July 16, and their visit will focus on exploring U.S. higher education, Southern culture and study abroad opportunities for students.
The first week has focused on specific aspects of Delta State and Mississippi Delta Chinese heritage. The second week will mainly pertain to U.S. business practices, community tours and events.
"I am very excited for Delta State to hold its first summer camp for Chinese faculty," said McAdams. "This training workshop is another result of the partnership agreement we established with AIT this past spring during my recent trip to China. We are partnering with AIT in order to attract their students who wish to finish their degree at an American university.
"We also provide summer training workshops for faculty to help them understand our educational system in hopes that they will send their students here to study. Our plan is to have a camp next summer for students to help them prepare for studying in an American university. These camps are a benefit to their students and to DSU."
McAdams added that not only is there a potential for increasing enrollment, but Delta State is also providing the opportunity for its students and faculty to learn about other cultures though direct contact with Chinese faculty and students.
"Dr. Christy Riddle and the Office of International Student Services in the Student Success Center, along with faculty in the College of Business, have done a fantastic job of planning and administering this workshop," said McAdams.
Riddle is thrilled to host a new group of foreign visitors on campus, as Delta State continues to build its international relations.
"This visit is another opportunity for DSU to expand its international efforts to establish partnerships that will allow our students to study abroad," said Riddle. "We hope this is the beginning of continued collaboration. We are designing a summer camp for next summer to host students from China who are interested in studying abroad at DSU in the fall of 2017. Additionally, we plan to formalize the partnership to encourage international exchange opportunities for DSU faculty, students and staff."
This is the first trip to the U.S. for all of the AIT faculty participants, all of whom are business faculty. Their fields include: management, marketing, logistics management, accounting, finance, business negotiations, international trade, and electronic commerce.
Yupeng Li, an AIT participant in the camp, has enjoyed the experience thus far.
"Our city in China is actually very similar," said Li. "And I find many things in common with our universities too. We see that everything is about agriculture in Mississippi, and our province is the same. The people here are very friendly and generous. I really like it."
Anyang is one of China's most historic cities, and is considered one of China's seven ancient capitals. Similar to the Mississippi Delta, Anyang has been a long-time regional agricultural center.
AIT was founded in 1983, and is a non-profit public higher education institution. The university offers bachelors, masters and doctoral degrees in arts and humanities, business and social sciences, language and culture, medicine and health, engineering, and science and technology.