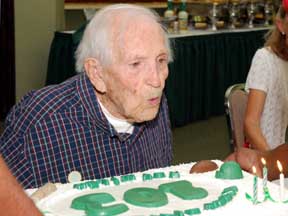 Roy Lee Wiley, Delta State associate professor emeritus of physics, from Greenville, who will turn 103 on June 17, was treated to a birthday party by friends, family and Delta State University faculty and staff.
Wiley began his teaching career at Delta State in 1942 and retired in 1975. He taught physics, astronomy, electronics, radio and physical sciences. He has been a loyal member of the Lion's Club for more than 50 years. He continues to be a supporter of Delta State and a fan of Delta State athletics.
The Delta State Planetarium was named in honor of Wiley and in memory of his wife, Clara Belle. Wiley was also honored with a lecture series named in his honor. The Roy Lee Wiley Lectures are held in conjunction with the Elliott-Nowell-White Science Symposium at Delta State.
Dr. Pete Walker, Delta State professor emeritus of educational administration and supervision and colleague of Wiley, said: "Roy is and always will be an asset to Delta State. He is an outstanding gentleman who has tasted the good the world has to offer. To really know Roy well, one would have had to be one of his students and gained from his knowledge, personality, and passion."
About 50 friends of Wiley attended his birthday celebration luncheon held on Monday, June 14, in the Hugh Ellis Walker Alumni House at Delta State.