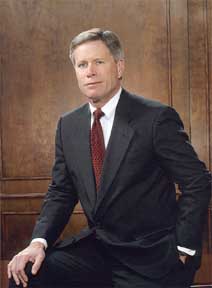 Bill LaForge
The Madison Center at Delta State University will honor Constitution Day, Thursday, Sept. 14, with an address from recently elected Federal Bar Association President and Delta State University alumnus, Bill LaForge. The event will be held in the seminar room of the Capps Archives Building on campus at 12:15 p.m.
A required day of observation for institutions receiving federal funds, Constitution Day was founded under the statutory requirement of the "Consolidated Appropriations Act, 2005" Section 111(b), which cites each "educational institution that receives Federal funds for a fiscal year shall hold an educational program on the United States Constitution on September 17 of such year for the students served by the educational institution."
LaForge was just sworn in as the National President of The Federal Bar Association (FBA) and chairman of its board of directors at a recent ceremony in Las Vegas, Nev. Headquartered in Washington, DC, the FBA is the only nationwide bar association that concerns itself exclusively with federal jurisprudence, and it works closely with the federal judiciary to ensure the independence of the Third Branch.
Professionally, LaForge is an attorney and shareholder with the law firm of Winstead Sechrest & Minick in Washington, D.C. A registered lobbyist, he specializes in federal government relations, and represents businesses and other organizations with public policy interests before the United States Congress and federal executive branch agencies. For 30 years, he has been involved with the public policy arena at local, state and federal levels. From his early days as a prosecutor and a deputy chancery court clerk in the Mississippi Delta to 14 years as a senior congressional policy advisor in Washington, coupled with 16 years in private practice, he has extensive experience in the processes of government.
A native of Cleveland, Miss., he graduated with honors from Delta State University. He earned his law degree from the University of Mississippi School of Law, received an LL.M. in international law from Georgetown University, and studied international law at Cambridge University. He received fellowships to study government and public policy in the European Union and at the Kennedy School of Government at Harvard University.
While a student at Delta State, Mr. LaForge was a faculty scholar, president of the student government association, and charter president of Omicron Delta Kappa national leadership honorary. He was a co-founder of the Student Body Presidents Council of Mississippi, a first-place medalist in national intercollegiate debate, and a Mississippi Youth Congress award winner. He was selected for inclusion in Who's Who Among Students in American Universities and Colleges, was chosen as one of his college fraternity's most outstanding undergraduates in the nation, and was one of the first four students inducted into Delta State's Student Hall of Fame, which he founded. He was also selected Delta State's Outstanding Alumnus of the Year in 1992.
An avid runner and a triathlete, LaForge has completed 60 marathons, including 24 Boston Marathons, while logging more than 60,000 miles of running. He was named 1999 Athlete of the Year by the University Club of Washington. He and his wife, Nancy, have two children – Caroline, a second-year law student at Creighton University, and Clayton, a senior at Emory University. They reside in Oak Hill, Virginia, near Washington, D.C.
Just recently, the William N. LaForge Scholarship was established through the Delta State Foundation by friends of LaForge's in honor of his service as National President of the Federal Bar Association. The scholarship is intended to provide a cash award to a Delta State pre-law student who shows promise of achievement in the pursuit of legal studies and who intends to enroll in law school.
In celebration of the inaugural Constitution Day, Secretary of State Eric Clark visited campus and discussed an overview of the rights protected by the U.S. Constitution. The event was also presented by The Madison Center.
The Madison Center is a center for the study of democracy, human rights and the Constitution. For more information, please contact Dr. Garry Jennings at (662) 846-4107 or at jennings@deltastate.edu.