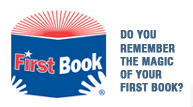 Aligned behind a most worthy and important goal of providing children from low-income families the opportunity to read and own their first new books while working to combat illiteracy in the region, the Mississippi Delta has formed a local First Book Advisory Board.
A national non-profit organization with a singular mission of providing children from low-income families the opportunity to read and own their first new books, First Book provides an ongoing supply of new books to children participating in community-based mentoring, tutoring and family literacy programs.
Founded in 1992, the First Book model was developed to leverage the work of local heroes who reach children through existing literacy programs in a variety of settings, such as Head Start centers, libraries, soup kitchens, churches, housing projects and after school initiatives. Working through this vast network of organizations, First Book plays a critical role in transforming the quality of preschool and after-school programs nationwide.
First Book's model is national in scope and local in impact. In its first year, First Book distributed approximately 12,000 books in three communities. Since that time, First Book has distributed more than 40 million books to children in over 1,300 communities around the country.
Formed through an effort on the part of citizens concerned about literacy in the Delta region, the First Book – Mississippi Delta Advisory Board includes Kay Stricklin of the Delta Center for Culture and Learning at Delta State University; Audrey Pearson, Director of the Bolivar County Library and Bolivar County Literacy Council; Ora Jackson, Director of Family Service for Bolivar County Community Action Agency; Showen Herring, Program Director for Delta Reads Partnership/Center for Community and Economic Development at Delta State University and Frieda Quon, Instructional Resources Librarian at Delta State University.
First Book – Mississippi Delta will reach out to literacy programs in schools, libraries, after school programs and other community based programs to provide books free of charge to children in need. The board is in the process of planning events to raise awareness of the needs with in the community and to raise funds and distribute books. Through the national First Book program, the new board already has access to 4,000 books for distribution in the Mississippi Delta.

Stricklin, board chair, offered, "This is an effort that brings together a number of established groups who have experience in literacy programs. We are seeking to collaborate on rather than duplicate our projects and thereby reach more children and families.
"By partnering with First Book, we increase our capacity both financially and energetically," she continued. "First Book has developed a marvelous network to support the local and regional boards. They provide all manner of clerical and organizational assistance as well as all-important access to the large supplies of new books at no cost to the recipients. We are delighted to be awarded Advisory Board status."
For more information on First Book, please visit www.firstbook.org or to contact the local chapter, please email delta_ms@firstbook.org. Interested parties can also contact Stricklin at (662) 846-4311.