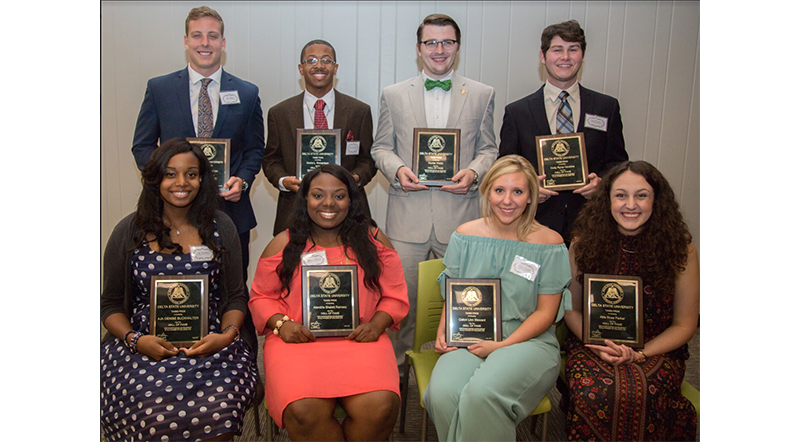 The Class of 2017 DSU Student Hall of Fame (front row, left to right): Aja Buckhalter, Alandria Ramsey, Cailon Steward, Allie Rose Parker, (back row, l to r): Tyler Sullivan, Undra Richardson, Hunter Webb and Cody Hawkins.
The Office of Student Affairs recognized student achievement May 5 at the annual DSU Student Hall of Fame banquet.
The DSU Hall of Fame began in 1972 as a way to recognize outstanding students. It is the single highest honor bestowed upon any Delta State student based on outstanding accomplishments in all phases of college life.
This years inductees include: Aja Buckhalter, business administration (Madison); Cody Hawkins, HPER (Olive Branch); Allie Rose Parker, biology/political science (Olive Branch); Alandria Ramsey, HPER (Hernando); Cailon Steward, nursing (Senatobia); Tyler Sullivan, chemistry (Louisville); Hunter Webb, political science (Southaven); and Undra Richardson, child development (Hollandale).
"The Student Hall of Fame is a wonderful way to recognize students who have been scholars and have exhibited a civic and social conscience throughout their matriculation at DSU," said Dr. Vernell Bennett, vice president for Student Affairs. "This honor affords students an opportunity to leave a legacy at DSU that will be recognized  forevermore. This year's inductees have distinguished themselves in the classroom, in student organizations, in athletics, and in the local community. We're proud of, and grateful for their many contributions to DSU and its community."
Also recognized at the banquet were Madison Nash, a speech pathology from Tupelo, as the winner of the Wayne Blasnett Award, and Hannah Goudy, a nursing major from Southaven, recipient of the H.L. Nowell Student Alumni Award.

Wayne Blasnett Award recipient Madison Nash (left to right), Dr. Wayne Blansett, H.L. Nowell Student Alumni Award winner Hannah Goudy and Jeffrey Farris.