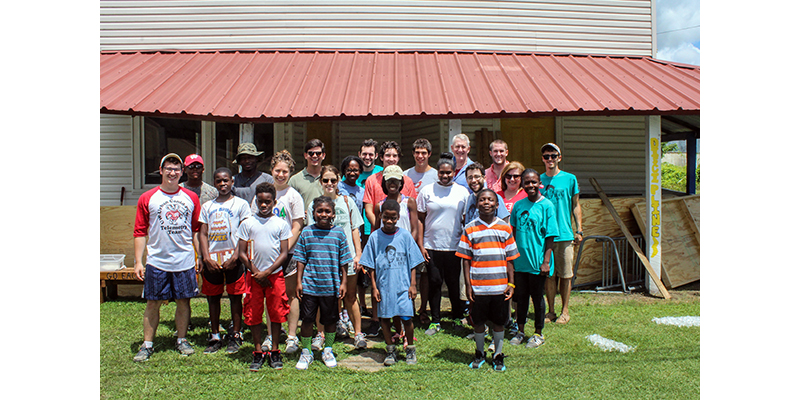 The Teach For America Graduate Fellows Program at Delta State University hosted their first Service Day on June 3 at the Rosedale Freedom Project (RFP) in Rosedale.
Two current fellows, Jeremiah Smith and Lucas Rapisarda, have dedicated their social entrepreneurship project to serving the RFP, a leadership program that works to prepare middle and high school students to be leaders in their schools, communities and collegiate pursuits.
The fellows, RFP and a group of volunteers came together to support cleanup efforts at RFP. They were joined by friends and families, RFP students, RFP summer interns from around the country, and doctoral candidates who teach during the Freedom Summer. The group spent the day preparing RFP for Freedom Summer 2017 by revitalizing the basketball court, cleaning the inside of the building, classrooms and library, and working in the RFP garden.
Each summer, RFP hosts Freedom Summer, a five-week summer school program, offering seventh through ninth grade Freedom Fellows rigorous instruction in reading and math; creative opportunities in visual arts and drama; and access to health and wellness training through fitness, gardening, and a healthy lunch program. After completing the academic portion of the summer, Freedom Fellows travel to Alabama, Arkansas and Tennessee to camp in the wilderness, visit civil rights monuments and museums, and learn more about the deep history of empowerment and social justice in the South.
Smith said he was thrilled to utilize joint resources between Delta State and TFA.
"The Teach for America Graduate Fellows program has allowed me the opportunities and resources necessary to make the Rosedale Freedom Project a reality," said Smith. "The support, resources and education that I've benefited from at Delta State has helped me to organize community members, build a strong and diverse staff, enlist supporters, and plan a rigorous summer program that promotes leadership within the community.
"At the RFP, young people take ownership over their growth as leaders and community members. Opportunities like the Service Day are perfect demonstrations of how our fellows and our staff see their role in Rosedale holistically — we do not simply provide fellows with educational opportunities. Rather, we contribute to and engage with the community; we strengthen intergenerational and interracial bonds; and we bring vision, drive and passion to the challenging but rewarding task of social change."
Harrison Wood, program coordinator for the Teach For America Graduate Fellows Program, was thrilled to see progress made through the fellowship.
"Thanks to support from the Hearin Foundation, Delta State and TFA came together to make these partnerships possible," said Harrison Wood, program coordinator. "The TFA Graduate Fellows Program provides TFA alumni the opportunity to continue their education in Delta State's graduate school, while also helping to reimagine what is possible for Mississippi. Each TFA Fellow works on an individualized social entrepreneurship project that will ultimately have positive social impact in communities throughout Mississippi."
Learn more about program at http://www.tfafellows.com.