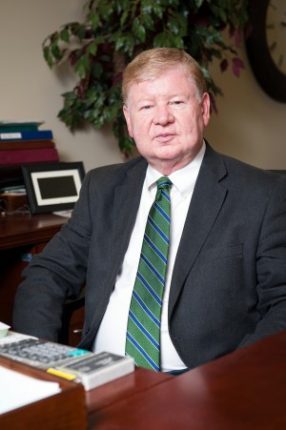 The Delta State University flag flew at half-staff from Sunday, August 20, 2023, through sunset Tuesday, August 22, 2023, in memory of Vice President of Student Affairs Emeritus, Dr. Wayne Blansett ('73, '74, '88). Dr. Blansett passed away Friday, August 18, due to complications from a nine-year battle with Vascular Dementia. He was 72.
Dr. Blansett began his career by working in Student Affairs at DSU, first as a Resident Assistant, then in 1975, becoming Assistant to the Dean of Students.  He went on to serve the students as Associate Dean of Students, Dean of Students, and ultimately as Vice President of Student Affairs. Dr. Blansett retired from Delta State in 2015.
Fondly known as "Dr. B.," Dr. Blansett was a role model and mentor for countless Delta State students. After his retirement, Delta State's new men's dormitory, Blansett Hall, was named in his honor to recognize his 40 years of dedication to the institution.
As stated in his obituary, "Some men's lives cannot, and should not, be measured by their service to their community or their employer. Instead, some men should be judged by their impact on others. Wayne Blansett was such a man." The full obituary can be viewed on the Ray Funeral Home Website.
Long-time co-worker Julie Jackson, Director of Housing and Residence Life said, "Dr. Blansett always encouraged you when you were down, picked you up when you needed it, and he also knew how to help right your wrongs. You could laugh with him, and also cry with him. His genuine passion for the student as a human being was unmatched by anyone. We are all better statesmen because he shared his wisdom with us and forged lifelong friendships with everyone."
Dr. Blansett's impact upon Delta State University cannot be overstated. Ronnie Mayers, Director of Delta State Athletics – Emeritus said, "Wayne was one of the good ones. We were friends for over 50 years. He was always there for me. He helped thousands of Delta State students adjust to college and go on to graduate. One of his most outstanding traits was that he cared about the students and Delta State. His legacy lives on in all the people he came in contact with over the years."
Our thoughts and prayers are with the Blansett family, and we are grateful that Dr. Wayne Blansett was such a fundamental part of ours for so long.