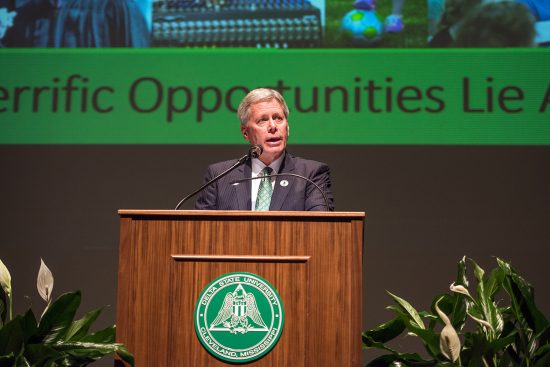 Delta State University President William N. LaForge delivered his annual State of the University address during opening convocation today at the Bologna Performing Arts Center on campus.
The address was titled "A Vision of Excellence" and began with a welcome to faculty and staff at the start of Delta State's academic calendar.
LaForge characterized the state of the university as "strong and stable."
"We have made solid advances in several key areas of endeavor," he said. "As the saying goes, we are trending in the right direction — onward and upward."
The president highlighted Delta State's continued efforts to improve and stabilize its budget situation, a second consecutive year with an enrollment increase, the first pay raises for faculty and staff in four years, and the implementation of a visioning process that will lay the groundwork for the university's future.
A major area of focus in his speech was the budgeting challenges the institution has faced in recent years, including two unexpected mid-year budget cuts by the state in 2015-16.
"Because we have put our financial house in order through prudent budgeting and spending, we are able to absorb the recent $435,000 reduction in state support, as well as a three percent cut equating to an additional $725,000 less in state funding in our new budget, all without any reductions to programs or personnel on campus," said LaForge.
With savings the university is realizing from outsourcing campus health services, previous program reductions, and other efficiencies, Delta State is continuing to make headway in another focus area for LaForge — pay raises for faculty and staff. Efforts will continue to bring salaries to at least minimum levels of compensation based on regional market comparisons.
In this year's facilities and equipment budget — completely separate from Delta State's general operational budget — the university is providing funding in the following areas:
– science building furniture and equipment
– renovation and furniture replacement in the Union
– a new power generator for Bailey Hall to back up technology services
– temperature control upgrades in Broom, Gibson-Gunn and the Union
– pre-planning and design for a new president's home
– security camera equipment for residence halls
– a chiller upgrade
– roofing repairs on a number of buildings.
Grander scale projects that will commence this year include major renovation of the dining hall and Zeigel Hall, razing of the old president's home, and the building of Statesmen Boulevard connecting Highway 8 to the athletic complex.
Beyond this year, LaForge also outlined the detailed visioning process that will guide Delta State to a better and brighter future.
"Our mission has been to look forward and help determine where and what Delta State should be three, five, 10 and 25 years down the road," he said.
LaForge explained the 10 elements of priority in the visioning process:
– academic excellence and student success
– providing a student-centric focus
– establishing a solid business and financial platform
– increasing efforts in the areas of marketing and student recruitment
– pursuing new revenue and funding streams
– providing programs that encourage a lifelong Delta State experience for graduates
– complementing the academic mission with first-class intercollegiate athletic experiences
– embracing and enhancing the distinguishing factors that define Delta State
– promoting and embracing traditional core values
– embracing community engagement and programs.
"This visioning process has given us a good jump-start on our future," said LaForge. "But to elevate our game and support our vision for the future, we will certainly need significantly more revenue than provided by the State and generated by tuition. It is very clear that we will need substantial private resources to pursue our dreams. The plans for a major fundraising campaign are already underway through the good work of the Delta State Foundation."
"With our vision to guide us, let us continue to think and act boldly and wisely, while marshaling all the resources we can to move Delta State toward excellence," he added. "We are off to a great start. Terrific opportunities lie ahead for us. It is now time to create the path that will guide us to our vision."
Visit www.deltastate.edu to stay updated on university news and event coverage.