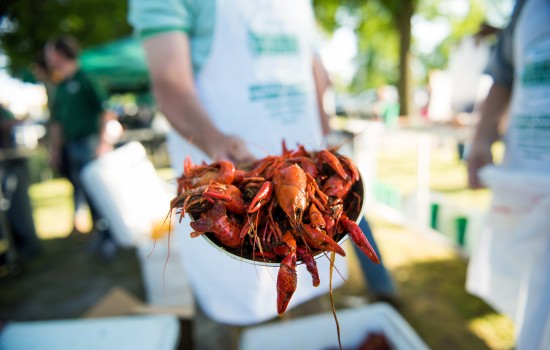 The Delta State University Alumni Association held its annual Bolivar County Alumni Crawfish Boil April 27 in front of Walter Sillers Coliseum.
"This year's crawfish boil was a smashing success. The Alumni Association staff did a fabulous job, and everyone readily got into the spirit of the event," said Delta State President William N. LaForge. "The great entertainment, food and large attendance by loyal alumni and friends of Delta State combined with a perfect location and ideal weather to make a fun event for all."
This year's event featured crawfish, BBQ and free pizza for children 12 and under thanks to Domino's. Entertainment for the night was provided by Southern Halo, CE All Stars and Fusion Gymnastics.
LaForge, head football coach Todd Cooley and Jeffrey Farris, director of Alumni Affairs, spoke to the crowd of over 400. Bolivar County chapter president Will Bradham presented Vice President of Student Affairs Dr. Wayne Blansett with a service award in honor of his upcoming retirement. Kappa Delta Sorority also recognized Elsie Lynn Ervin, who is retiring this June.
The chapter also held a silent auction with all proceeds going to the Liza Vaughn Memorial Scholarship. The scholarship was named for former assistant alumni director Liza Vaughn '95 who passed away in April of 2012. It was established for incoming Delta State students from Bolivar County.
The event would not have been possible without the help of the volunteers and sponsors. This year's Bolivar County officers are Will Bradham, president; Gary Crews, vice president; and Rob Shipp, secretary/treasurer. The Student Alumni Association also helped serve food and RC products, worked registration and monitored the kids area.
Prior to the event, the Alumni Association held a contest on social media for the chance to win a Yeti Hopper from Planters Equipment. Over 400 people pre-purchased tickets or liked and shared a status on the Alumni Association's Facebook page, Statesmen Graduates, for a chance to win.
This year's event sponsors were: National Alumni Association Corporate Sponsors: Air Evac Lifeteam, Bolivar Medical Center, Patrick Davis State Farm, Polk's Meats; Okra Level: Bradham Enterprises, Domino's , Needle Specialty, Nehi Bottling Co., The Image Specialist, Delta State Foundation; Green Level: Eddie S. Wilson, Kossman's Inc., McNeer Mini Storage, OK Auto Sales and Lawn Equipment, The Cleveland Current, Planters Bank, Renasant Bank, Vowell's Market Place; White Level: Backdraft, Bolivar Commercial, Byrd Service Station, Cleveland State Bank, Denton's Dairy, Griffith Real Estate, H Squared Boutique, Meador & Crump, Mississippi Grounds, Partnership Properties, Security Services Inc. and Shelby Air Services.
To make a donation to the Liza Vaughn Memorial Scholarship, visit www.deltastategiving.org/alumniassociation or call 662-846-4660.
To stay up to date on the Alumni Association's activities, follow these social media sites: Facebook (Statesmen Graduates), Twitter (@DSU_Alumni), Tumblr (http://www.dsualumni.tumblr.com), LinkedIn (DSU alumni), Instagram (dsualumni) and You Tube (dsualumni1). Save the date for next year's Pig Pickin' (Sept. 19, 2015) and Homecoming (Nov. 7, 2015).