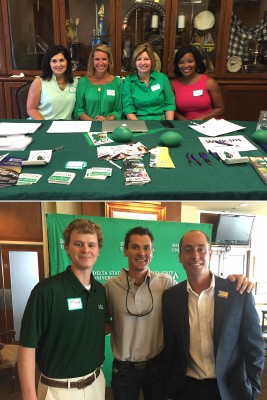 With over 200 alumni and friends in attendance, the Delta State University National Alumni Association hosted another successful event in Jackson last week.
The annual Greater Jackson Area Alumni Event was held at the Jackson Yacht Club and featured President William N. LaForge; Matt Jones, senior associate athletics director for external relations; and Jeffrey Farrism director of Alumni Affairs.
Other faculty and staff members in attendance included first lady Nancy LaForge, admissions recruiters Harrison Wood and John Mauney, head women's basketball coach Craig Roden, executive director of Alumni-Foundation Keith Fulcher, director of Donor Relations Ann Giger, director of the Child Development Center Stephanie Farris, and assistant alumni director Jordan Thomas.
Each year, the chapter has a silent auction with proceeds benefiting the Jackson Area Scholarship, which is awarded annually to incoming Delta State students from the area. This year's recipients are: Hampton Strickland of Madison, Geoffrey Arnold of Brandon and John Kaiser of Madison.
A new aspect to this year's meeting was the live auction. The chapter auctioned off a tailgating package which included a Yeti cooler with a custom DSU logo, a picnic table in The Levee for Pig Pickin' Weekend, which includes 10 football passes, four parking passes and a catering package. The auction raised over $1,600 this year.
The event would not have been possible without the support of sponsors: Polles Properties, BKD CPAs & Advisors, BankPlus, AvantGarde Strategies, IRR, Celia Manley Real Estate, MTM, Capitol Resources, Casey Myrick-Edward Jones, Magnolia Health and Sleeplinks-CPAP Works.
To stay up to date on the Alumni Association's activities, follow these social media sites: Facebook (Statesmen Graduates), Twitter (@DSU_Alumni), Tumblr (www.dsualumni.tumblr.com), LinkedIn (DSU alumni), Instagram (dsualumni) and You Tube (dsualumni1). Save the dates for Pig Pickin' (Sept. 19) and Homecoming (Nov. 7). Thank you to our National Alumni Association Corporate Sponsors: Air Evac Lifeteam, Bolivar Medical Center, Patrick Davis State Farm, and Polk's Meats.