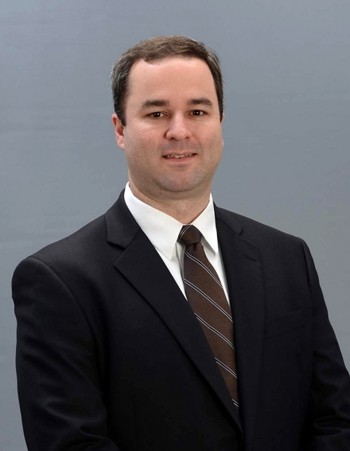 Delta State alumnus William Simpson is one of 60 scholars selected to participate in the inaugural class of The Presidential Leadership Scholars Program, a leadership development initiative supported by former presidents George W. Bush and Bill Clinton.
The program allows scholars like Simpson to interact with distinguished professors and former administrative officials as a way to develop their talents. The initiative also utilizes the presidential centers of George H.W. Bush, Bill Clinton, Lyndon B. Johnson, and George W. Bush.
Simpson discovered the six-month program while reading the Wall Street Journal, and his interest grew when he watched its promotional video on C-SPAN.org. From there, he logged onto http://www.presidentialleadershipscholars.org and submitted an application, which required the submission of essays, three references and details of a personal leadership project.
"I almost talked myself out of applying," Simpson said. "I didn't want to inconvenience people with writing recommendations for me."
The program is non-degree bearing, entails approximately 100 hours of informative sessions and case studies, and covers expansive approaches to leadership theory while drawing upon examples from recent presidents.
After being evaluated and later interviewed by three panelists online, Simpson was notified of his acceptance over the Christmas holidays. The inaugural program began in February.
While in the scholars program, Simpson aims to develop the skills he uses daily as deputy administrator at the Mississippi Department of Human Services.
"I want to do my job here better and grow personally," he said. "I want to help Mississippi. I live and I work here."
The alumnus, who graduated in 2000 with a degree in social science, is a Jackson, Miss. resident who grew up in Clarksdale. He is also involved in a leadership project, the Oakley Youth Development Center. As part of the initiative, Simpson reaches out and aids troubled youth.
Simpson, a former SGA president at Delta State, credits the university for being a critical source of leadership at an influential time in his life.
"Delta State is where I first recognized what leadership is and its importance," he said. "Most of what I bring to the table as a leader traces back to a skill or concept introduced to me at the university. Those skills — particularly communication — make me a better lawyer and public administrator."
His advice to those interested in applying for the scholars program is to "gear your program around helping people."
This concept is embedded in the scholar program's curriculum, which concentrates on four principles: vision and communication; decision-making; influence and persuasion; and building coalitions.
Utilizing program features such as leadership skill-building and peer learning group sessions, the program aims to aid its scholars.
During the program's first week, the group visited George Washington's Mount Vernon, where Dr.  Robert M. Gates, former Secretary of Defense, was a speaker.
"It was fantastic because you got to see him up close and personal," Simpson said. "He was candid."
Simpson is thrilled to be included amongst his selective peers and be meeting some of America's most distinguished leaders.
"I almost have to pinch myself," he said.
This week, the group will visit the William J. Clinton Presidential Center, followed by the George W. Bush Presidential Center in April, the Lyndon B. Johnson Presidential Library in May and the George H.W. Bush Presidential Library in June.
The inaugural class will graduate at the George W. Bush Presidential Center in Dallas in July. Learn more about the program at http://www.presidentialleadershipscholars.org.