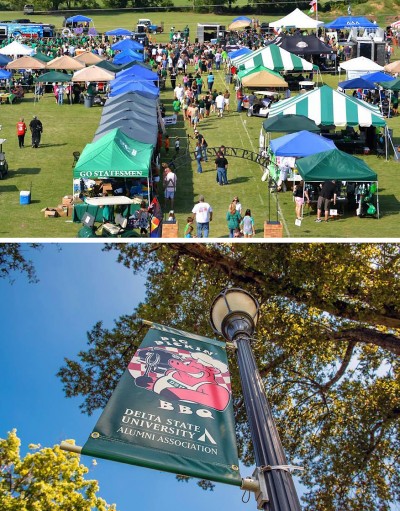 The Delta State University National Alumni Association recently unveiled the schedule of events for the 30th annual Pig Pickin.' Also introduced was www.dsupigpickin.com, a brand new website that is a one-stop shop for all things Pig Pickin'.
Alumni and friends can purchase BBQ tickets, sign up for the cooking competition, and sponsor the event all through the new site.
The schedule is full of activities for Delta State alumni and friends of any age. Activities kick off Sept. 18 with a Delta State Softball Intrasquad scrimmage at University Field at 4 p.m., followed by the annual Polk's Sponsors' Dinner at the Hugh Ellis Walker Alumni-Foundation House at 6 p.m.
Delta State alumna and Chopped Grill Master Leslie Roark Scott will do a live cooking demonstration at the sponsor's dinner. Scott competed on the Food Network show "Chopped Grill Masters," where she made it to the final episode before being defeated when the group had to prepare rattlesnake. Scott will reenact her rattlesnake performance for the Pig Pickin' sponsors.
At 8 p.m., the Alumni Association will host a Young Alumni Tailgate Party with live entertainment featuring Patti and the Mayonnaise in Statesmen Park. The cooking teams will begin their quest for the Grand Champion prize Friday night leading into Saturday.
Saturday's events begin with the 24th annual Delta State Triathlon at 8 a.m. at the Aquatics Center. Starting at 11 a.m., Phi Mu will host a Bunko Tournament for Children's Miracle Network in the Jacob Conference Center of Ewing Hall. Also at 11 a.m., the Statesmen baseball team will play a squad game at Ferriss Field. DSU Day for high school students is from 11:30 a.m. to 3 p.m. To sign up or for more information, visit www.deltastate.edu/dsuday or call 662-846-4020.
The first 250 attendees to register at the Alumni Association tent on Saturday will receive a free Pig Pickin' souvenir cup. Statesmen Park will open at noon with a live radio broadcast on Q102. Activities at the park begin at 1 p.m. with the Kids Zone, tailgating and live entertainment provided by the DMI student bands Ol' Skool Revue and Delta RoX. There will also be a Legacy Tent for members of the Delta State Alumni Association Legacy Program, and the Statesman and Okra mascots will be on site for pictures from 1-2 p.m.
At 2 p.m., the Alumni Association is teaming up with DSU Intramurals for a Cornhole Tournament. Teams consisting of two people can enter for $10 per team. Teams can sign up at www.dsupigpickin.com by Sept. 17. All proceeds raised will benefit DSU Intramurals.
The Pig Pickin' BBQ serving lines are open from 3-5 p.m. The Delta State pep rally, featuring cheerleaders, the football team and the marching band begins at 3 p.m. At 5 p.m., the BBQ competition winners will be announced. The football game between Delta State and Kentucky Wesleyan College kicks off at 6 p.m. Other special reunions include the Delta State Swimming and Diving Alumni Reunion.
BBQ tickets are $6 and can be purchased at the Alumni House or www.dsupigpickin.com. Patrons who pre-purchase tickets by Sept. 17 at 5 p.m. will be entered in a drawing to win a Yeti cooler.
Pig Pickin' is made possible each year through generous sponsorships. This year's sponsors include: National Alumni Association Corporate Sponsors: Patrick Davis State Farm, Air Evac Lifeteam, Bolivar Medical Center, Hey Joe's, and Celia Manley ERA Real Estate; Title/Entertainment Sponsor: Polk's Meat Products; Founders Level Sponsors: Baskin Robbins, Cleveland Trophy, Delta State University, Delta State Foundation, Delta Regional Foundation, Delta State Athletics, Exxon, Exxon – Lipscomb Oil Company, The Filling Station, Jammin' 104 FM, Kix 92.1, Majic 107.5, Power 106.5, Q102, Radio Cleveland, Inc., Shell, WCLD, 96.5 WKDJ; Statesmen Level: Guaranty Bank, Pafford Medical Services, Isle of Capri Casino – Lula; Okra Level: Aramark, Baxter Healthcare, Eley Barkley, Lampard Wholesale Meats, Meador & Crump, Needle Specialty, Nehi Bottling Company, Sonic; Green Level: Advanced Mosquito Control, Automark, Delta OB/GYN, Denton's Dairy Products, The Image Specialist, North Central MS Electric Power Association, Robinson Electric Company, Renasant Bank, Sayle Sandifer & Associates, Shelby Nursing Rehab, Vowell's Marketplace; White Level: Abraham's, Backdraft, Bolivar Tire & Alignment, Byrd Service Station, Cleveland State Bank, Ellis & Hirsbert CPA, PLLC; H Squared Boutique, Planters Bank, Panola Paper Company, and Tallahatchie County Correctional Facility.
The official hashtag for Pig Pickin' is #DSUPigPickin. For more information, contact the Alumni Association at 662-846-4660. Join the Facebook event at Statesmen Graduates: https://www.facebook.com/events/872293072848213/. To stay up to date on the Alumni Association's activities, follow these social media sites: Facebook (Statesmen Graduates), Twitter (@DSU_Alumni), Tumblr (www.dsualumni.tumblr.com), LinkedIn (DSU alumni), Instagram (dsualumni) and You Tube (dsualumni1).