Delta State University cares about its constituents, even more so in an upheaval like a global pandemic. That was the theme of DSU President William N. LaForge's State of the University Address, delivered virtually on Aug. 13, 2020, for opening convocation for the fall semester.
"The title of my remarks today is 'Delta State University Cares!' That maxim has always been the case for this university. But, it is truer today than ever before," President LaForge began. "With the onset of the COVID-19 pandemic in early March, almost everything about the way we do business on campus changed—except carrying on the academic mission and caring."
He thanked colleagues "for applying creativity and ingenuity to keeping this university open and functional, and to making our academic processes work for our students during this challenging time." That meant online instruction for the spring and summer terms. The DSU family "navigated unchartered territory … to keep the ship of state afloat," amid new modes of teaching and working; building closures; event cancellations/postponements; and more. The fall term, starting Monday, Aug. 17, brings hybrid instruction—primarily online, reinforced with strategic face-to-face sessions.
"As we stripped away many of the traditional accoutrements and everyday activities of a normally functioning university campus, and were left with the basic core of our key mission—teaching and learning—what did we learn in the process?" he asked. "And, how will those lessons prepare us for this semester and beyond?" The inquiry, President LaForge said, is all about the "concept and virtue of caring." In the COVID-19 pandemic, caring "has taken on new and heightened meaning."
The coronavirus outbreak signifies both a "black swan" and a "silver lining," he said, with changes likely permanent as well as temporary—and DSU must heed accordingly. "For example, the move to all online instruction, at minimum, provided us with a backup system to teach our classes, and one that has morphed into our frontline delivery system. But, it also demonstrated opportunities for expanded ways of doing business, with many possible variations. What's the right balance among online, hybrid, and face-to-face classes? We are on the cusp of finding out this semester."
He continued: "The answer may still be evolving, and it behooves us to give careful thought to what an ideal mix looks like. Online courses are more in vogue for some, and in today's climate, more necessary than ever." Still, "Face classes have been our bread and butter underpinning of a fully engaged teaching-learning experience, and our students are clearly on record as preferring face-to-face instruction."
The test becomes finding "the right academic mix that will serve our students best in the short-term and over the next decade and beyond." This will be "a learning experience for all," requiring "dedication to our mission" and "patience with our processes."
This also mandates protecting campus as much as possible, he explained. Students, faculty, staff, and visitors must wear masks in public areas and in classes; practice social distancing; and take uniform symptom and temperature screening daily. Additional safeguards include hand sanitizing stations in all buildings; crowd limitations; access to COVID-19 testing; increased mental health counseling availability; immediate response procedures for actual or suspected positive cases, including quarantine and isolation facilities; plus others.
DSU has distributed and will continue to distribute federal CARES Act funding for coronavirus pandemic. Delta State also hired a COVID-19 response coordinator.
President LaForge summarized other tough roads traveled in 2019-20. Budget challenges spanned enduring another reduction in state funding; trimming $3.2 million from the operating budget ($1.7 million in permanent cuts and $1.5 million in temporary cuts); adding "creative" revenue streams; and bumping up tuition 6 percent. DSU "looked deeply inward to ensure that our budget reflects and supports our university goals and priorities," he said. The result is "the most accurate and priority-reflective budget in place that we have likely seen in any recent year"—with "no major personnel cuts." Bottom line, he said: "We are entering this new academic year with a realistic and balanced budget."
That being said, "Everything is dependent on final enrollment numbers, the effect of the current pandemic on our budget, as well as the financial health of the state. We shall see."
President LaForge stressed enrollment unknowns. "Like many colleges and universities, we anticipate a downturn in enrollment this fall due to the pandemic. Many potential students will take a 'gap' year, attend a community college, or decide on another path for themselves." But, "We have built in several contingencies that will 'cushion' the blow if we have a decreased number of students."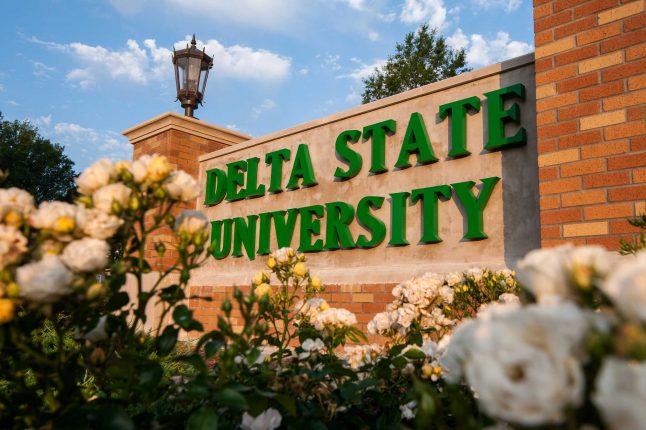 He also emphasized many positive developments the past year. Facilities improvements included new roofing on the Wright Art Building, Blansett Hall, and Sillers Coliseum; repairs to lighting around the football stadium and adjacent facilities; and refurbishment of residence halls. The food court in the H.L. Nowell Union is undergoing a $2 million renovation that, when finished, will contain a full-menu Chick-fil-A, a Firehouse Subs, an expanded Burrito Bowl, along with the popular Starbucks. LED lighting was installed across campus and funded through hundreds of thousands of dollars of Entergy grants. Delta State also secured $3 million in bond funding for additional building repairs and renovations.
Other 2019-20 highlights:
The Statesman's Shelf food pantry for current students opened, thanks to the Office of Student Affairs and generous donors.
Delta State became the first undergraduate degree program to achieve collegiate accreditation from the United States Geospatial Intelligence Foundation.
Faculty and students in the Division of Social Sciences and History were instrumental in producing the "1969 Black Student Sit-In Oral History Project," a documentary that received the Elbert R. Hilliard Oral History Award from the Mississippi Historical Society.
As a direct result of the 2019 Child Safety Summit held on campus, the Department of Social Work developed the inter-professional Child Advocacy Studies Training (CAST) Certificate Program that educates students how to advocate for children and families experiencing abuse, neglect, and family violence.
The College of Education and Human Sciences' Teacher Education Unit was one of the three Mississippi Institutions of Higher Learning programs to partner with the Mississippi Department of Education and the University of Florida on the Collaboration for Effective Educator Development, Accountability, and Reform.
The Student Success Center received a five-year $400,000 grant from the Woodward Hines Education Foundation for the IMPACT initiative that focuses on increasing graduation rates of historically underserved and underrepresented students.
The Bologna Performing Arts Center (BPAC) celebrated its 25th anniversary.
BPAC's Arts Education Department served more than 10,000 K-12 students and teachers and distributed 2,800 books as part of its initiative to connect literacy with the performing arts.
Zach Zediker earned NCAA Division II Golf's highest honor: the Jack Nicklaus Award.
The Office of Information Technology provided Delta State with access to all Internet2 features, outfitted 25 classrooms with new technology that provides hyflex capabilities for teaching on-campus and remote students, ordered 200 new laptops to replace aging faculty and staff computers, ordered 200 computers to upgrade computer labs, and ordered 100 computers to start a computer loan program for students lacking means to purchase adequate technology.
President LaForge reiterated: "Operationally and financially at this moment, we are steady and prepared for the challenges ahead. Because we remain a slim-margin budget, due to near total dependence on state funds and student tuition for our revenue, our budget plans are conservative and flexible. Our academic foundation as a regional teaching university is sound. Our academic accreditations are in order." Remember, he said, "Uncertainty arises from forces mostly beyond our control, such as possible future budget cuts and possible enrollment decline due to COVID-19."
DSU is "prepared as much as possible for the COVID-19-related challenges that face us this year. But, frankly, we all share a bit of concern and uncertainty—even anxiety—about the health and safety of our university family. To mitigate that concern—and not merely to make ourselves feel better or more confident—we are following the advice of national, state, and local health and medical experts."
He concluded, "As we continue to face the challenges of the pandemic, we will stay the course of offering the best possible education for our students, while ensuring the safest possible environment on campus. As we commence this challenging and uncertain year, I ask you to join me in continuing to demonstrate what it means to be part of the caring culture for Delta State and our students. Not only is special caring important in this moment, it is a fitting legacy for all of us to leave to this university."