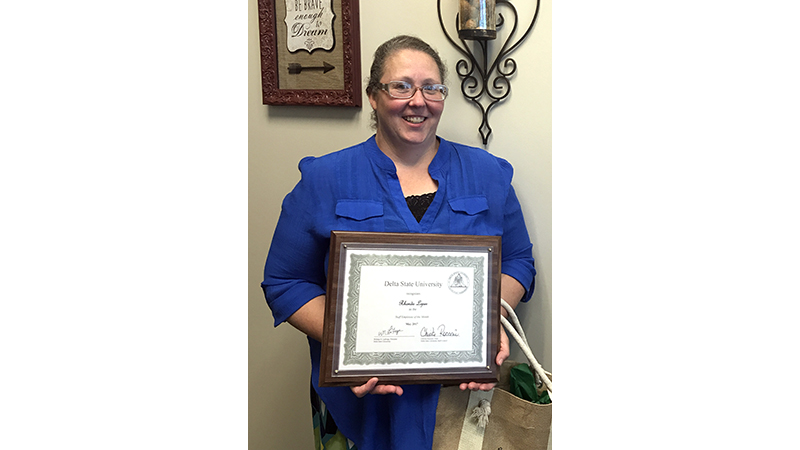 The Delta State University Staff Council recently honored Rhonda Loper, articulation specialist, as the May 2017 Employee of the Month.
Loper began working at Delta State in October of 2012 as a research and information specialist in the Office of Institutional Research & Planning.
"My journey at DSU began in the fall of 2009 when I began pursuing my undergraduate degree," said Loper. "This October, I will celebrate five years of employment here. During my time of employment, I have been privileged to work with some of the greatest people I know. I am honored that my small contributions were deemed worthy of this honor. Working together for a better DSU!"
In her free time, Loper enjoys spending time with her family, especially with her little grandson, Milo Alexander Lee.
Each Employee of the Month winner receives a plaque, monetary award, an engraved insulated coffee mug, a free parking decal courtesy of the campus police department, a box of treats from The Sweetery, a parking spot of their choice, marquee announcement and website recognition.
Delta State's Staff Council serves as a liaison between the administration and the staff to provide a formal process for staff to discuss issues involving university policies and procedures and to forward ideas, recommendations and opinions to the president.