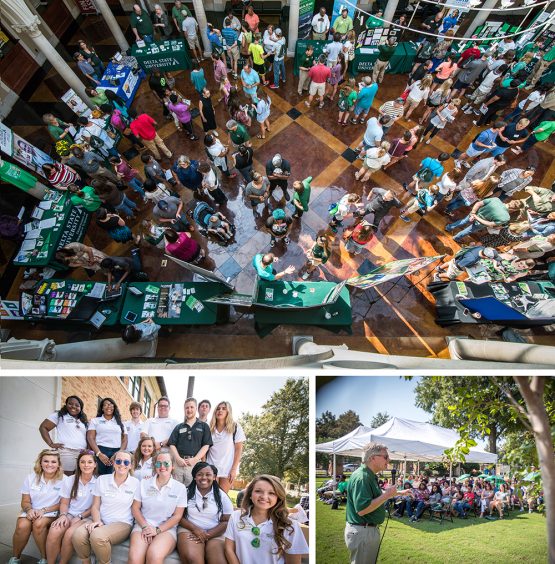 The recruiting staff at Delta State University continues to work hard at shining light on the institution's top-notch opportunities.
Their efforts were on display at DSU Day, a major recruiting event on campus that kicked off prior to this year's Pig Pickin' festivities.
On the heels of a three-year enrollment increase at Delta State, campus representatives welcomed 170 future Statesmen, along with over 130 additional guests to the first campus preview day of the year.
To begin DSU Day, faculty and staff from approximately 30 academic and student-related departments spoke with guests at an academic fair.
In the courtyard next to the legendary Margaret Wade statue, students heard from campus leaders including President William N. LaForge, Provost and Vice President for Academic Affairs Dr. Charles McAdams, Chief of Police Lynn Buford and Student Government President Allie Rose Parker.
A group of student recruiters known as the Delta Diplomats and faculty members guided tours around campus. Stops included the H.L. Nowell Student Union, Roberts-LaForge Library, Foundation Hall, Wyatt Gymnasium and the recently remodeled Roy L. and Clara Belle Wiley Planetarium.
Students were informed about the admissions process and financial opportunities before participating in Pig Pickin' activities and attending the Statesmen football game.
According to Caitlyn Thompson, director of recruiting, feedback from participants has been positive, and the staff is looking forward to working with each student on enrollment.
"DSU Day provides an opportunity for the students to see themselves as a Statesman. They get to breathe Delta State air and experience campus first-hand," said Thompson. "The attendance numbers for this year are encouraging and exciting. The more students that we can bring to campus, the better. The personal connections that incoming students will make with students, staff and faculty are will help make their transition to Delta State easy. Our green and white community guides students on a daily basis to a successful life after college completion. Excellent programming coupled with affordability make up the duo of diligence that Delta State maintains."
Among many other efforts to attract future Statesmen, recruiters are attending college fairs, holding campus visits at high schools and community colleges, meeting with counselors, and communicating with prospective students. Delta Diplomats are guiding multiple tours of campus on a daily basis.
Like previous years, President LaForge is visiting students in their schools to speak about opportunities at Delta State. This effort continues as part of the recently-branded Student To Statesman tour.
The Delta State community continues to provide support throughout the year to recruit new students through many methods, including academic representation, communication with prospective students and quality programming.
For more information on the admission process, scholarships, or to get in touch with a recruiter, visit www.deltastate.edu/admissions, or call 662-846-4020.