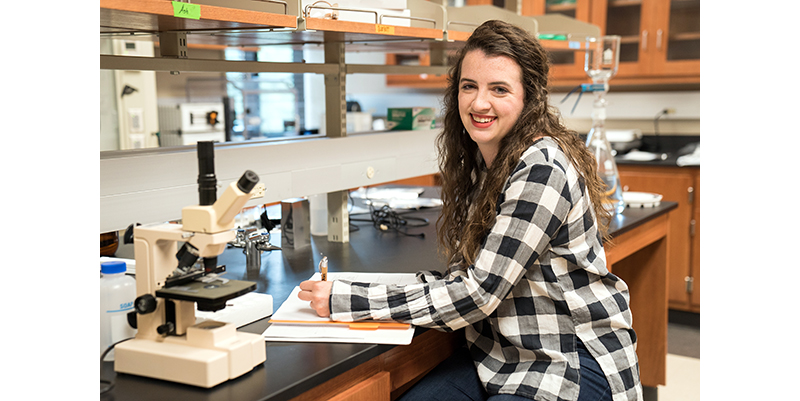 Katie Penton, a graduate student in the Master of Science in Natural Sciences program at Delta State, was recently awarded the prestigious Mississippi Space Grant Consortium Graduate Research Fellowship, an opportunity coordinated by the Mississippi Research Consortium and supported by NASA.
The consortium's mission is to enhance and support aerospace science and technology efforts and activities in Mississippi, as well as promote a strong science, mathematics and technology base at pre-college, undergraduate and graduate levels in the region's educational institutions.
Penton, a native of Southaven, said she was thrilled to receive the fellowship. She has been working closely with Dr. Sharon Hamilton, professor of chemistry at Delta State, while researching polymer chemistry.
The fellowship is for the 2017-18 academic year in the amount of $20,000.
Penton's fellowship will focus on two aspects — her innovative research at Delta State, and her K-12 STEM education outreach plan to visit Mississippi Delta schools and share demonstrations of science, particularly chemistry demonstrations. She will also work with local teachers to reinforce the subjects they are teaching within her lessons.
"I am very grateful to be one of only eight recipients of this fellowship throughout the state," said Penton. "In my proposal, I stressed how underrepresented the STEM fields are in the Delta, and given the opportunity, I wished to go into local schools to introduce and hopefully inspire students to pursue this area of study. I first got really invested in chemistry in high school, and I would love to ignite that spark in someone here in Cleveland."
Hamilton said Penton is particularly worthy of the fellowship.
"Katie is an extremely hard worker who has significantly contributed to the Department of Chemistry and Physics at Delta State," said Hamilton. "The chemistry faculty at DSU are always looking for ways to improve our majors' education —whether that be through exposing them to summer research experiences, bringing in speakers to the department, or helping them find ways to fund their research."
"Katie's fellowship signifies that the research being done at Delta State is and can be just as significant as the quality of research being done at the larger schools in the state," added Hamilton.
Her work with Hamilton has concentrated on developing a drug-loaded fiber mat that can be used in wound healing applications.
"Katie's research in my lab has focused on developing wound healing materials," said Hamilton. "Think of it as creating bandages that can help you heal more effectively. This is an area of great interest to NASA. Our efforts address NASA's need for medical treatments that will allow space flight illnesses, particularly smaller wounds, to be treated with a minimum of infrastructure support and to keep crew members in good health."
Penton's lab research continued through the summer break, while at the same time, she mentored a student from the Mississippi School for Mathematics and Science. She also presented the results of her research at the 2017 Summer Student Science Symposium sponsored by the Mississippi Academy of Sciences, and the MS INBRE Symposium.
Learn more about Department of Chemistry and Physics at Delta State at http://www.deltastate.edu/artsandsciences/chemistry-and-physics.