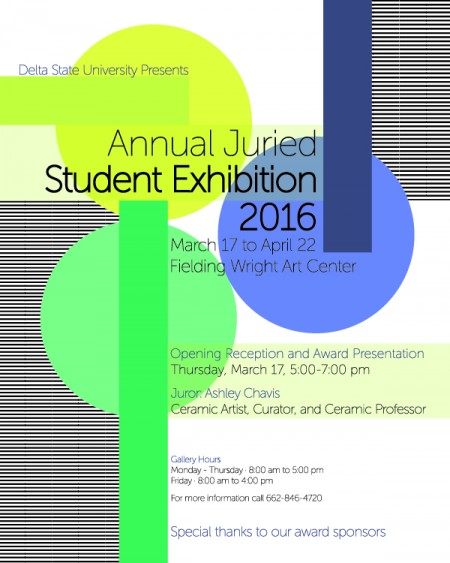 Delta State University's Department of Art invites the public to the opening of its annual juried Student Exhibition on March 17 from 5-7 p.m at the Fielding Wright Art Center Gallery. The exhibit allows the department to highlight work produced by students in the past year and provides the students a professional opportunity to prepare and submit work for a juried exhibition.
Students submitting work are also eligible to win monetary awards in a variety of categories. The awards are made possible through the generous support of art patrons from the Cleveland community.
This year's juror is Ashley Chavis, a ceramic artist and curator, who teaches at Northwest Mississippi Community College. Chavis also runs the college's art gallery and is the faculty advisor of the student art club, Les Fauves.
Chavis's creative energies are devoted to producing functional pottery that has a unique sense of tactility and surface design. His work has been exhibited regionally and nationally and can be found at Southside Gallery in Oxford. He is a member of the National Council on Education for the Ceramic Arts, Southeastern College Art Conference, Southern Graphics Council International and Sycamore Arts Council.
Chavis commended the variety and quality of work submitted to this year's show.
This year's opening includes a silent auction of student and faculty work to benefit a Delta State art student who lost the use of her legs in a car accident.
"The student has been an inspiration for all in the art department," said Dr. Michaela Merryday, associate professor of art. "She has never let her health issues limit her ambitions, nor cloud her optimism and sunny disposition. The student is in need of a new wheelchair and her colleagues and faculty are hoping to raise $1,000 through the sale of original works of art donated by them to help defray the costs of a new wheelchair."
The silent auction will only take place on the opening night of the exhibit. Winning bids will be announced at the end of the day. Student awards will be presented at 6 p.m. The exhibition will remain on display from March 17 to April 22.
The Fielding Wright Art Center Gallery is open Monday through Thursday from 8 a.m. to 5 p.m., and Friday from 8 a.m. to 4:30 p.m. The gallery is closed weekends, holidays and during semester breaks.
For more information on the Department of Art, visit http://www.deltastate.edu/college-of-arts-and-sciences/art/, or contact 662-846-4720.