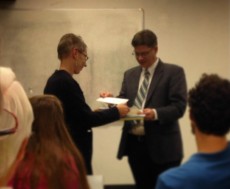 The Mississippi Humanities Council celebrates each October by awarding one humanities faculty member at each state institution with the Humanities Teacher Award. This year, from Delta State University's Department of Art, Dr. Michaela Merryday was selected by faculty for the award.
Merryday accepted the award Monday in Holcombe-Norwood Hall, where she also presented on her publication "Westward Route 66 Takes Its Way: Ed Ruscha and the Promised Land."
Merryday completed her undergraduate studies at the University of Vienna, Austria, and earned a doctorate in art history from Florida State University. Her research also focuses on contemporary public and political art practices.