The Center for Interdisciplinary Geospatial Information Technologies (GIT) at Delta State University has joined the network of Regional Support Offices (RSO) of the United Nations Platform for Space-based Information for Disaster Management and Emergency Response (UN-SPIDER). GIT is the 23rd RSO. The agreement lasts for three years.
The program is implemented by the United Nations Office for Outer Space Affairs (UNOOSA). Established in 2006 under UNOOSA, UN-SPIDER acts as a gateway to space-based information for disaster management support, connecting the disaster management and space communities and facilitating capacity-building and institutional strengthening, particularly for developing countries.
"With this new and unique partnership with the UN-SPIDER program as a Regional Support Office, Delta State's Geospatial Information Technologies expertise in disaster management and emergency response is once again being recognized and applied in a wonderfully collaborative manner—this time with important space-based implications," said Delta State President William N. LaForge. "I am very proud that our GIT program—one of Delta State's signature centers of excellence—is venturing into this vital field, and I know that we will be a significant and reliable partner in the enterprise."
"At UNOOSA, we are proud of this partnership, which is the result of a long-standing collaboration with GIT," added UNOOSA Director Simonetta Di Pippo. "Delta State University and UNOOSA are both committed to providing accessible education and training on geospatial services technologies and leveraging them for supporting disaster management. Delta State is an important addition to UN-SPIDER's network of RSOs and adds a North American location to our existing coverage."
A UN-SPIDER RSO is a regional or national center of excellence in the use of space technology in disaster management to support the implementation of UN-SPIDER activities in its region of operation. An RSO can be hosted by a space agency, a research center, a university, or a disaster management institution, among others. These offices communicate and coordinate with UN-SPIDER on a regular basis, engaging in outreach, capacity-building, and technical advisory support.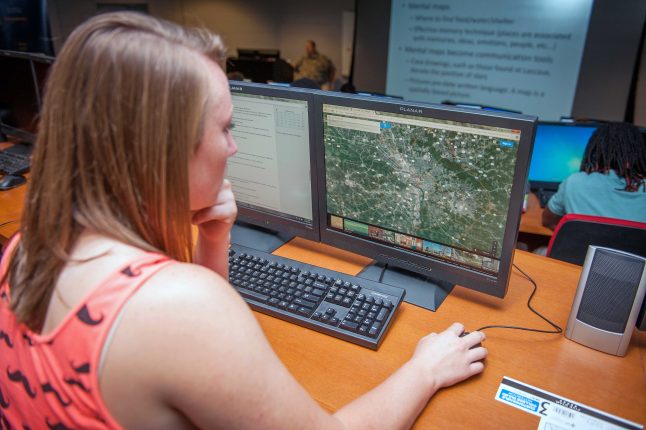 GIT joins the Japanese Space Agency, the Indian Institute for Remote Sensing, and the European Space Agency among the 23 RSOs. The agreement between UN-SPIDER and Delta State grew out of a longtime working relationship between GIT Director Talbot Brooks and the program. He has contributed to UN-SPIDER technical advisory missions and follow-up initiatives in several countries—Laos, Vietnam, Mozambique, Nepal, and the Republic of Georgia. Brooks also has organized technical visits of disaster management officials from countries supported by UN-SPIDER to the Mississippi Emergency Management Agency and provided experts to contribute to UN-SPIDER programs.
"Globally, climate change is increasing the frequency, severity, and geography for many disaster types," said Brooks. "Of concern are not just immediate effects related to loss of life and property, but the longer-term economic and social consequences as well. These latter effects spread beyond national borders to affect trading partners, trigger mass migration, and increase the need for foreign aid, all of which are of concern to the United States."
He continued, "Leveraging geospatial technologies initially developed for disaster risk reduction purposes into larger spatial data infrastructures helps not only to save lives and property abroad, but also to improve domestic government services in ways that benefit economies. Along the way, our students gain international experience and work with new partners. We are thankful for the recognition and look forward to serving our global community."
The UN-SPIDER RSO is the latest example of GIT's leadership in the field. Other accomplishments include being chosen a Center of National Excellence in the Geosciences by the National Geospatial-Intelligence Agency and U.S. Geological Survey in 2015. The center has long punched above its weight class, producing atlases for the U.S. Army's fight in Afghanistan, developing E-911 systems throughout Mississippi, and creating innovative map designs that have won international map competitions.