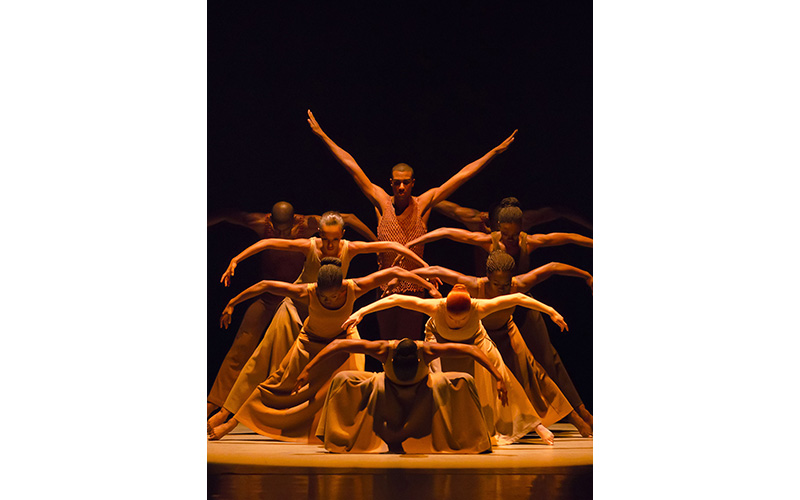 Ailey II will perform Nov. 2 at 7:30 p.m. at the Bologna Performing Arts Center. Photo by Kyle Froman.
Ailey II Dance Company is making Cleveland one of its stops during the acclaimed 12-member dance ensemble's 32-city world tour. The group will perform at Delta State's Bologna Performing Arts Center on Nov. 2 at 7:30 p.m.
Ailey II, Alvin Ailey American Dance Theater's second company, is internationally renowned for merging the spirit and energy of the country's best young dance talent with the passion and creative vision of today's most outstanding emerging choreographers. One of the most popular dance companies in the country, Ailey II combines a rigorous touring schedule with extensive community outreach programs. Their Nov. 2 program will feature two new commissions, "Breaking Point" and "Road To One," in addition to the "Revelations," the must-see masterpiece by Alvin Ailey himself.
Jamaican-born choreographer Renee I. McDonald's "Breaking Point" is an intense depiction of the fight for our heart's desire. Whether it is love, friendship, forgiveness or a secret longing – these things can take us to our limit. Suitably paired with the bold and pulsating sounds of Audiomachine, McDonald's high-powered, modern-based choreography captures the willpower and frenzy it takes to keep up the fight until you hit your breaking point.
Darrell Grand Moultrie's "Road To One" passionately embraces the journey we take to find meaning in our lives and eventually pass it on to the next generation. Inspired by a mentor who introduced him to the arts at a young age, Moultrie pays it forward with the Ailey II dancers, creating a high-energy ensemble work that uses elegant, modern movement with a contemporary edge. The musical score features an eclectic range of artists, including Ezio Bosso, Kinjey Bunchens, Monica Chuchi, Oliver Davis, and Spark.
Troy Powell, artistic director for Ailey II, will speak at a luncheon on the Delta State campus on Nov. 1. The title of his program is "Growing up Ailey," and he will speak about his personal experiences of being mentored by Alvin Ailey, as well as speak to the history of the company and its impact on the dance world. The luncheon is free and open to the public, but reservations are required. To register, contact the BPAC's main office at 662-846-4625.
Ailey II will be in residency at the BPAC for three days, funded in part by a grant from South Arts in partnership with the National Endowment for the Arts and the Mississippi Arts Commission. In addition to the public performance and luncheon, the company will also perform a matinee for school audiences on Nov. 1 at 10 a.m. and provide masterclasses for area youth.
Tickets to see Ailey II start at $25, and discounts are available for groups of 10 or more. Tickets are on sale at www.bolognapac.com or at the BPAC Ticket Office at 662-846-4626.