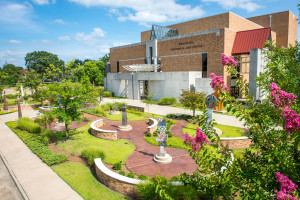 A recent grant from the Monsanto Fund will fund a spring break camp focused on helping young students explore the fields of science, technology, engineering, arts and math.
Local Monsanto employees recommended the Bologna Performing Arts Center be awarded the $10,000 grant from their companies' Monsanto Fund's 2016 site grant initiative.
Funds from the grant will be used towards the S.T.E.A.M. (Science, Technology, Engineering, Arts, and Math) Spring Break Camp. The camp seeks to gather campers looking for a challenge and a creative and comprehensive experience that extends beyond their academic year. Creative thinkers and explorers are encouraged to attend.
"We are excited to partner with the Science department here on Delta State's campus to offer a S.T.E.A.M. Camp during the spring break week of 2017.  The visual arts work so nicely with math and science, as you use many of the same problem solving skills and creativity," said Joannah Taylor, BPAC's arts education coordinator.
This year, the Monsanto Fund awarded more than $1.4 million to nonprofit organizations through its site grant initiative to help address essential needs in rural communities. Nonprofit organizations across the U.S. have received more than $7.5 million through this program over the last five years.
The BPAC is dedicated to providing exceptional artistic and educational opportunities to children in the Mississippi Delta region. Through its affiliation with Delta State University, it is able to offer a variety of programming to suit the needs of local families, school children, and educators.  BPAC has a long history of providing interactive camp experiences for young people through their Janice Wyatt Mississippi Summer Arts Institute.
The purpose of the Delta State University Foundation is to foster private financial support for Delta State University, such as the Bologna Performing Arts Center.  The Monsanto Fund, the philanthropic arm of the Monsanto Company, is a nonprofit organization dedicated to strengthening the communities where farmers and Monsanto Company employees live and work. Visit the Monsanto Fund at www.monsantofund.org.