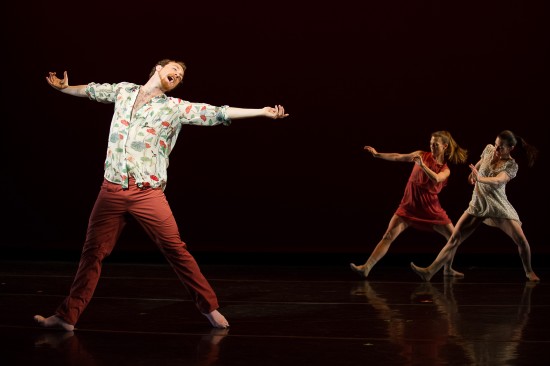 Named "the company of the future" by the Joyce Theater Foundation, BODYTRAFFIC is leading the way for contemporary dance in Los Angeles and beyond.
BODYTRAFFIC will make its Mississippi debut March 1 at the Bologna Performing Arts Center on the campus of Delta State. The company will present a matinee for K-12 school audiences at 11 a.m., and a public performance will be held that evening at 7:30 p.m. There will be a complimentary pre-performance reception in the Bologna Center lobby beginning at 6:30 p.m. Immediately following the show, there will be a Q&A discussion inside the Delta & Pine Land Theater.
This performance is funded in part by a grant from South Arts in partnership with the National Endowment for the Arts and the Mississippi Arts Commission.
Praised by LA Weekly for its "confident, hard-hitting" execution in a wide range of styles, BODYTRAFFIC is known for their dynamic theatricality and contemporary approach to dance. The show's growing repertory is vibrant, inspiring, accessible and challenging to both new audiences and experienced dance enthusiasts. Founded by Lillian Barbeito and Tina Finkelman Berkett in 2007, the company has surged to the forefront of the concert dance world commissioning new works from world-class contemporary choreographers, and was named one of Dance Magazine's "25 to Watch" in 2013.
Prior to their performances, the company will spend time in the Cleveland community. First, dancers will work with Margaret Green Junior High and Cleveland High School students in a partnership with the Junior Auxiliary of Cleveland's Exceptional Education project.
The company will also work with the Delta Arts Alliance School of Dance. DAA Executive Director Rori Herbison said the experience would be critical to the development of the young students.
BODYTRAFFIC's debut is just one of many upcoming dance performances in the BPAC's future through its participation in the Dance Touring Initiative.

"We are very excited to be working with South Arts to feature more contemporary dance and ballet programming at the Bologna Center" said BPAC executive director Laura Howell. "Dance is one of those great art forms where there are no right answers, and there can be a point of access for everyone."
Tickets to see BODYTRAFFIC are now on sale at the BPAC Ticket Office, open Monday-Friday 10 a.m. to 5 p.m., 662-846-4626, and online at www.bolognapac.com. Tickets are $25-39, and discounts are available for groups of 10 or more.