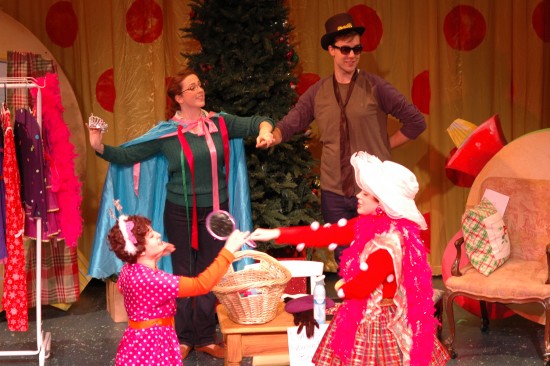 Nearly 2,000 local students were treated to the musical "Fancy Nancy: Splendiferous Christmas" at the Bologna Performing Arts Center on Dec. 10.
Students in kindergarten through sixth grade traveled from as far as Coahoma, Leflore, Sharkey, Sunflower and Washington counties to experience the delightful theatrical performance. Children and adults alike enjoyed this fancy holiday show. Students left with smiles on their faces and had great things to say about the performance.
Romie Caston, a first grader at Bayou Academy, said "I thought it was absolutely splendiferous, as Fancy Nancy would say."
Her mother Lauren Caston added, "We thoroughly enjoyed this fantastic Christmas show with a great message."
Jennifer Krutz, a homeschooling mother in Cleveland, also attended the show with her youngest daughter and noted how the message of selflessness and love shone through the performance. Not only did Krutz appreciate the experience to start a conversation with her children about altruism, she also had the opportunity for a vocabulary lesson.
"The way Nancy uses her 'fancy' words is a great way to teach synonyms," said Krutz.
In an effort to assure that educational standards are being met while students step outside the classroom and into the theater, teachers and families who attended the performance were provided with a comprehensive study guide. The guide was designed for use before and after the performance and led students through vocabulary, both English and French, holiday traditions around the world, and manners.
This School-Time Matinee performance was made possible through partnerships with Double Quick, Inc. and the Community Foundation of Northwest Mississippi. For information about upcoming shows, call Joannah Taylor, BPAC Arts Education coordinator, at 662-846-4844.