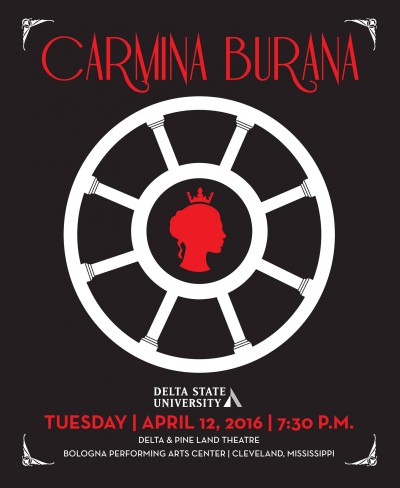 The Delta State University Choirs will present "Carmina Burana" April 12 at 7:30 p.m. in the Bologna Performing Arts Center.
"Carmina Burana" is a cantata composed by Carl Orff, and uses the text of 24 medieval poems. The text, written and performed in Medieval Latin and Middle High German, ranges in subject from the frightful and tense sounding "O, Fortuna" to the playful "Swaz hie gat umbe," and to themes of love as in "Veni, veni, venias."
All three of Delta State's choral groups (Delta Chorale, University Chamber Singers, and Delta Singers Women's Chorale) will participate in the performance. The choirs will be joined by faculty instrumentalists Dr. Karen Fosheim, Dr. Kumiko Shimizu and Dr. Josh Armstrong, as well as the DSU Percussion Ensemble. This performance will also feature three soloists: faculty member Dr. Chad Payton (countertenor) and guest artists Abigail Rethwisch (soprano) and Andrew Paulson (baritone).
Dr. Chad R. Payton, countertenor, is an assistant professor of music at Delta State. He teaches private voice instruction, song literature and vocal pedagogy. Payton is the originator and host of the Opera Lecture Series, in which he offers lectures and public viewings of operatic masterworks to Delta State students and community members. He has served on DSU's Gender Studies Group, where he presented research on gender issues surrounding countertenor performance practice, and is the chair of the Department of Music's Recruitment Committee. Payton received his Doctor of Musical Arts in Vocal Performance from the University of Kansas with honors.
He switched to countertenor repertoire in 2005, having made his Carnegie Hall and Kennedy Center operatic debuts, as well as his off-Broadway debut, as a tenor in the world premiere of Michael Ching's opera "Corps of Discovery: A Musical Journey." Payton found success in local, regional, and national competitions, including National Association of Teachers of Singing, National Association of Teachers of Singing Artist Award and the Music Teachers National Association. He is a proponent of oratorio literature, often seen with regional orchestras such as the Quincy Symphony Society in Illinois, the Saint Joseph Symphony, Columbia Civic Orchestra, Odyssey Chamber Orchestra and the University of Missouri's Philharmonic Orchestra in Missouri. Frequent oratorio engagements include the alto soloist in Handel's "Messiah," Bach's "Mass in B Minor," "St. John Passion" and "St. Matthew Passion," and Orff's "Carmina Burana." In addition, he premiered and has frequented the countertenor soloist role in Barbara Garrett's "Requiem for Broken Souls," a signature piece of Kansas City's Artistic Advocates for Healing.
Payton serves on the voice faculty and as general manager for Seagle Music Colony, the nation's oldest young artist training program for opera and musical theatre, located in New York. Each summer he offers multiple audition classes, vocal masterclasses and lessons, and organizes and oversees the daily rehearsal, staging and performance schedule for six fully staged productions in eight weeks. Seagle Music Colony alumni are performing in major opera houses throughout the world, including the Metropolitan Opera, Santa Fe Opera, Seattle Opera, Deutsche Oper Berlin, Houston Grand Opera and the Lyric Opera of Chicago. They are frequently named national finalists and winners in national competitions such as the Metropolitan Opera National Council Auditions.
Payton's doctoral dissertation is titled "A Performer's Analysis of Lori Laitman's Men with Small Heads and Jake Heggie's Encountertenor," in which he examines two 20th century song cycles written specifically for countertenor. His performances of these pieces earned him national recognition in The American Prize Competition, in which he was named a national finalist in the art song division. He was invited to present "Laitman's Men with Small Heads" at the regional NATS conference in Baton Rouge in 2012. In addition, he has commissioned and premiered several chamber works for his professional ensemble, Payton and the Pipes, featuring countertenor, clarinet and flute, including "Three Poems of Vladimir Nabokov" by American composer Jason Charney. Payton and the Pipes have been invited to perform on the 2013 Great Spaces Concert Series in Topeka, Kansas, sharing the series with internationally recognized artists such as the Vienna Boys Choir.
Abigail Rethwisch, soprano, is from Iowa City, Iowa, and is currently a resident artist with Tri-Cities Opera, where she has sung the roles of Iolanta (Iolanta), and Lucy (The Telephone), and will soon sing Johanna (Sweeney Todd), as well as Lucy Goat (The Billy Goats Gruff) for Opera Go Round. This June she will join Chautauqua Opera as an apprentice artist singing the role of Annina and cover Violetta in "La Traviata."
Having recently come from Des Moines, Iowa, she sang with Opera Iowa and Des Moines Metro Opera. Her roles there included Clorinda (La Cenerentola), and Lucy (The Three Billy Goats Gruff) and covering the roles of Konstanze (Die Entführung aus dem Serail), and Beatriz (La hija de Rappiccini).
Gaining significant recognition in the Metropolitan Opera National Council Auditions, Rethwisch has been a regional finalist three times, most recently in the Great Lakes Region where she won second place. Other competition awards include first place in the Central Region NATS Competition, first place in the Young Artist Concerto Competition for both the Fort Dodge Symphony and Central Iowa Symphony, later leading to performances with both orchestras.
Equally comfortable on the concert stage, Rethwisch has been highlighted in Tallahassee, Florida. With the Tallahassee Community Chorus she has been seen as the soprano soloist in "Dvořák's Te Deum" and the soprano soloist in Mozart's "Grand Mass in C minor." She has performed Schubert's "Mass in G" with the Tallahassee Civic Choral, and has sung the Queen of Sheba in Handel's "Solomon" and as well as a number of performances of "Messiah."
In addition to Rethwisch's love for the opera stage, she enjoys engaging younger audiences, and has been seen in two elementary and middle school outreach tours. In the greater Tallahassee area she was seen performing Gretel in "Hansel and Gretel," and Fiordiligi in an English adapted version of "Così fan tutte." Rethwisch's young artist training includes three summers as an apprentice with Des Moines Metro Opera, and a fellowship at the CoOPERAtive Program. She holds a Bachelor of Music in Music Education from Simpson College and a Master of Music degree in Vocal Performance from Florida State University.
Andrew Paulson, a native of Great Falls, Virginia, is currently a studio artist singing with Sarasota Opera. His responsibilities include Marcello cover in the fall season production of "La Bohème" and Guglielmo cover in the winter season production of "Così Fan Tutte." In addition, he can be seen performing in the Young Verdi Concert, The Verdi Cycle Grand Finale Concert and Aida Chorus. Future engagements feature his Santa Fe debut as Happy in La fanciulla del West and a Diener in "Capriccio." In addition, he is covering Mercutio in "Roméo et Juliette."
Recent engagements include Nardo cover in "La Finta Giardiniera" and Marullo cover in "Rigoletto" with Santa Fe Opera, Papageno in "Die Zauberflöte," Roger Chillingworth in a concert performance of "The Scarlet Letter" by Lori Laitman, Imperial Commissioner in "Madame Butterfly," the father in "Hansel and Gretel," and Mercutio in "Romeo and Juliette" with Opera Colorado.
Paulson recently received recognition in competitions including second place in the Mobile Opera Competition, third place in the Denver Lyric Opera Guild Competition, fourth place in the Florida Suncoast Opera Guild Competition, the Gérard Souzay Award at the Positively Poulenc: Joy in Singing Competition, an Encouragement Award from the Florida District of the Metropolitan Opera National Council Auditions, and first place in the annual voice competition of the Friday Morning Music Club of Washington, D.C.
Concert performances include singing with the Tallahassee Community Chorus as the baritone soloist in the "Dvořák Te Deum," soloist with the Florida State Baroque ensemble singing "Telemann's Ist Gott Versöhnt und Unser Freund cantata" and Schütz's "Symphoniae Sacrae I." Paulson studied at Florida State University receiving a master's degree in Voice Performance and at Westminster Choir College where he graduated with a Bachelor of Music degree in Voice Performace magna cum laude with honors.