Office of Career Services
OkraSuits
"Suited for Success"
What is OkraSuits?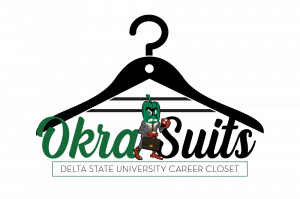 "OkraSuits" is a professional clothes closet supplied through donations from the Cleveland community and the Delta State University family.  It is designed to provide students and alumni free access to attire appropriate for professional events such as interviews, networking events, and conferences. The goal is simple – to make sure that DSU students and alumni are "suited for success" with the resources necessary to make impactful first impressions and confidently attend professional events!
Students and Alumni
If you are in need of a professional wardrobe piece for a career fair, interview, conference, or some other formal event, Career Services has pieces on hand for you to use! Participants can rent suits for two weeks and keep up to two separate clothing items (e.g. blouses, button downs, ties, etc.)  per semester. Please note that availability of all sizes is not guaranteed.
Prior to accessing the OkraSuits inventory, students/alumni need to schedule an OkraSuits appointment and might be required to participate in a formal mock interview with Career Services (at discretion of Career Services staff). Click here to schedule an appointment to begin the OkraSuits process, or call Career Services at 662-846-4646.
Sponsor Organizations
BECOME AN OkraSuits SPONSOR
Is your business interested in becoming an OkraSuits sponsor?  You can become a sponsor by making clothing donations OR a monetary donation!  Please complete a sponsor form below, or contact Career Services via telephone 662-846-4646 or via email CareerServices@deltastate.edu for more details.
OkraSuits sponsors will have their organization name featured on the OkraSuits site and will have the option to have this name hyperlinked to desired website
Make an Individual Donation
DONATIONS FROM INDIVIDUALS
OkraSuits is a nonprofit program reliant on donations from the community, faculty and staff, and alumni. Donations of gently-used professional attire for men and women are necessary to better serve a variety of students and alumni!
Appropriate items to donate:
Male/female business suits
Dress shirts/blouses
Professional slacks and/or skirts
Professional jackets
Ties
Belts
Donations to OkraSuits may be sent through the mail (see shipping address below or print off available shipping label) or dropped off in the Office of Career Services located on the 3rd-floor, Room 300 of the H.L. Nowell Union.  A Career Services professional can also pick up donations from donors within a reasonable distance of Cleveland, MS.
The shipping address is:
Delta State University
C/O Career Services
1417 Maple St.
Cleveland, MS 38733
Contact Us
Delta State University
Office of Career Services
H.L. Nowell Union, Room 300
Phone: 662-846-4646
Fax: 662-846-4680
CareerServices@deltastate.edu