Welcome | History | Student Life | Academics | Reflections | Contact Us
Everyone at one time or another has probably experienced a feeling of deja vu. However, in this case, it isn't doublevision or anything else of the sort. Janeil and Nancy Pickett show off their freshman beanie caps and each others mirror image. They have both long since graduated, but their memories of Delta State along with those of thousands of other students still remain.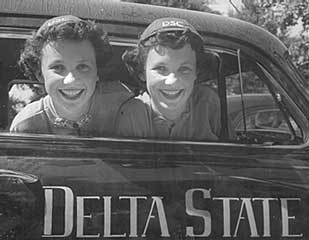 Please Note: The following are excerpts from oral history interviews conducted at Delta State University. In some cases they have been edited for length and clarity.