Bachelor of Science in Speech and Hearing Sciences
Our B.S. in Speech and Hearing Sciences Resonates
The Department of Speech and Hearing Sciences is housed within the College of Arts and Sciences and is committed to offering exceptional pre-professional instruction in the fields of Speech-Language Pathology and Audiology at DSU, leading to the Bachelor of Science degree. Since the department operates an on-campus Speech & Hearing Clinic for the diagnosis and treatment of a wide range of communicative disorders, 100% of our graduates obtain hands-on experience working with clients and clinical clock hours that can be applied to graduate school requirements.
It is our desire to prepare our students to be effective, collaborative, ethical, and equitable professionals as they continue their academic journey. Join us here at Delta State University where you can find your place in our family. Learn evidenced-based practices in the diagnosis, classification, and management of communicative disorders.
Acceptance Rate to Graduate School
Years of Combined Faculty Experience
Program-specific
Student-Teacher Ratio
Why Choose Speech and Hearing at DSU?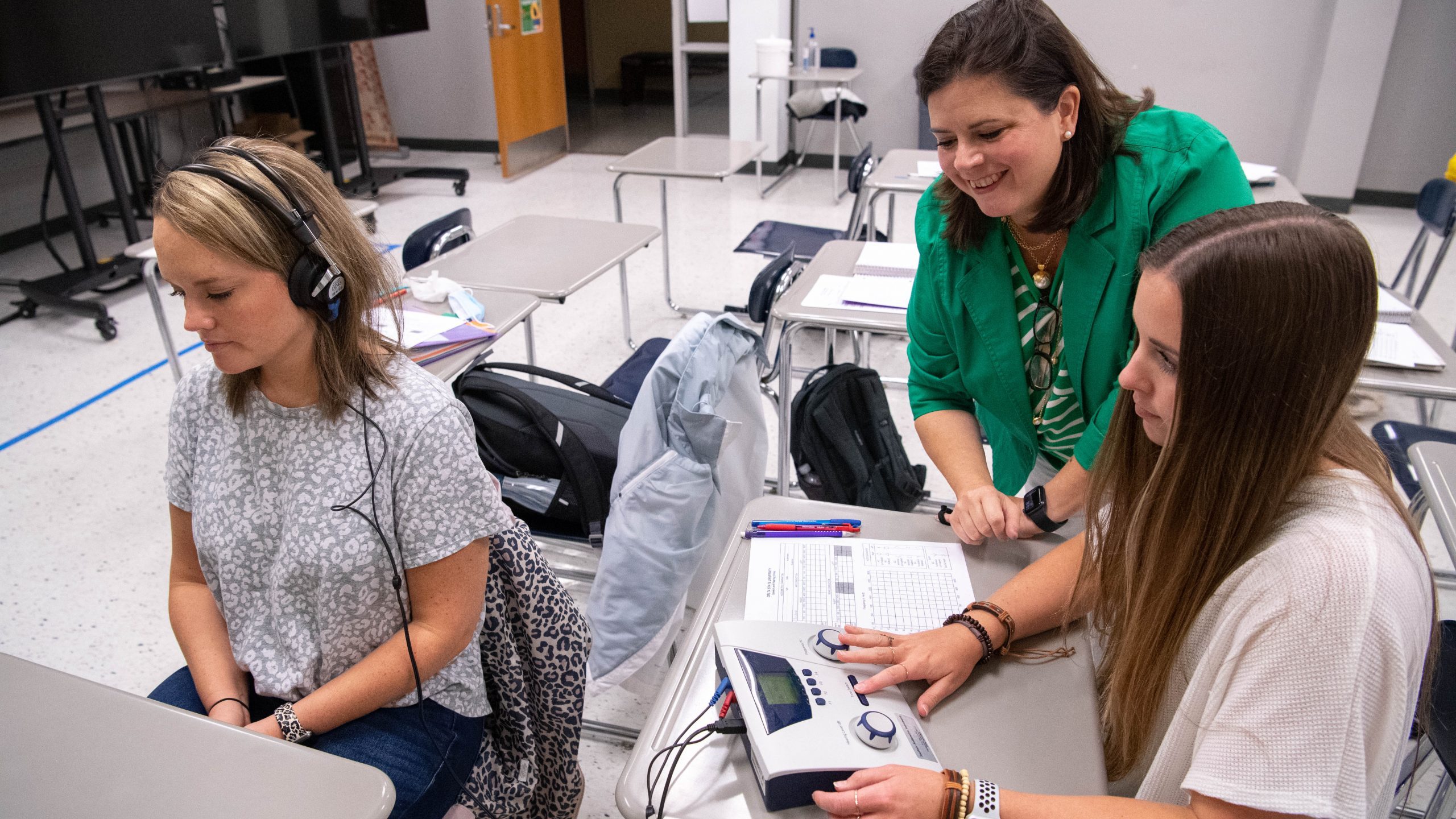 The need in the fields of Audiology and Speech Pathology is great. The fields are extremely rewarding and the need for trained professionals is expected to grow significantly over the coming decade. These fields offer great potential, many choices, and can lead to a fulfilling, dynamic career.
On-campus Speech and Hearing Clinic
Clinically certified and licensed faculty
Flexible student advisement
Utilizes metacognitive study strategies for enhanced learning
Assists with graduate school application process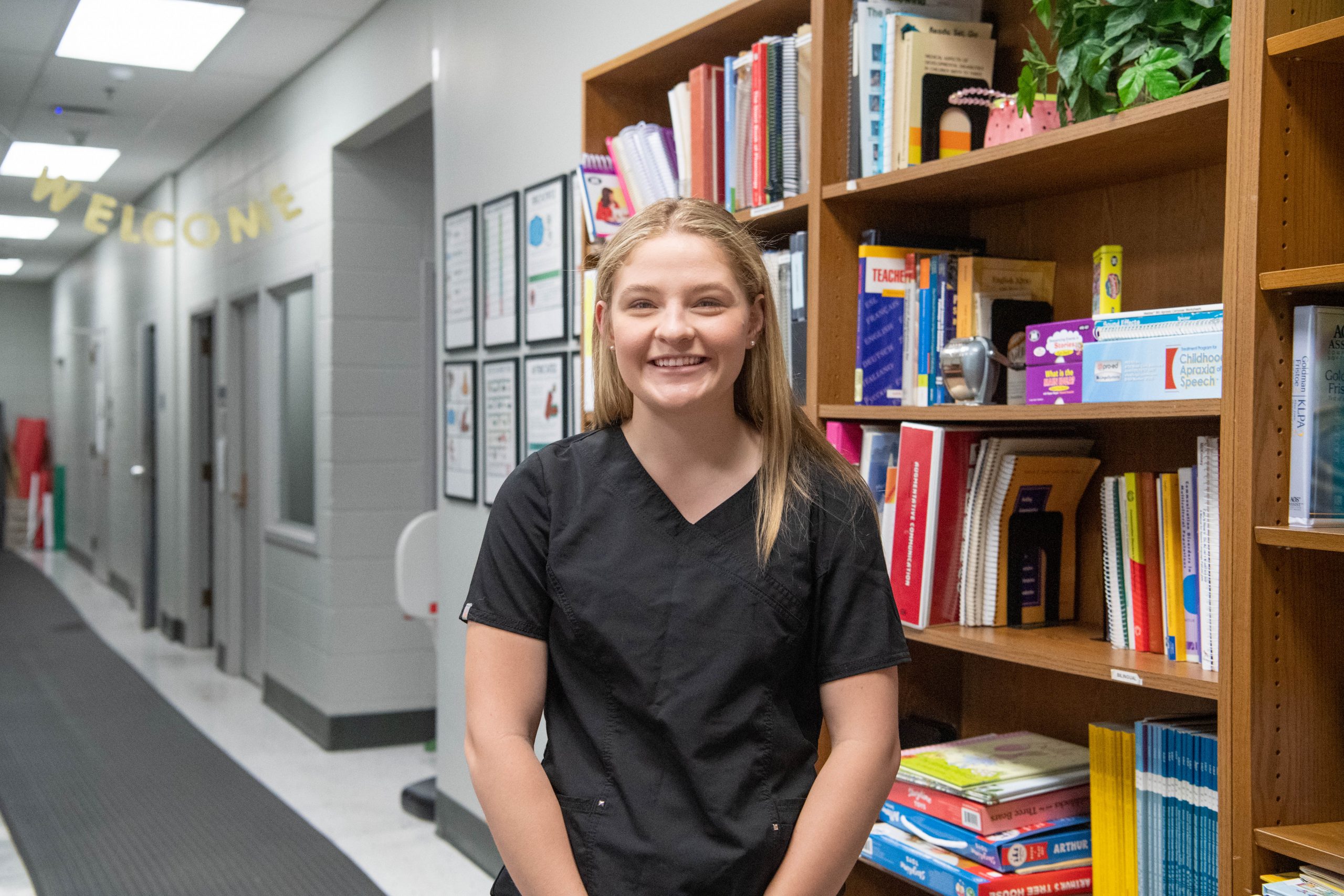 "The Speech and Hearing Sciences program at Delta State has allowed me to pursue my aspirations of becoming a speech language pathologist through a hands-on learning environment, led by encouraging professors.

Carly Marsh, Speech and Hearing Sciences major

Class of 2025
What Can I Do With a B.S. Degree in
Speech and Hearing Sciences?
Speech-language pathology is an amazing profession filled with an array of opportunities. Some employment settings where speech-language pathologists work include the following:
Public & private schools
Centers for developmental disabilities
Colleges & universities
Hospitals
Rehabilitation centers
Nursing homes
Home health care
State & federal government agencies
State & local health departments
Private practice
Speech and Hearing Sciences Scholarships
The Fugler-Hafter Scholarship is an honor scholarship awarded to students majoring in Speech and Hearing Sciences. It is given to encourage academic excellence and is awarded to seniors with the highest cumulative GPA.
The scholarship is named in honor of Mrs. Madge Quin Fugler and her daughter, Mrs. Mary Margaret Hafter. Mrs. Fugler served on the first Board of Trustees at Delta State Teacher's College from 1924 to 1931. Mrs. Hafter was the first speech teacher at Delta State University as well as the founder of the Delta Playhouse in 1930.
Students may also be eligible for non-program specific scholarship opportunities.
The mission of the Department of Speech and Hearing Sciences is to increase public service to individuals with communicative disorders through our Speech and Hearing Clinic, helping to improve their quality of life by providing speech/language/hearing services. We also strive to maintain a high-quality undergraduate curriculum, preparing students for graduate school as well as employment within school systems in the state of Mississippi. The curriculum also provides students with a strong foundation for pursuing a graduate degree in a related field.
Students in the Department of Speech and Hearing Sciences must maintain a GPA of 2.60 or higher in all major courses to take their last four advanced courses in the curriculum. A student may repeat no more than 3 courses (9 semester hours) for the purpose of grade improvement. A student may not take SHS courses at other institutions for grade improvement.
A transfer student has the same requirements. Courses in communicative disorders taken at four-year institutions with approved undergraduate programs must be considered individually before transfer credit may be allowed. Credit for SHS courses taken at other institutions for which the student earned lower than "C" will not be applied to requirements for graduation.
The University requirement of a grade-point average of 2.00 in all courses taken includes, for the Speech and Hearing Sciences major, a GPA of 2.60 in all SHS courses, with no grade lower than C in a required major course to be applied toward graduation, including such courses as may have been transferred from other institutions. All clinical practicum requirements must be completed while enrolled at Delta State University under the supervision of one or more faculty members who hold the appropriate Certificate of Clinical Competence from the American Speech-Language and Hearing Association (ASHA).
The following courses are required to complete the major in Speech and Hearing Sciences.
Course Number
Course Title
Credits
SHS 300
Introduction to the Speech and Hearing Sciences
3
SHS 302
Phonetics
3
SHS 304
Developing Speech and Language in Children
3
SHS 306
Anatomy and Physiology of Speech and Hearing
3
SHS 330
Speech Science
3
SHS 332
Speech Sound Disorders
3
SHS 334
Language Disorders
3
SHS 336
Appraisal and Diagnosis of Speech and Language Disorders
3
SHS 410
Clinical Orientation
3
SHS 412
Methods in Communication Disorders
3
SHS 414
Audiology
3
SHS 416
Neuroanatomy and Physiology
3
SHS 420
Neurogenetic Communication Disorders
3
SHS 422
Voice Disorders
3
SHS 430
Clinical Procedures in Speech Pathology
3-6
SHS 455
Diagnostic Audiology
3
TOTAL
48
To earn this degree, you must successfully complete at least 120 credits, including your general education requirements and the major requirements below.
| | |
| --- | --- |
| General Education | 39-40 |
| University Requirement | 1 |
| Special Degree Requirements | 21-23 |
| Major | 48 |
| Electives | 8-11 |
| TOTAL DEGREE REQUIREMENTS | 120 |
For more information on degree requirements and specifics on courses needed to complete the degree, consult the Undergraduate Academic Catalog. For a semester-by-semester breakdown on how you can complete this degree in 4-years, visit academic maps.