Bachelor of Commercial Aviation in Flight Operations
Our B.C.A. in Flight Operations Will Ensure Your Career Takes Off
Delta State University's bachelor's program in Flight Operations is one of the premier choices for students who desire a career as a professional pilot. Industry professionals agree that Delta State University graduates display the highest levels of proficiency and professionalism, which make them prime candidates for positions in today's aviation marketplace. Virtually all graduates of DSU's aviation program advance to excellent positions with professional, corporate, charter, regional, and major airlines, as well as the military.
Program-specific Scholarships
Employment Rate Since 2019
Why Choose Flight Operations at DSU?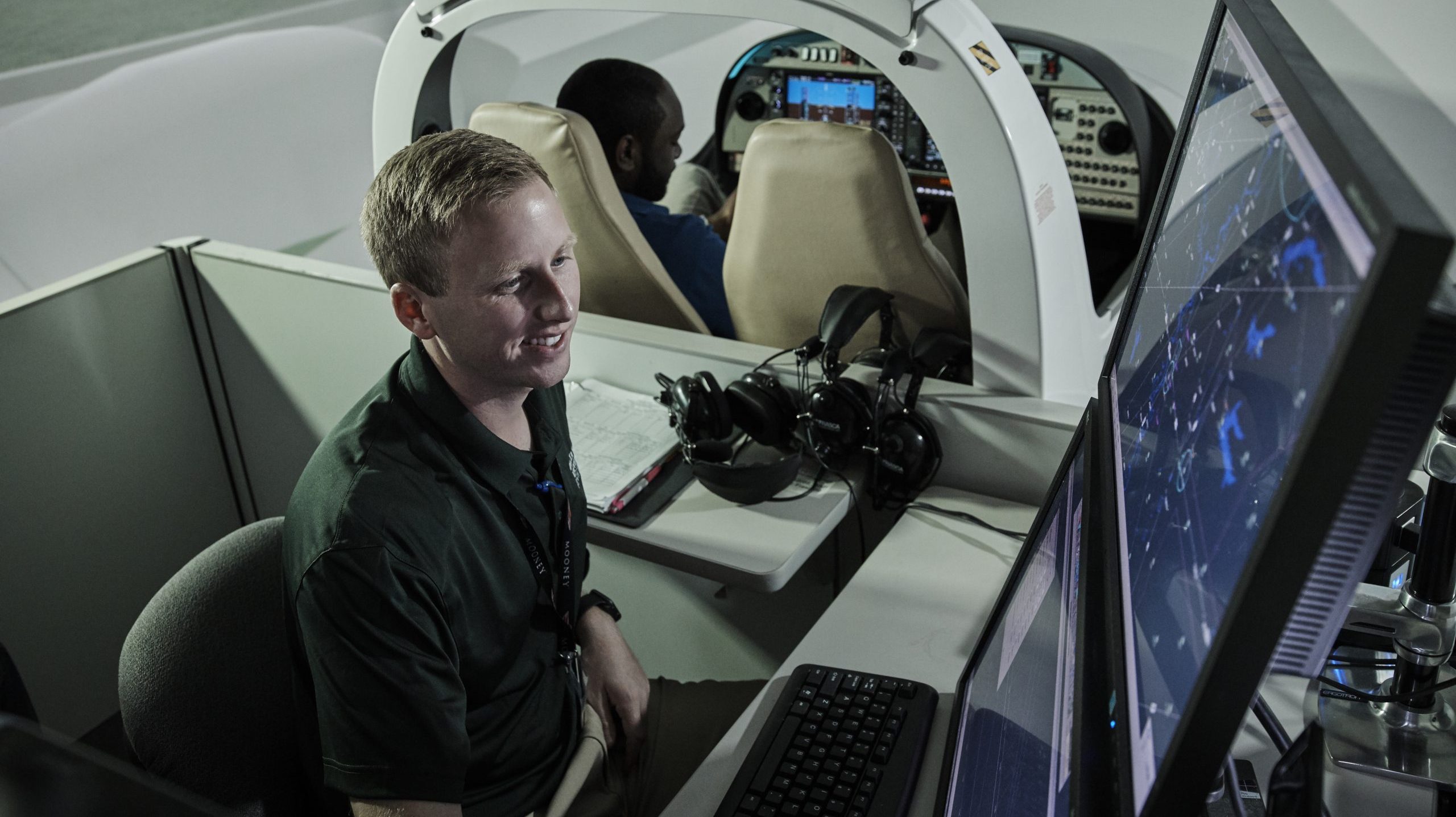 There are several exciting aspects of Delta State's Flight Operations program that make it stand out from others. One of the most thrilling is that students have access to state-of-the-art facilities and cutting-edge technology. This allows students to gain hands-on experience with the latest equipment, preparing them for the real-world challenges they will face in their careers. Additionally, the program boasts a team of expert faculty members who are both highly experienced and passionate about aviation. The aviation industry is constantly evolving and innovating, which means that there are always new opportunities and challenges to explore. Delta State's program is designed to help students stay ahead of the curve, giving them a competitive edge as they pursue their careers as professional pilots.
Combination of classroom and flight training
Strong emphasis on safety
Nationally recognized NIFA-member Precision Flight Team
Active chapter of Alpha Eta Rho
Applications accepted year-round
Best value in aviation
AABI Accredited

What Can I Do With a B.C.A. in Flight Operations?
Students who graduate with a B.C.A. degree in Flight Operations go on to serve as professional pilots for corporations, airlines, and the military. Some graduates also serve as flight instructors at universities. Because of the rapidly growing field of aviation, many of our graduates rapidly move up in the rankings at airlines, with some becoming airline Captains in as few as 4 years.
Commercial Aviation Scholarships
Delta State's works to meet the financial need of Commercial Aviation students. At DSU, we're going to automatically consider you for scholarships. Some scholarships you may be considered for include opportunities for majors in commercial aviation, majors with a concentration in Flight Operations, students who are in good academic standing, students who demonstrate academic improvement, students with the highest GPA, and students who have financial need. Students may also be eligible for non-program specific scholarship opportunities.
Our goal is to train critically literate scholars, writers, and educators with the skills to excel, no matter where their degree in English takes them. From the classroom to the boardroom, our graduates go on to careers in education, media, marketing, technology, publishing, and countless other fields.
Applicants of this program must meet Delta State University's admission requirements.
There are no additional program admission requirements.
The following courses are required to complete the major in Flight Operations.
Course Number
Course Title
Credits
CAV 251
Private Pilot Flying
3
CAV 260
Aircraft Engine Operation
3
CAV 350
Instrument Pilot Ground
3
CAV 352
Commercial Pilot Ground
3
CAV 353
Commercial/Instrument I
3
CAV 354
Commercial/Instrument II
3
CAV 355
Commercial/Instrument III
3
CAV 357
Aerodynamics
3
CAV 360
Flight Instructor Ground
3
CAV 361
Certified Flight Instructor Flying
3
CAV 362
Multi-engine Ground
3
CAV 363
Multi-engine Flight
1
CAV 387
Advanced Aircraft Systems
3
CAV 390
Instrument Flight Instructor Ground and Flight
1
CAV 420
Air Carrier Equipment Operation I
3
TOTAL
41
To earn this degree, you must successfully complete at least 120 credits, including your general education requirements and the major requirements below.
| | |
| --- | --- |
| General Education | 40-41 |
| University Requirement | 1 |
| Special Degree Requirements | 6 |
| Aviation Core | 32 |
| Major | 41 |
| TOTAL DEGREE REQUIREMENTS | 120 |
For more information on degree requirements and specifics on courses needed to complete the degree, consult the Undergraduate Academic Catalog. For a semester-by-semester breakdown on how you can complete this degree in 4-years, visit academic maps.
DSU Flight Training Projected Program Costs (2023-2024)
These values represent the minimum flight training required for each syllabus. Includes the cost of the required FAA knowledge tests. Also included in CAV 355, 361, and 390 total costs is an estimated 1.5 hours of aircraft rental and a $350 FAA examiner's fee.
CAV 251
Private Pilot Single-engine
$10,007.50 (C172)
$9,149.50 (C152)
CAV 353/354
Instrument Pilot Single-engine
$10,771.00
CAV 363
Private Multi-engine
$9,156.00
CAV 355
Commercial Multi-engine
$17,018.50
Commercial Single-engine add-on
$602.50
CAV 361
Multi-engine Flight Instructor
$7,915.00
Single-engine Flight Instructor add-on
$602.50
CAV 390
Instrument Instructor
$3,008.50
Additional books and resources required for training (PIM's, FAR's, Flying Handbook, medicals, etc…)
$1100.00
Total Flying Costs
$60,181.50 (CAV 251 C172)
$59,323.50 (CAV 251 C152)
Estimated Total
Does not include any extra training necessary.
$121,485.50