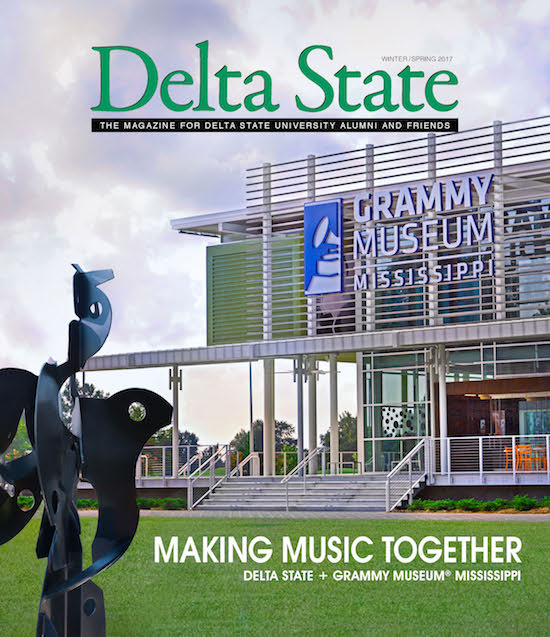 Delta State's Alumni and Foundation Magazine is making its way into the homes and businesses of alumni and friends. The cover of the Winter/Spring 2017 edition features GRAMMY® Museum Mississippi, which is located next door to the DSU Alumni and Foundation building.
This year's publication also contains a special section outlining the University's long-term goals and priorities, as set forth by President William N. LaForge.
Readers will enjoy other campus hot topics, such as the Delta State Radio, Wiley Planetarium, Alumni Awards, Alumni Spotlights, and the new Vice president for Student Affairs, Dr. Bernell Bennett. Additionally, Alumni and friends are able to keep up with fellow classmates in the "with the classes" section.
"We are excited to update all our alumni, donors, friends, and students on all the happenings at Delta State," said Melissa Love, Assistant Director of Alumni Affairs. "There are so many reasons for alumni to visit campus and stay in touch with their alma mater. The magazine showcases many advancements being made on campus, as well as fun events throughout the year for students, alumni, and friends of the University."
The Delta State Magazine is mailed to over 28,000 homes of alumni, friends, students, prospective students, faculty and staff nationally.
To view the Magazine online, go to https://issuu.com/deltastateuniversity/docs/dsualummag_winter_spring_17_links.
To update your information, visit www.deltastategiving.org/alumniassociation/updateyourpersonalinformation.
To stay up to date on the Alumni Association's activities, follow these social media sites: Facebook (Statesmen Graduates), Twitter (@DSU_Alumni), Tumblr (www.dsualumni.tumblr.com), LinkedIn (DSU alumni), Instagram (dsualumni) and You Tube (dsualumni1). Save the dates for this year's Go Green Weekend (April 8), Pig Pickin' (Oct. 7) and Homecoming (Nov. 11).