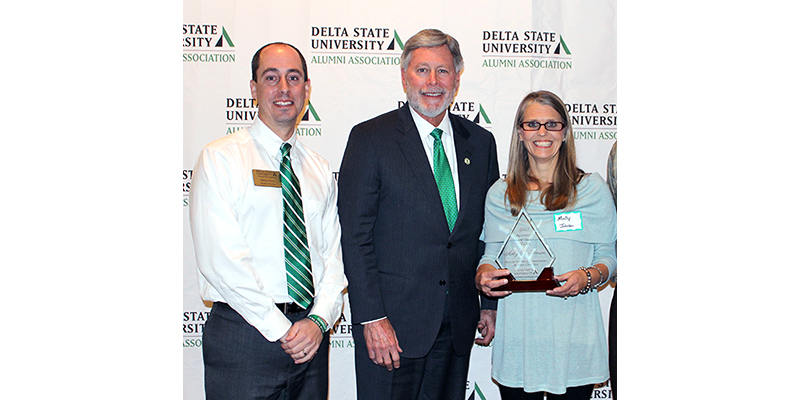 (Left to right) Jeffrey Farris, director of Alumni Affairs, President William N. LaForge, and Molly Hoagland Johnson, South Central Mississippi Chapter Alumnus of the Year.
The Delta State University National Alumni Association held its annual South Central Mississippi Alumni Chapter Meeting Jan. 26 at Mitchell's Steak & Seafood in Brookhaven.
The night of fun and fellowship featured Delta State President William N. LaForge, head baseball coach Mike Kinnison, Athletic Director Ronnie Mayers, and Director of the Delta Music Institute, Tricia Walter.
Alumni received a preview for baseball season, plans for renovations to Walter Sillers Coliseum, and the inter-workings of the Delta Music Institute.
LaForge provided campus updates related to construction and academic advancements.
"The ultimate goal for us is for students to walk across the stage and receive their diploma," said LaForge.
Molly Hoagland Johnson '94 was recognized as the South Central Mississippi Chapter Alumnus of the Year.
Johnson received her bachelor's from Delta State in 1994 and her MBA in 1995. She served as president of Kappa Delta Sorority and was a member of the Delta State tennis team from 1990-94. She was recognized for Gulf South Conference Sportsmanship in 1993 and 1994. Additionally, Johnson is a member of the DSU Hall of Fame.
Since her days as a Delta State student, Johnson has been committed to serving her community. She is employed at North Pike School District, where she has also served as an active PTO member and past president. She co-coaches the Fernwood Flippers Swim team and the Parklane Academy Swim Team.
Johnson's community affiliations include: executive director for The United Givers of Southwest MS; member and former president of the Pike County Howdycrat Board; and former ambassador for the Pike County Chamber of Commerce. As a Life Member of the McComb Garden club, she has served as fundraiser chairman, publicity chairman and Azalea Court chairman.
She and her family attend Centenary United Methodist Church where she previously served as children's coordinator for two years. For 14 years, she taught elementary students during church on Wednesday evenings. She has also chaired fundraising projects for youth to attend mission trips.
At home in McComb, Molly and her husband, Pender Johnson, have three boys.
To stay up to date on the Alumni Association's activities, follow these social media sites: Facebook (Statesmen Graduates), Twitter (@DSU_Alumni), Tumblr (http://www.dsualumni.tumblr.com), LinkedIn (DSU alumni), Instagram (dsualumni) and You Tube (dsualumni1). Save the date for this year's Go Green Weekend (April 8), Pig Pickin' (Oct. 7) and Homecoming (Nov. 11).