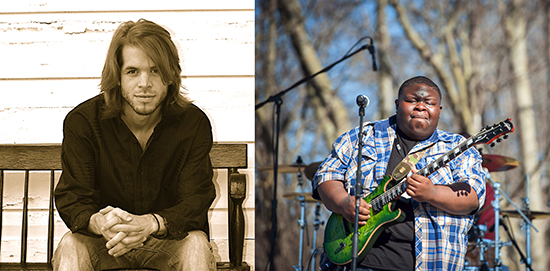 GRAMMY Museum® Mississippi will host a concert June 29 at 7:30 p.m. to celebrate the opening of its second special exhibit, "Pride & Joy: The Texas Blues of Stevie Ray Vaughan."
Taking place on the museum's front lawn, the concert will be headlined by Wes Sheffield and the Slowburners, along with 17-year-old blues guitar phenom Christone "Kingfish" Ingram from Clarksdale.
Tickets to the show are $15 in advance and $20 the day of the performance. Tickets can be purchased online, by calling the museum box office at 662-441-0100, or in person at 800 W. Sunflower Rd. in Cleveland. Food and drinks will be available for purchase on the museum grounds.
"We are so excited about this celebration of our new exhibit," said Emily Havens, executive director of the museum. "It will be a great evening of fun, food and terrific music by Wes and his band." 
Curated by the GRAMMY Museum® at L.A. LIVE, the exhibit opens June 30 and will offer visitors an in-depth look at the iconic career of legendary bluesman Stevie Ray Vaughan. Jimmie Vaughan, Stevie's brother, serves as a guest curator of the exhibit.
About Wes Sheffield
Wes Sheffield is quickly becoming an emerging artist to watch in Mississippi. Raised in a small town tucked away in North Mississippi, Sheffield quickly developed an affinity for the soulful sounds for which the South has always been revered. He recorded his first album with help from Adam Grace, a native of Tupelo, Mississippi, and member of the six-piece roots rock/Americana band Truth & Salvage Co. After a hard month of work at Creative Workshop Studios in Nashville, Tennessee, Sheffield completed his debut album "Fever." Encouraged by the legendary Muscle Shoals Swamper, producer, engineer and session guitarist Jimmy Johnson, Sheffield began serious work on his latest record. The new project is being produced by Johnson and Glenn Rosenstein, and recorded in part at Blackbird Studios in Nashville.
About Christone "Kingfish" Ingram
Exposed to the rich gospel music emanating from his family's church, combined with the blues he heard being played by musicians in his Delta neighborhood and at the Delta Blues Museum, Kingfish became a natural sponge of musical talent. Kingfish has shared the stage with Bob Margolin, Eric Gales, Rick Derringer, Guitar Shorty, Buddy Guy and many more. He has played festivals and venues all over the U. S., and has also performed in Washington, D.C. at the White House, right in front of First Lady Michelle Obama. This child prodigy's soul is possessed with the feeling, passion and fire of the much older men who created the most important genre of American music — the blues.
For more information, visit grammymuseumms.org.