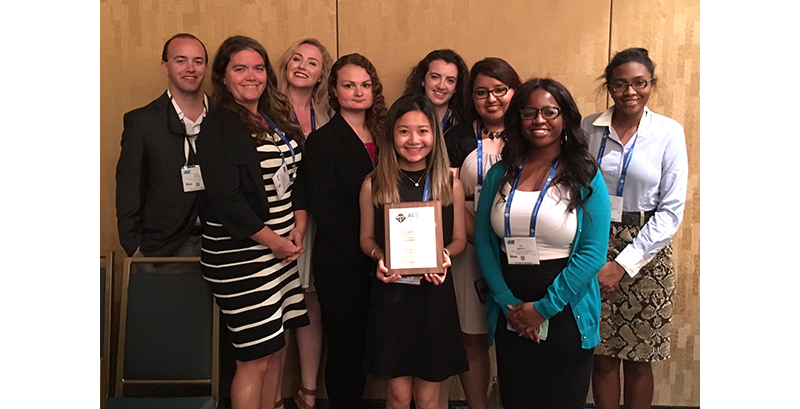 First row, left to right: (holding award) Bonita Nuon (holding award), Tia Brown. Second row (l to R): Dr. Sharon K. Hamilton, Kierstin Page, Daisy Camarillo, Ashley Griffin. Third row (l to r): Will Weeks, Scarlett Salter, Katie Penton.
In early April, the Delta State University American Chemical Society (DSU ACS) attended the 253rd American Chemical Society National Meeting & Exposition in San Francisco, Califronia.
Two members, Will Weeks and Kierstin Page, presented their research projects. Additionally, Daisy Camarillo, Ashley Griffin, Zach Odoms, Tia Brown, Bonita Nuon and Scarlett Salter presented a DSU ACS Chapter poster in the Division of Chemical Education for the Undergraduate Research Poster Session and the Successful Student Chapters Session.
Page's poster was selected for the Sci-Mix, a large meeting-wide event that combines a social event with poster presentations contributed by each participating division. Divisions participate in Sci-Mix by contributing posters. The number of posters may not exceed 20 posters or 10 percent of the total number of papers in a division, whichever is larger. Her selection for a poster is a distinction as she represents the best of what the Division of Chemical Education has to offer in terms of the science and presentation.
Graduate student Katie Penton presented a research poster in the joint Polymeric Materials: Science and Engineering/Polymer Poster Session.
The DSU ACS chapter also attended the undergraduate awards ceremony where Penton, the chapter's president, accepted the Commendable Student Chapter Award on behalf of the chapter.
"The ACS national meeting is a wonderful opportunity for students to meet chemists from around the world, hone networking and communication skills, and gain information regarding graduate schools, the interview process, and professional opportunities," said Dr. Sharon Hamilton, assistant professor of chemistry at Delta State. "The DSU ACS students who attended the conference in San Francisco were exposed to cutting-edge research in oral and poster presentations. They were also able to explore San Francisco, gaining valuable exposure to cultures outside of the Delta."
"Presentations at a national meeting are highly competitive, and it speaks highly of the DSU ACS chapter and the research being done in the Department of Chemistry and Physics that our students were able to present four different posters at the meeting," added Hamilton. "It is truly a great honor for Kierstin Page to be selected to present her research at the Sci-Mix. Kierstin has worked hard on her chemistry education project and has continued to network with other departments at Delta State in the hopes of expanding the project next year. She always has quite a bit of traffic at her poster presentation which is a good sign that the research she is doing at Delta State is pertinent and of interest to other researchers and educators in America."
For more than 140 years the American Chemical Society has been improving people's lives through the transforming power of chemistry. Learn more at https://www.acs.org.