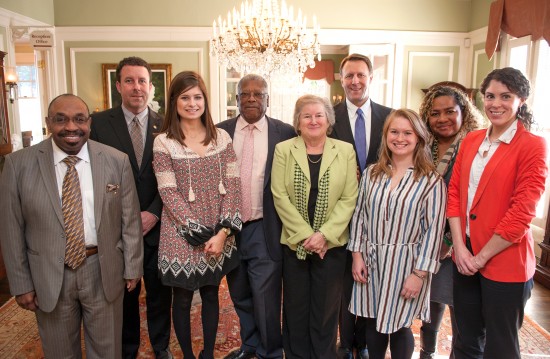 Delta State University recently placed third at the Blue Cross & Blue Shield of Mississippi Social Business Challenge hosted at the state capital Feb. 10. The competition, in coordination with the Mississippi Institutions of Higher Learning, was open to all Mississippi public universities and addressed one of the state's most pressing problems — obesity and related health issues.
Delta State's team was comprised of students Emily Riley Herrington, Elizabeth Stitt, Liz Quinn, and faculty advisors Dr. Virginia Webb and Melody Fortune.
The competition platform provided each institution's team of students the opportunity to showcase their ideas, creativity and ingenuity as they presented plans for businesses focused on reducing obesity, rather than making a profit. Formal presentations were made to judges as well as elevator pitches to Mississippi state legislators.
The Delta State team proposed LEE Activity Center, a program for kindergarten through sixth grade students that incorporates learning, eating and exercise (LEE). In the proposal, students would arrive after school, have a tasty and nutritious snack, then rotate between sessions focussing on homework, tutoring, nutrition lessons and exercise activities. Outcome measures included management of time and resources, mastery of nutrition information, and level of physical activity.
"Taking part in the competition was a lot of hard work but very rewarding in the end," said Quinn. "It was nice to meet students from other universities in Mississippi and hear their ideas and proposals, as well as having lunch with three Mississippi senators. We hope to see nutrition education and physical activity increase in the Mississippi Delta, and hopefully this will be the healthy start to impact our community."
Webb was thrilled with the group's winning proposal.
"As students, the links between improving society and operating a business are not always evident. This challenge allowed the students to be creative in their approach to dealing with societal issues while working within the business environment," said Webb. "I am very proud of our third place out of 11 competitive entries from other higher education institutions in Mississippi."
Learn more about the annual competition at http://www.mississippi.edu/ihl/newsstory.asp?ID=1221.
# # #
The Mississippi Board of Trustees of State Institutions of Higher Learning governs the public universities in Mississippi, including Alcorn State University; Delta State University; Jackson State University; Mississippi State University including the Mississippi State University Division of Agriculture, Forestry and Veterinary Medicine; Mississippi University for Women; Mississippi Valley State University; the University of Mississippi including the University of Mississippi Medical Center; and the University of Southern Mississippi.