Cleveland, Miss.—Team Statesmen? Team Okra? Or, both! The Delta State University campus community and alumni are invited to rep their favorite mascot while engaging in some friendly competition during this year's Virtual Homecoming Celebration, Nov. 8-14.
In accordance with Delta State's COVID-19 action plan, this year's Homecoming events are mostly virtual, offering DSU family from around the globe the chance to join in the fun.
Director of Alumni Affairs James Forte said this year's line-up will provide alumni an opportunity to feel at home with Delta State wherever they are.
"Despite the onset of the pandemic, we wanted to keep our alumni engaged and connected during this Homecoming season," said Forte. "We're excited about the wide array of activities we have planned for the week, and we hope to engage our alumni and appeal to those who haven't been able to join us on campus recently."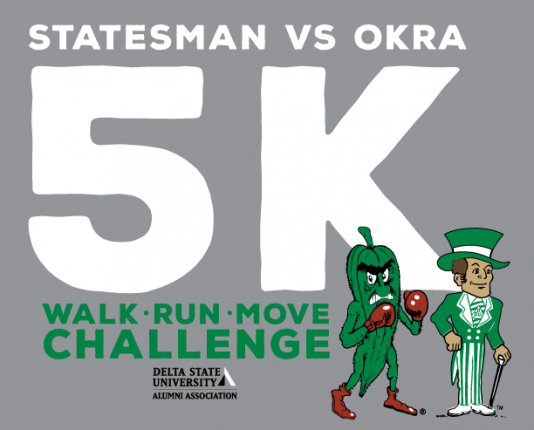 Highlighting this year's events is the weeklong Virtual 5k Challenge, where participants can "run, walk, hop, skip, dance or scoot" their way to the finish line.
The $25 registration fee includes a t-shirt, and individuals can also opt to purchase a t-shirt only or to make a donation. Registration for the challenge is open through Nov. 14, and participants will be asked to pick a team—Statesmen, Okra or, for those who can't pick just one, both—during sign-up.
Another event scheduled to run throughout the week is Social Media Trivia, which will be hosted each day on all official DSU Alumni social media channels. The first person to answer the question correctly on each respective platform will be named the winner and will receive DSU swag.
"The History of the Statesman" video will also premiere Sunday evening on official DSU Alumni social media channels
The fun will continue Monday, Nov. 9, from 6 to 7 p.m. with a special virtual "Okra Talk" with award-winning author Chris Smith.
Sponsored in collaboration with the DSU Department of Diversity, Equity and Inclusion, the "Okra Talk" will cover Smith's book, "The Whole Okra: A Seed to Stem Celebration." Exploring all things okra, the book specifically mentions DSU's Fighting Okra in Chapter 4, entitled "Pod of the Gods."
Copies of the book are available for purchase at the DSU Barnes & Noble Bookstore as well as the Cotton Row Bookstore in downtown Cleveland.
Attendees will receive the opportunity to experience Delta State's campus from the comfort of their home Tuesday with a scheduled Virtual Campus Tour and DSU Virtual Spotlight Day from 10 to 10:45 a.m.
Wednesday will feature the week's only in-person event with DSU Trivia hosted at 8 p.m. at Hey Joe's restaurant in downtown Cleveland.
Thursday's events include ongoing Social Media Trivia as well as a second Virtual Campus Tour.
The Annual Alumni Awards Gala and the Golden Circle Virtual Celebration is set to stream live from 7 p.m. to 8 p.m. Friday on DSU Alumni's official Facebook page and YouTube channel.
The week will cap off with a wrap-up of the Virtual 5k Challenge, Social Media Trivia and a final Virtual Campus Tour.
Find the DSU Alumni Association on social media at Facebook (Statesmen Graduates), Twitter (@DSU_Alumni), LinkedIn (DSU alumni), Instagram (dsualumni) and YouTube (DSU Alumni Association).
To view the full Fall 2020 Virtual Homecoming Schedule, visit deltastategiving.org/alumni-association/homecoming.
For questions or more information, call (662) 846-4660, or e-mail alumni@deltastate.edu.