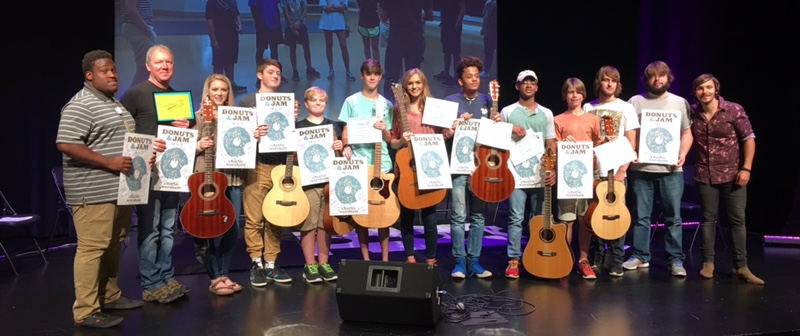 The Follow Your Heart Arts Program, launched by Warner Brothers recording artist Charlie Worsham and funded by a grant from the Country Music Association Foundation, recently completed the first season of partnership with the DMI Entertainment Industry program at Delta State University.
The mission of the Follow Your Heart program is to enrich and empower the lives of young people living in Grenada County through music education, music business career exploration, and the study of the rich history of Mississippi music.
The DMI works with the Follow Your Heart Arts Program by connecting entertainment industry majors who provide instruction and mentoring to students in the program.
In addition to the Follow Your Heart Arts Program, Worsham, a native of Grenada, also founded the Follow Your Heart Scholarship Fund to provide financial support to Grenada youth who dream of a career in the arts. In late 2016 he hosted the inaugural Follow Your Heart Scholarship Fund Gala, which benefited the fund. Since starting the campaign, Worsham has raised approximately $60,000.
"I realize this is the most important work I'll ever get to do," Worsham said.
The idea for the fund was sparked in Worsham during a conversation with a class of teenagers at a high school in Grenada when one girl was too embarrassed to verbalize her dream of acting on Broadway. Worsham said it broke his heart.
"The kids in my hometown need to have hope. And if the kids in my hometown see me doing it, they need to know they can do it, too," he said.
Worsham most recent CD, "Beginning of Things," was released on Warner Brothers Records in April.
For more information on Worsham's Follow Your Heart Scholarship Fund, visit www.FollowYourHeartArts.org. To learn more about the Follow Your Heart Arts program, visit https://www.facebook.com/FollowYourHeartArts/
The DMI offers a B.S. in Entertainment Industry Studies degree in the College of Arts & Sciences at Delta State. The focus of the DMI is to provide students with a broad and thorough education in the technological, creative, and business areas of the music and entertainment industry. For information, contact (662) 846-4579 or visit http://dmi.deltastate.edu.