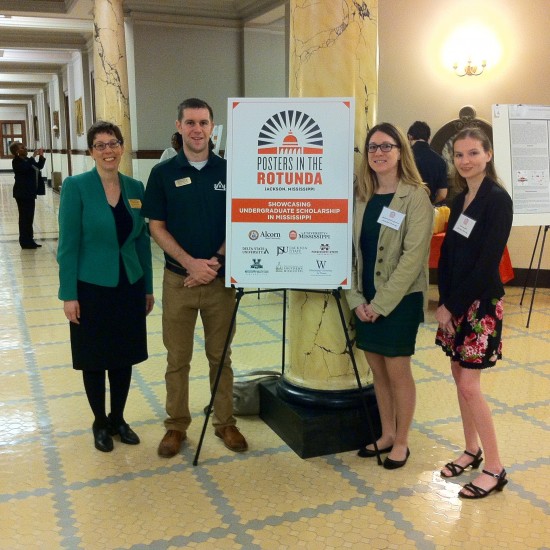 Three undergraduate students recently represented Delta State in the inaugural Posters in the Rotunda event at the State Capitol in Jackson.
Students from all eight of Mississippi's public universities shared their research and creative activities on a wide variety of topics with legislators and state leaders. The event allowed students to show how their research solves some of Mississippi's most pressing problems and benefits the citizens of the state.
Participating Delta State students and their topics included:
– Brian Barnett of Winchester, Virginia — Blood Flow Occlusion Pressure at Rest and Post Low Load Exercise
– Christine Beck of Crystal Springs — Role of Tick Antioxidants in Rickettsia Parkeri Colonization in the Gulf
– Rebekah Napier-Johnson of Johannesburg, South Africa — The Gut Microbial Fauna of the Hardwood Stump Borer, Mallodon dasystomus (Coleoptera: Cerambycidae)
The faculty sponsor for the affair was Dr. Ellen Green.
Modeled after the Posters on the Hill event in which students from across the country share their work in the U.S. Capitol in Washington, D.C., Mississippi's event is similar to ones held in 17 other states.