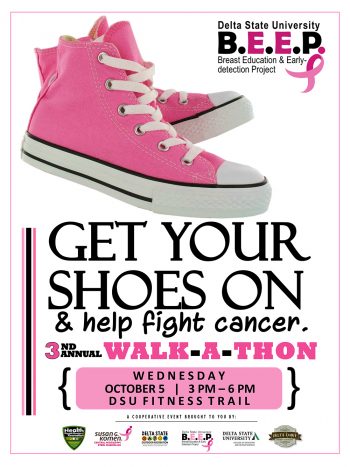 To kick off October's Breast Cancer Awareness Month, Delta State University's B.E.E.P (Breast Education & Early-detection Project) and the College of Education and Human Science's Outdoor Recreation Program are teaming up to fight breast cancer with their third annual walk-a-thon.

The event takes place Oct. 5 from 3-6 p.m. at the Delta State Fitness Trail, located on Maple Street across from Facilities Management. Participants are welcome to come and go during the schedule.
Funds will be raised to help provide mammograms and education for women in need. Donations will be accepted, and participants are encouraged to walk or jog as long as they can.
For more information, contact Gail Bailey, B.E.E.P. coordinator, at 662-207-0262 or gbailey@deltastate.edu, or Todd Davis, director of Outdoor Recreation, at 662-846-4570 or tdavis@deltastate.edu.