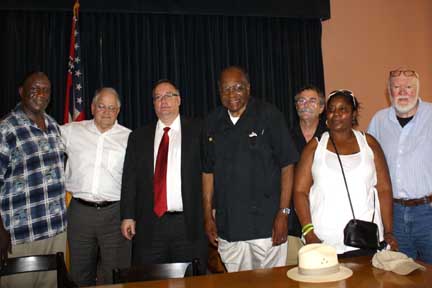 From left: Little, Rice, Killinger, Jordan, Brown, Jaynes, and Outlaw
The Delta State University Delta Center for Culture and Learning held a special panel discussion in the Sumner Courthouse in Tallahatchie County for participants in its National Endowment for the Humanities Workshop.
This historic courthouse was the scene of the murder trial of the killers of Emmett Till in August of 1955. The murder of 14 year old Emmett Till is widely viewed as being the spark that lit the fuse of the American Civil Rights Movement.
The panelists presented material on the case and its repercussions. Retired FBI agent Lent Rice talked about the original investigation of the murder by the FBI. Agent Dale Killinger, who is now the unit chief of the Proactive Data Exploitation Unit of the Foreign Terrorist Tacking Taskforce, was formerly in charge of the most recent FBI investigation into the case.
Jerome Little is one of the two co-chairs of the Emmett Till Heritage Commission and is also the president of the Tallahatchie County Board of Supervisors. Dr. Henry Outlaw, formerly of the Delta Center, has conducted many oral history interviews with people involved in the case. Senator David Jordan has represented Leflore County in the State Legislature since 1993 and is also a member of the Greenwood City Council. He attended the trial of Roy Bryant and J. W. Milam. Jessie Jaynes is the public relations chair for the Emmett Till Heritage Commission.
Luther Brown, director of the Delta Center for Culture and Learning, acted as moderator of the discussion.