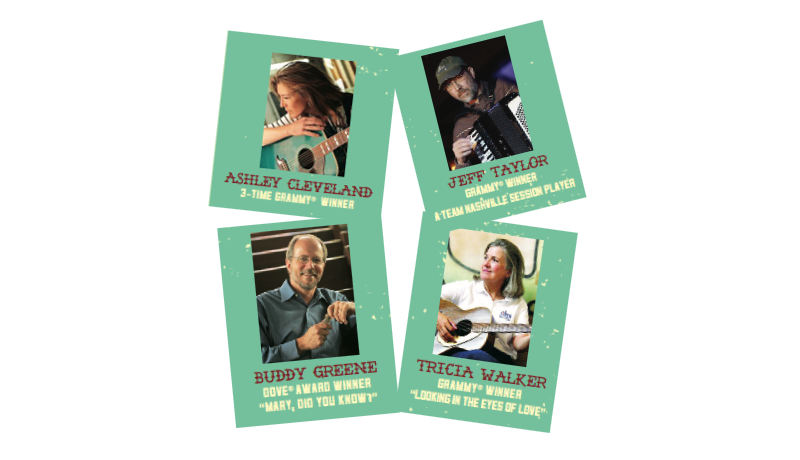 The Delta Music Institute Entertainment Industry Studies program at Delta State University will host its second "Writers in the Round" show on May 18 at the Delta Meat Market in downtown Cleveland.
The show will be held at 6 p.m. and will feature three-time GRAMMY® winner Ashley Cleveland, Dove award winner and writer of "Mary, Did You Know?," Buddy Greene, A-Team Nashville session player Jeff Taylor, and DMI Director Tricia Walker.
The event serves as a fundraiser for DMI scholarships and programming.
"An 'in the round' songwriter show features professional songwriters in an intimate circular setting made famous at the Bluebird Café in Nashville, Tennessee," said Walker, who was one of the mainstays of the venue during her years as a singer-songwriter in Music City. "It's a wonderful way to experience the power and emotion of great songs sung by the writers themselves."
Ashley Cleveland is a GRAMMY and Dove Award winner who has released eight critically acclaimed albums. "God Don't Never Change" features songs rooted firmly in a host of traditions — black spirituals, folk songs, 18th century hymns, gospel blues and jubilee. The disc was nominated for a GRAMMY Award for Best Traditional Gospel Album.
Buddy Greene has worked with the most celebrated names in the music industry, among them Bill and Gloria Gaither, the late Jerry Reed, and Mark Lowry, with whom he wrote the Christmas classic "Mary, Did You Know?"  The song has been recorded numerous times, including covers by Kenny Rogers, Wynonna, Natalie Cole, Glen Campbell, Kathy Mattea, CeeLo Green, Clay Aiken and Pentatonix. Greene has performed for more than a quarter of a million people in New York's Central Park and has been a part of Praise Gatherings for more than two decades and toured all over the world.
Jeff Taylor grew up in Batavia, New York, and studied classical piano at the Eastman School of Music. He has lived in Nashville since 1990 and counts among his performing highlights his two years as bandleader at the Ryman Auditorium for the musical production "Always, Patsy Cline," the Skaggs Family Christmas Tour, and many appearances on the Grand Ole Opry backing numerous artists. He has recorded with Elvis Costello, Paul Simon, Harry Connick Jr., Amy Grant, George Strait, Vince Gill and The Chieftains. He was a featured artist on the 2007 GRAMMY-winning Best Bluegrass Album, Ricky Skaggs "Instrumentals". In addition to excelling on accordion and piano, he also shines on the concertina, penny whistle, mandolin and bouzouki.
Seating is limited to 85 seats. Tickets may be purchased by calling the Delta Music Institute office at 662-846-4579 between 8 a.m. and noon Monday-Thursday.
The DMI is an independent center of study under the College of Arts and Sciences at Delta State University, offering a bachelor's degree in entertainment industry studies. The focus of the DMI is to provide students with a broad and thorough education in the technological, creative and business areas of the music and entertainment industry. For information, visit http://dmi.deltastate.edu.