Delta State University is gearing up for its biggest Homecoming in years. Join the celebration of Statesmen pride with Homecoming festivities beginning Nov. 6 at 4 p.m. with Catfish on the Quad sponsored by the Student Government Association.
While the official kickoff for the Homecoming football game is Nov. 11 at 2 p.m., an amped up schedule of activities will lead up to the game. This year's theme is "A Statesman Stroll Down Memory Lane."
Dr. Vernell Bennett, vice president for Student Affairs, has spearheaded the event schedule.
"Student Affairs and the Homecoming Committee are really focused on engaging more students, alumni and community members in Homecoming this year," said Bennett. "Some of our new initiatives include a Homecoming webpage with links to the various events, various college open houses, a bonfire/pep rally at Statesman Park, and the Statesman Stroll."
The stroll, beginning at the Student Union on Nov. 11, features 12 campus locations that include the open houses and various historic venues. The back of each stroll card has facts about each stop, and each "stroller" is entered into a drawing to win a Visa gift card. This activity begins at 9 a.m. and runs until 11 a.m. For more information on the stroll, visit http://www.deltastate.edu/student-life/homecoming-statesman-stroll.
Registration for the parade is still available at http://www.deltastate.edu/student-life/homecoming-parade. This year's parade will again feature approximately 10 bands from throughout the region, and campus, alumni and community participants. The parade's theme is "Statesman Pride On Parade."
View the full Homecoming schedule below: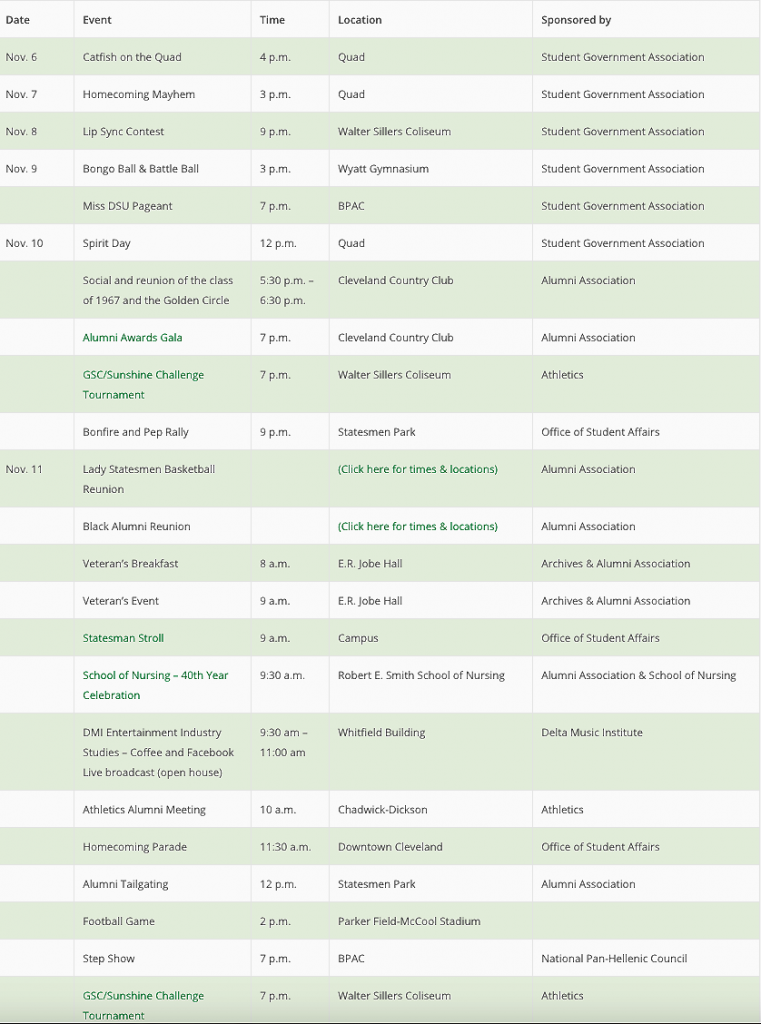 For more information, visit the official 2017 Homecoming webpage at http://www.deltastate.edu/student-life/dsu-homecoming.
SaveSave