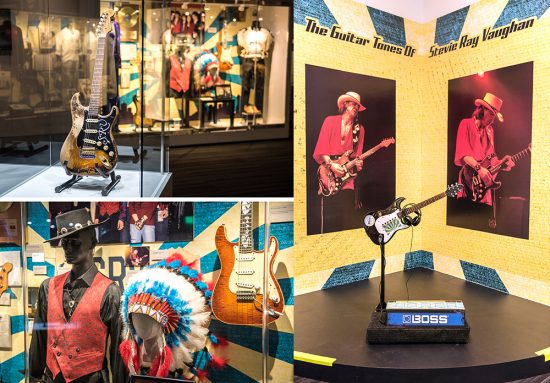 Joining President William N. LaForge is Emily Havens, executive director of GRAMMY Museum Mississippi.
On June 30, GRAMMY Museum Mississippi unveiled its second special exhibit, which follows the success of its first exhibit devoted to the Beatles. This new exhibit focuses on the life and music of blues musician Stevie Ray Vaughan and is a traveling exhibit curated by the GRAMMY Museum at L.A. LIVE. The exhibit offers visitors an in-depth look at Stevie Ray Vaughan's iconic career, and the Museum hosted at the exhibit's opening Stevie's brother, Jimmie Vaughan, who is serving as a guest curator.
The exhibit features numerous items from Stevie Ray's career including guitars, personal photographs, and outfits worn by the performer on stage. The Museum kicked off the exhibit with a concert on its front lawn, headlined by Wes Sheffield and the Slowburners, along with 17-year-old blues musician Christone "Kingfish" Ingram from Clarksdale. It was another example of the growing environment of music and culture here at Delta State, and the university is proud of the partnership with GRAMMY Museum Mississippi and the wealth of opportunities it provides not only Delta State students but also the state and region.