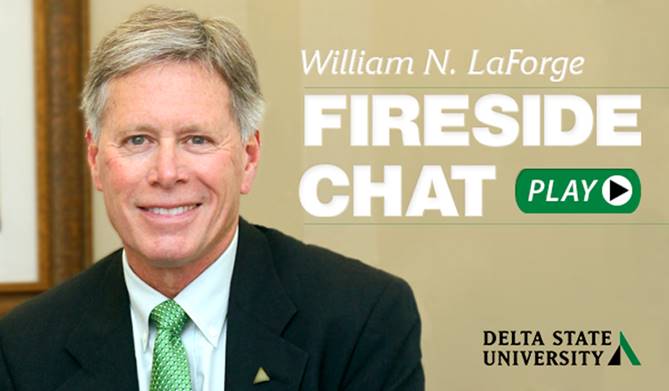 Joining President LaForge is David Abney, CEO and Chairman of the Board for UPS.
Each year, Delta State alumnus David Abney and his wife Sherry generously donate their time and treasure to support and sponsor our annual International Business Symposium on campus. This marks the 12th year for the event, which was held this past week. It is a wonderful opportunity for our students to learn from, and interact with, top business leaders, and we appreciate everyone who gives their time to make it such a successful event.
David is the CEO and Chairman of UPS. He started his career in 1974 as a part-time package loader at UPS while he was an undergraduate student at Delta State. He has lived the American dream of working his way up from the package loader all the way to the top seat in the company. David held various operational positions at UPS along the way, including president of UPS International, where he led the expansion of the company's global logistics capabilities. He was named Delta State's Outstanding Alumnus of the Year in 2007, and received an honorary doctorate from Delta State in May 2015. Dr. Abney has been an active ambassador for the university throughout his career, and he serves as role model for ways an alumnus can give back to his alma mater and provide today's students with greater opportunities for success.