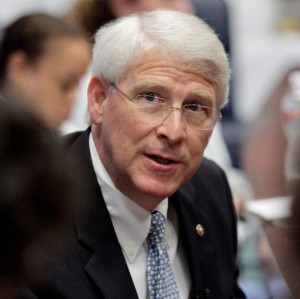 The Delta State University Colloquia: Distinguished Speakers Lecture Series continues this semester with U.S. Sen. Roger F. Wicker.
Wicker will speak on campus March 22 at 6 p.m. in the auditorium of E.R. Jobe Hall at a free and public event. There will be a reception in Wicker's honor immediately following the speech.
"On behalf of the university, I am thrilled to welcome Senator Roger Wicker as our next lecturer in the Distinguished Speakers Lecture Series — The Delta State University Colloquia," said Delta State President William N. LaForge, who established the lecture series in September of 2013. "Senator Wicker is a prominent figure in Mississippi politics and has enjoyed a long and distinguished career in state and federal government. The Delta State family is honored to host him on campus."
Wicker has represented Mississippi in the United States Senate since December 2007. During his time in the Senate, he has championed pro-growth policies to create jobs and has worked to reduce spending, limit federal overreach and maintain a strong national defense.
He is a member of the Senate Republican leadership team, serving as chairman of the National Republican Senatorial Committee. As a member of the Senate Armed Services Committee, he chairs the Subcommittee on Seapower.
Additionally, Wicker has actively supported cancer survivorship programs and efforts to fight heart disease with the American Heart Association, diabetes and childhood obesity. He has been recognized as a champion of polio eradication for his work to wipe out polio worldwide. He is also the co-founder of the Senate Malaria Caucus and has worked to eliminate the preventable disease.
Prior to his service in the Senate, Wicker was elected seven times, beginning in 1994, to represent Mississippi's First Congressional District in the House of Representatives. Before being elected to Congress, he served in the state Senate on behalf of Lee and Pontotoc counties.
Wicker is also a veteran, having served active duty in the U.S. Air Force and then the Air Force Reserve. He retired from the Reserve in 2004 with the rank of lieutenant colonel.
LaForge encouraged Delta State professors to alert their students of this rare opportunity to hear Wicker speak.
"This is a university-wide program that continues to bring a unique and diverse array of speakers — from judges, government officials, lawyers, artists, and business professionals — to our campus to address and interact with our students, faculty and staff," LaForge said. "I encourage the campus and Cleveland communities to join us for this special event."
Each Colloquia lecture is streamed live online through the official Delta State University uStream channel. Learn more at www.deltastate.edu/colloquia.