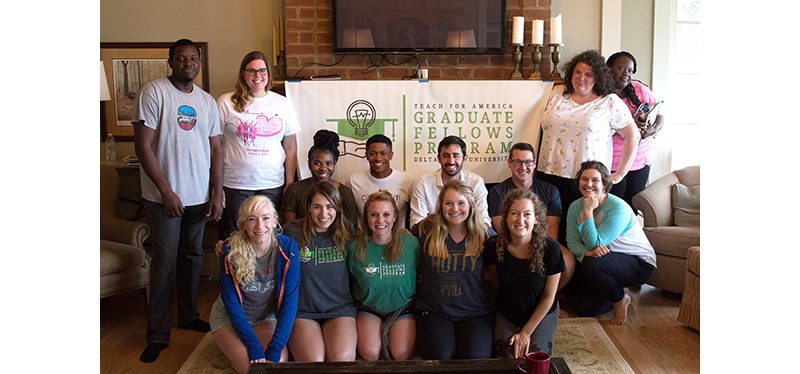 Delta State University's Graduate and Continuing Studies department recently completed its second annual immersion retreat for the Teach For America Graduate Fellows Program.
The program is a collaboration between Teach For America and Delta State University, offering 20 Teach For America alumni support while working to launch and run a social entrepreneurship project in the Mississippi communities they serve, while also completing a graduate degree program of their interest.
This year's cohort includes: AK Suggs, Alexis Williams, Catie Denham, Charlotte Arrowsmith, JJ Townsend, Kaitlyn Barton, Latasha Capers, Leigh Hill, Lucas Rapisarda, MK Honeycutt, and Sean Brown.
The retreat offered the fellows the opportunity to refine their leadership skills while also being introduced to entrepreneurial perspectives when tackling social problems. Additionally, the cohort was required to disconnect from their day-to-day stresses and devote all their energy for four days to the retreat. The cohort had the privilege of staying at a cabin directly on the Mississippi River which allowed for stunning sights and sounds, refreshing walks and a beautiful setting to collaborate.
Participants focused on the expansion of their proposed social venture projects through vision setting, customer discovery, probes and prototypes. Spud Marshall served as the facilitator for the retreat. Marshall is the chief catalyst for co.space, an international network of homes for change-makers that launched in State College, Pennsylvania. He is also the co-founder of New Leaf, a nonprofit social innovation incubator in State College.
"We offered the cohort tangible tools for them to use by providing a framework and space to plan out the implementation and design of their projects," said program coordinator Harrison Wood. "Our retreat was an incredible success. They became more than simply a group of TFA alumni, but rather, a group that will continue to intentionally support and collaborate with one another as they make steps towards change in Mississippi over the next two years."
The group also visited with Ben Lewis and Amanda Johnson, who are both leading social enterprises in Clarksdale. The trip provided fellows an opportunity to visualize and learn from entrepreneurs who have pursued ventures positioned in a rural area. Wrapping up their visit to Clarksdale, the cohort canoed the Mississippi River with John Ruskey of Quapaw Canoe Company, fostering a team-building experience for the participants.
To complete the fellowship, each participant will focus on social entrepreneurship, while simultaneously completing a graduate degree at Delta State. The cohort will regularly convene to share experiences in a collaborative environment, allowing participants to develop goals.
"We're delighted that our alumni have an opportunity to further invest their talents and demonstrate their devotion to Mississippi and the Delta in this structured, creative way," said Teach For America's Ron Nurnberg. "It's been terrific for me to see this opportunity move from dream, to discussion, to planning, to unfurling. I'm eager to see this potential unleashed and improving the quality of life for all of us."
The project is funded through a grant from the Robert M. Hearin Foundation. The principal goal of the foundation is to contribute to the overall economic advancement of the state of Mississippi by making funds available to four-year colleges and universities and graduate professional schools located in the state.
For more information on the program, visit www.tfafellows.com.