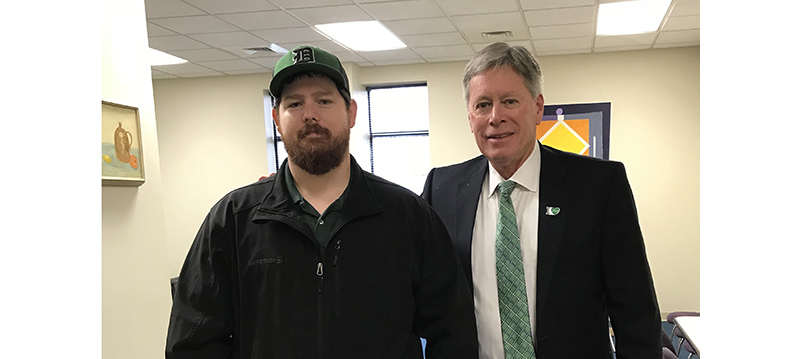 Feb. 2018 Employee of the Month, Robert McDaniel (left), and Delta State University President William N. LaForge.
The Delta State University Staff Council recently honored Robert McDaniel, electrician's assistant, as the February 2018 Employee of the Month.
McDaniel, a native of Drew, has served in the role for 10 years. He attributes his love for the job to the people he works with and who he meets on his daily rounds.
"There is a family here, and those of us who have been around a while, we are invested in each other, checking up with each other," said McDaniel. "Then I enjoy meeting the new faculty, staff and students who decide to spend time here in the Delta — but they come from all over the world."
He enjoys helping out when he sees a need on campus and is always willing to offer a helping hand.
Made up of volunteers from the Staff Council, the Incentives & Recognition committee meets monthly to review nominations for the Employee of the Month award. The committee has been celebrating staff performance in this manner for over 15 years.
Delta State's Staff Council serves as a liaison between the administration and the staff to provide a formal process for staff to discuss issues involving university policies and procedures and to forward ideas, recommendations and opinions to the president.