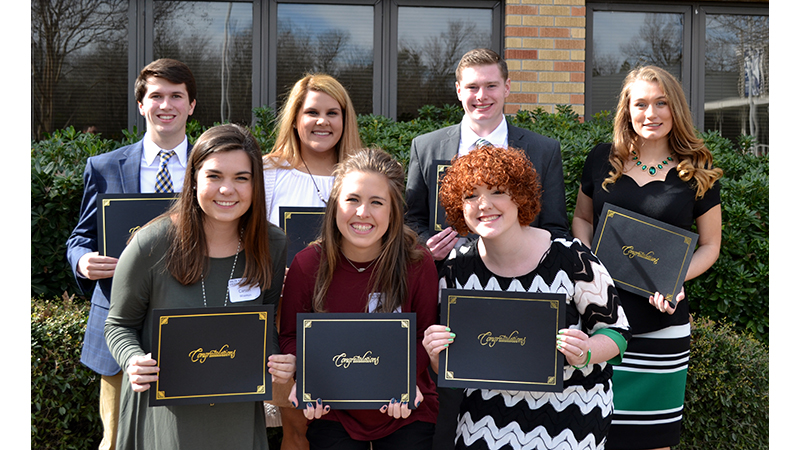 The Office of Admissions at Delta State University awarded the most prestigious scholarships to incoming freshmen during the inaugural Statesman Scholarship Day held on Jan. 27.
Students were selected to attend the event based on ACT scores, high school GPA, academic leadership and service demonstration. They participated in two rounds of interviews, one of which focused on academic achievements, and the other on student involvement and leadership.
The event provided an exciting opportunity for students to compete for the high-awarding scholarships, some of which are new for the fall of 2017.
Delta State recruiter Rebekah Arant assisted in the event's preparation.
"Activities during the day included an enhanced tour, an interactive session with financial aid and student life representatives, an information session with academic leadership, lunch and an awards reception," said Arant.
Provost and Vice President for Academic Affairs, Dr. Charles McAdams, served as the keynote speaker during the academic information sessions, and President William N. LaForge delivered the congratulatory address during the awards program.
The scholarships offer an attractive aid package to the selected prospective students, explained Caitlyn Thompson, director of recruiting.
"Many of these scholarships cover a very large portion of tuition, if not all, and several awards include a four-year full ride to Delta State which includes tuition, room, board, books and the campus improvement fee," said Thompson. "Scholarship dollars are a strong recruiting tool, and we are glad to be able to offer these awards to top-notch individuals."
The scholarships awarded to 28 students included the Maurice & Mary Hartley Scholarship, William Doc Griffin Scholarship, Hugh Ellis Walker Alumni Scholarship, Kyle Education Trust Scholarship, Marietta Crear Scholarship, Foundation Executive Board Scholarship, Robert Allen Arnold Memorial Scholarship and the new Statesman Scholarship.
The scholars include: Catheryne Booth-Sanders (Grenada, MS), Cody Bowlin (Merigold, MS), Hunter Chandler (Canton, MS), John Coker (Hernando, MS), Amaya Colbert (Greenville, MS), Jordan Curry (Byram, MS), Evelyn Dover (Pope, MS), Hannah Duley (New Albany, MS), William Farmer (Oxford, MS), Grant Foley (Southaven, MS), Lucy George (Kingsport, TN), Olivia Herring (Pearl, MS), Kyle Hulett (Gulfport, MS), Lauryn Kidd (Bay St. Louis, MS), Ashlyn Kinman (Olive Branch, MS), Logan Krick (Hernando, MS.), Tristan Moseley (Cleveland, MS), Megan Price (Ellisville, MO), Mary Rackley (Gulfport, MS), Clayton Roberts (Bogue Chitto, MS), Taylor Street (Greenville, MS), Elizabeth Switzer (Gulfport, MS), Parker Tomlinson (Olive Branch, MS), Robert Wahl (Kenner, LA), Carson Wiseman (Olive Branch, MS.), Carl Failing (Indianola, MS), Alison Fullilove (Clarksdale, MS) and Ryan Raburn (Shreveport, LA).
For more information on scholarships or the application process, visit www.deltastate.edu/admissions, or contact 662-846-4020.