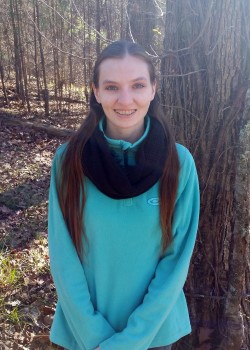 Christine Beck, an environmental science major concentrating on wildlife management, was recently awarded the 2016 Mississippi Association of Conservation Districts scholarship in the amount of $5,000.
The scholarship is available to any sophomore, junior, senior or graduate student enrolled in a college or university in the state of Mississippi. Beck, a senior from Crystal Springs, Mississippi, stood a notch above the competition and received the first place scholarship.
MACD, established in 1945, is a nonprofit, non-governmental organization composed of the 82 Soil & Water Conservation Districts in Mississippi. MACD is governed by a 31-member board of directors and represents more than 400 district commissioners who promote the conservation of Mississippi's natural resources through education and outreach.
"I'm so thankful to the Mississippi Association of Conservation Districts and the encouragement of my professors to pursue this opportunity," said Beck. "The MACD Endowment Fund scholarship will be a big help throughout my remaining time here at Delta State."
Applications for the scholarship were evaluated based on the student's GPA, activities and leadership qualities, financial need and supporting materials. All majors were encouraged to apply, but conservation related fields of study were given priority.
Beck credited her unique educational opportunities at Delta State.
"The environmental science program at Delta State provides students with numerous opportunities to go out into the field to learn about and interact with plants and animals. These field trips provide great hands-on experiences to those considering a career working outdoors."
Dr. Ellen Green, chair of the Department of Biological sciences, was thrilled with Beck's recognition.
"We're extremely proud of Christine," said Green. "She was one of only three winners of the first place award in the state of Mississippi. We are growing our environmental science program and it is gratifying to see that our students are competitive at the highest levels."
To learn more about environmental science and biological sciences at Delta State, visit http://www.deltastate.edu/college-of-arts-and-sciences/biological-and-physical-sciences.