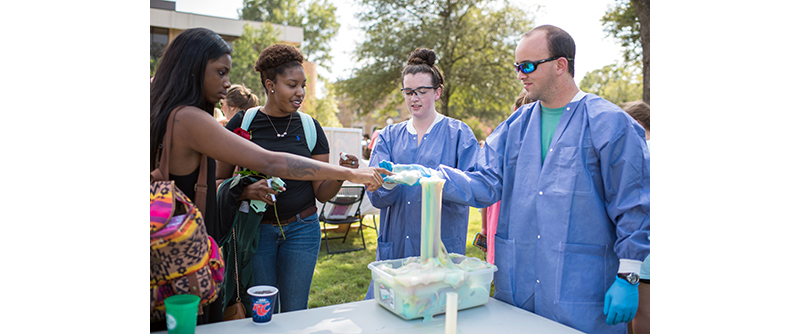 The Delta State University American Chemical Society (DSU ACS) recently received a commendable award for its activities conducted during the 2015-16 academic year.
During the 2015-16 academic year, over 400 chapter activity reports were submitted, and The Society Committee on Education presented 46 outstanding, 93 commendable, and 145 honorable mention awards.
A full list of the award winners is available in the November/December 2016 issue of "inChemistry," the student member magazine. The winning chapters will also be honored at the 253rd ACS National Meeting in San Francisco, California on April 2.
Professor Sharon Hamilton, faculty advisor of the chapter, was also recognized for her leadership.

"Few faculty members are willing to make the great commitment of time and energy that a successful chapter requires. Professor Hamilton's efforts certainly represent the best in undergraduate science education and mentoring around the country," said The American Chemical Society in a press release. "The ACS extends its warmest congratulations to the students and Professor Hamilton for setting such a fine example for other chapters and being exemplary chemistry ambassadors."
Hamilton said she was thrilled to help the group progress.
"DSU ACS received an honorable mention award for 2014-2015, and it's wonderful that we were able to improve the quality of our chapter and receive a commendable for 2015-2016," said Hamilton. "I believe it shows that we have a great group of students in DSU ACS and that they truly enjoy sharing chemistry with their classmates as well as the Cleveland community. It's great to get such recognition from the national American Chemical Society and to know that they value the work of all chemists regardless of the size of your academic or industrial employer."
DSU Chapter officers for the 2016-17 academic year include: Kathryn Penton – president; Will Weeks – vice president; Ashley Griffin – treasurer; Daisy Camarillo – secretary; Scarlett Salter – fundraising chair; and Gunner Sizemore and Bonita Nuon – public relations co-chairs.
In the last three years, Delta State has won two commendable awards (2014 and 2016) and honorable mention (2015).