Join the Green and White Nation for the 4th annual Go Green Weekend at Delta State. Celebrate the spring season with live entertainment, tailgating, a jambalaya cook-off, athletic games, activities for the family and more! Come out to support the Statesmen and Okra for a weekend of food, fun and sports.
Freshmen and Transfer Future Statesmen are invited to attend Spring Preview Day during Go Green Weekend on April 8.  It includes tailgating, a cookout, a student organization fair and athletic events.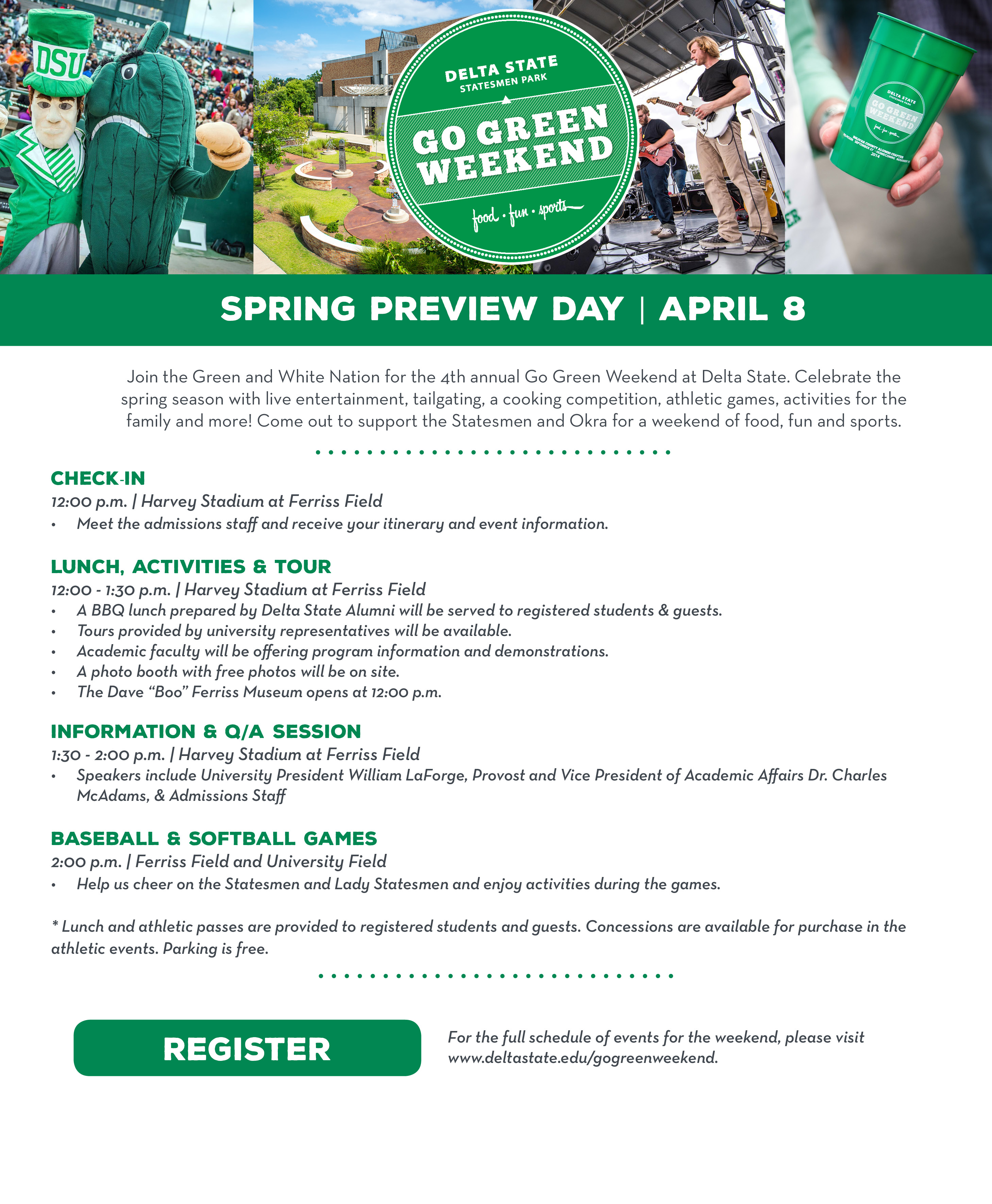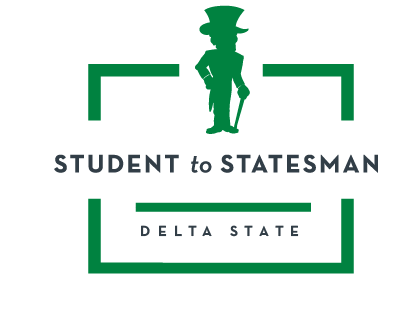 Join us on the next stop of the Student to Statesman tour!
Delta State is hosting a college fair just for you! Learn more about degree programs, the admissions process, financial and more. Speak with faculty, staff and current students to get answers to all your questions.
The Delta State family welcomes all prospective first-time freshmen, transfers, graduates, parents, friends and siblings.
Contact 662-846-4020 or admissions@deltastate.edu to learn more.
Wednesday, September 21 | Jackson Academy
Wednesday, September 28 | Canton Academy
Wednesday, September 28 | Hinds Community College
Wednesday, September 28 | St. Joseph Catholic School
Wednesday, October 12 | Olive Branch High School
Wednesday, October 12 | Lake Cormorant
Tuesday, October 25 | College Fair at Renaissance Mall
Wednesday, November 2 | Senatobia High School
Wednesday, November 2 | College Fair in Desoto County
Wednesday, February 1 | Hernando High School
Wednesday, February 22 | Greenwood Youth Leadership
Have you been admitted to you the University? If so, congratulations and please join us for a Delta State family dinner to celebrate your success and meet future classmates. The following dates and locations are scheduled for the admitted student dinner.
Wednesday, March 22 at 6:00 p.m.
The Stone Center | 423 Washington Ave., Oxford
Thursday, March 23 at 6:00 p.m.
Bank Plus Training Center | 7186 Moore Drive, Southaven
Monday, April 10 at 6:00 p.m.
Iron Horse Grill | 320 W Pearl St., Jackson
*Please note that admission status will be confirmed before event registration is final.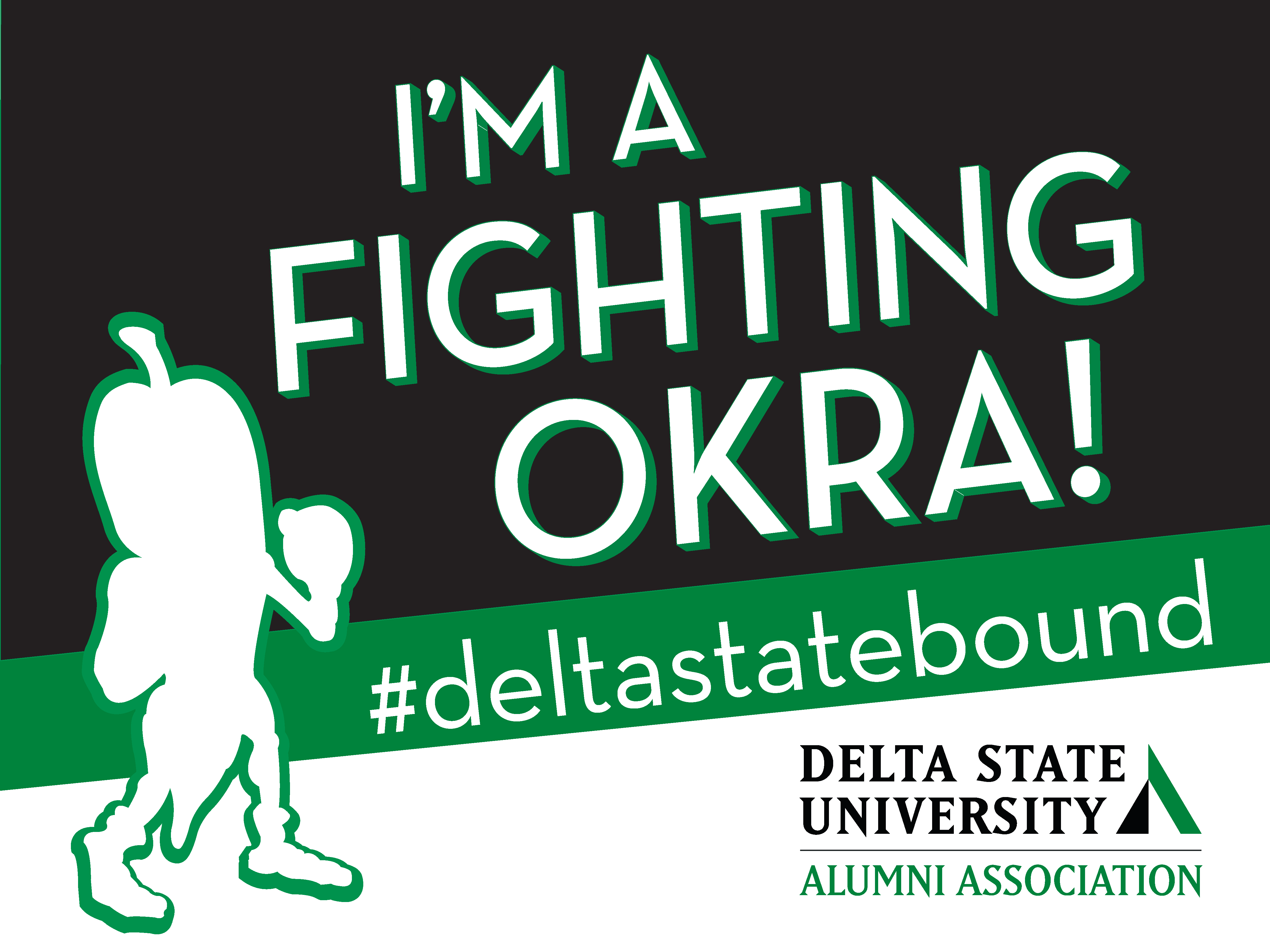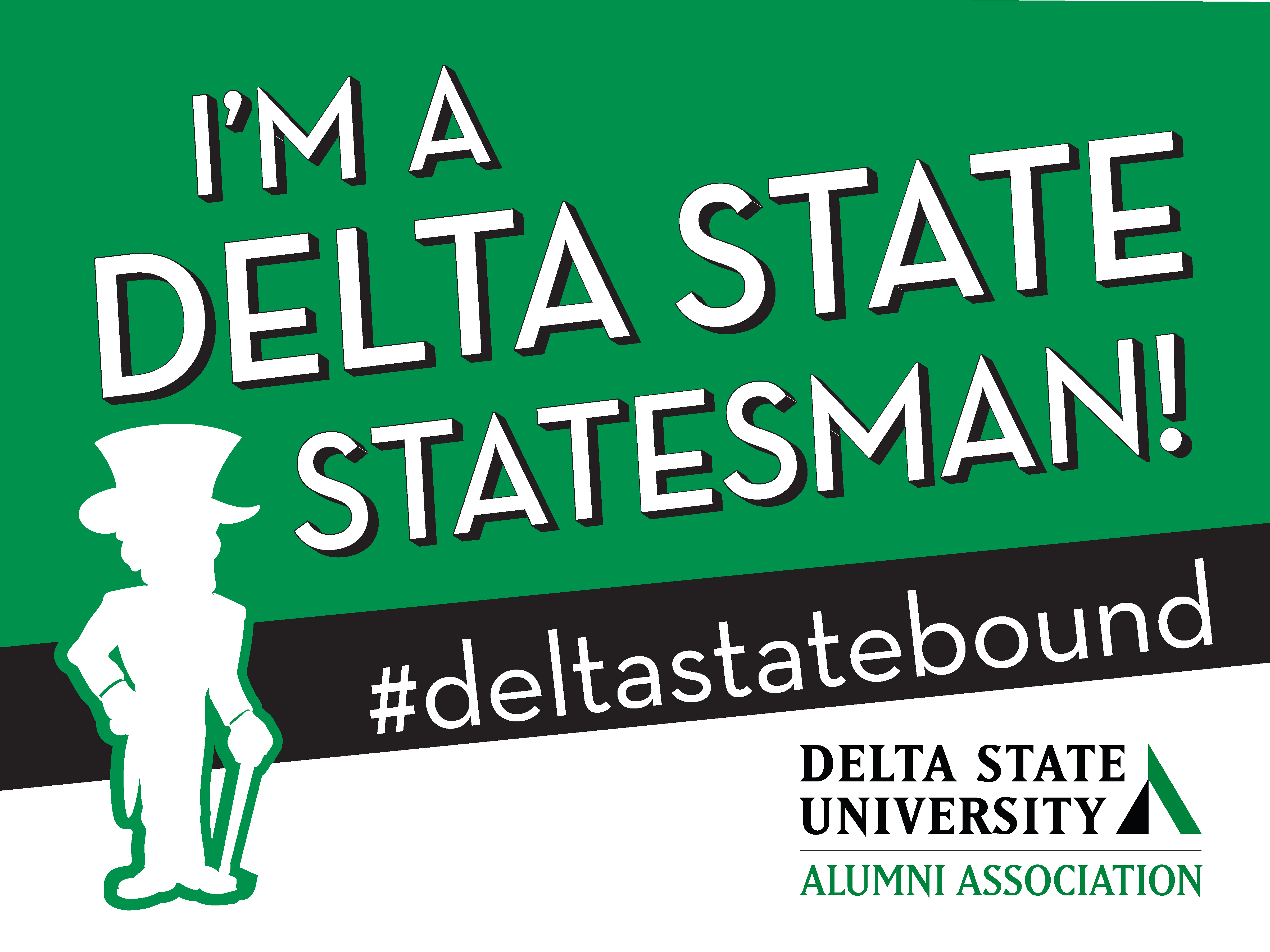 The Alumni Association will be providing signs as a gift to admitted students to place in their yard. Register to attend the event and receive yours there!