Green tie streak is aliveJust over a year ago, local media coined the nickname "Green Tie President" for William N. LaForge, the man who came to Delta State ...

Faculty involved with teacher enrichment programThe American Institute of Mathematics (AIM), one of the leading math institutes in the U.S., announced the launch of a new Math Teachers' ...

Mayors unite at Delta StateDelta State University held the first meeting of a program called the Mayors' Summit on Wednesday at the Hugh Ellis Walker ...

Video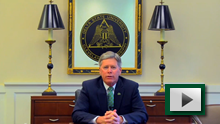 Fireside Chat
The President's Fireside Chats is a series of brief video addresses that include updates on topics related to Delta State.