Staff Council holds annual toy driveThe Administrative Staff Council at Delta State University continues to work hard at helping others this holiday season. Each year, the ...

DCCL observes cultural celebrationDr. Rolando Herts and Lee Aylward of the Delta Center for Culture and Learning at Delta State University recently participated in the ...

Winter receives honorary degreeDelta State University celebrated the 88th Commencement with a traditional ceremony and a special honorary doctoral degree presented ...

Beach named Employee of the MonthThe Delta State University Staff Council recently honored Crystal Beach, who works in procurement and property control for Delta State, as ...

DCCL hosts Puerto Rican organizationThe Delta Center for Culture and Learning provided consultation to a group of representatives from PathStone Puerto Rico Rural Innovation ...

Delta State reaffirms accreditationDelta State University received major news Tuesday with the reaffirmation of accreditation announcement by the Southern Association of ...

Video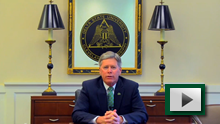 Fireside Chat
The President's Fireside Chats is a series of brief video addresses that include updates on topics related to Delta State.