Art faculty hosts exhibitionFaculty from Delta State University's Department of Art invite the public to the annual faculty exhibition with a special opening reception ...

Bowsher provides financial expertiseCharles Bowsher, former Comptroller General of the United States, shared his knowledge of American finances with the Delta State University ...

Circus Electronica coming to BPACThe Bologna Performing Arts Center  at Delta State University is bringing the excitement of Circus Electronica to the main stage Oct. 7 at ...

Students learn from GunnMississippi Speaker of the House Philip Gunn visited Cleveland City Hall Tuesday, providing an opportunity for citizens and students alike ...

Walk-a-thon for breast cancer awarenessDelta State University's B.E.E.P (Breast Education & Early-detection Project) and the College of Education and Human Science's ...

B.E.E.P. to host annual golf tournamentThe Breast Education and Early-detection Project (B.E.E.P.) at Delta State University will partner with the Derrall Foreman Golf Course at ...

Video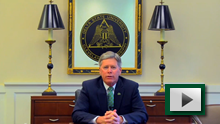 Fireside Chat
The President's Fireside Chats is a series of brief video addresses that include updates on topics related to Delta State.