GIT trains in L.A.The Center for Interdisciplinary Geospatial Information Technologies completed a two-day training course regarding the U.S. National Grid ...

Miss DSU crownedMiss Delta State University 2015 was recently crowned in the Bologna Performing Arts Center on campus. Katie Busby, a junior nursing major ...

Alumni Association set to travel to HattiesburgThe Delta State University Alumni Association announced plans for the Southeast Alumni Chapter Meeting Thursday, March 5. The event will be ...

Video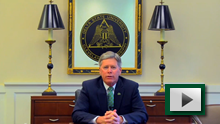 Fireside Chat
The President's Fireside Chats is a series of brief video addresses that include updates on topics related to Delta State.