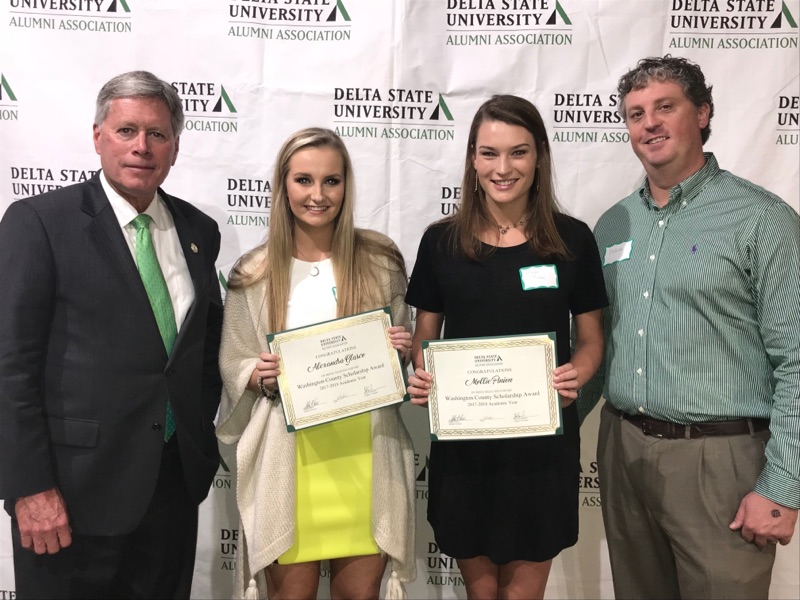 With the help of many local sponsors and supporters, the Delta State University National Alumni Association recently hosted an event in Greenville for all area alumni and friends.
On Nov. 14, the Delta's first and only tap room, Mighty Miss Brewing Company, saw over 75 people gather in the name of the Green and White Nation.
As guests arrived, they enjoyed the sounds of 'BKZ,' a very talented independent musical group, comprised of current Delta Music Institute students. Alumni and friends enjoyed brewery tours and sampled the Mighty Miss Brewing Co. selections, all crafted on site.
Delta State President William N. LaForge gave the crowd an update from campus, and some insight to future projects. Alumni Director Jeffrey Farris and Athletic Director Ronnie Mayers also gave updates.
Two local high school students were also surprised with scholarships to attend Delta State in the fall of 2018. Alexandra Glasco & Mollie Pinion, both seniors at Washington School, each received a $1,000 scholarship, courtesy of the Washington County Alumni Scholarship fund.
"We had a great time visiting and sharing stories with our alumni and friends from the Washington County area," said Alumni Director, Jeffrey Farris. "Mighty Miss Brewing Company provided a unique atmosphere, and, thanks to the dedication of our local alumni and sponsors, we are excited and proud to see two future students receive scholarships."
To learn more about the Mighty Miss Brewing Co., Click here. (https://www.mightymissbeer.com/)  Save the dates for upcoming alumni events: Onward Store (Rolling Fork Area) (Nov. 7), Brookhaven (Feb. 8, 2018), and Delta State University Pig Pickin' (Sept. 8, 2018).