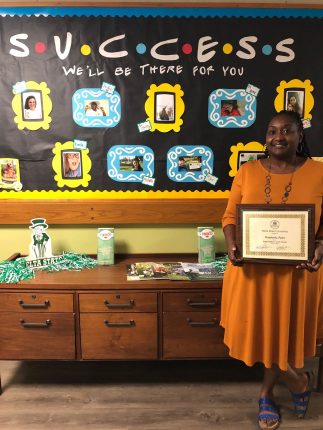 Name:  Waukesha Pates
Job title and department: Academic Support Clerk, Student Success Center
Employee of the month for what month/year:  August 2020
DSU degrees, years, majors: Master of Business Administration, emphasis in Human Resource Management ('20)
What does this award mean to you?  I am extremely honored to be receiving such an important award. I am so grateful for the recognition I have received for my work. This was truly a surprise! I want to thank the DSU family for their support and a special thank you to the Student Success family for their unconditional loyalty. This lets me know that my work and services are being valued.
What do you like best about your job?  I love being able to help students or any other visitor.  I especially love my Student Success family. Although we are not with each other every single day, it feels good to know I have them in every aspect of my life.
What do you like best about Delta State?  I can't really explain how great the DSU family has been to me, but I love the diversity and the culture of the University. I love that I was able to receive my second master's degree from DSU's College of Business and Aviation. The program was very beneficial. I love working with the Student Success team.
What do you like best about living in the Mississippi Delta? That good ol' southern hospitality and southern food, especially Fried Okra.