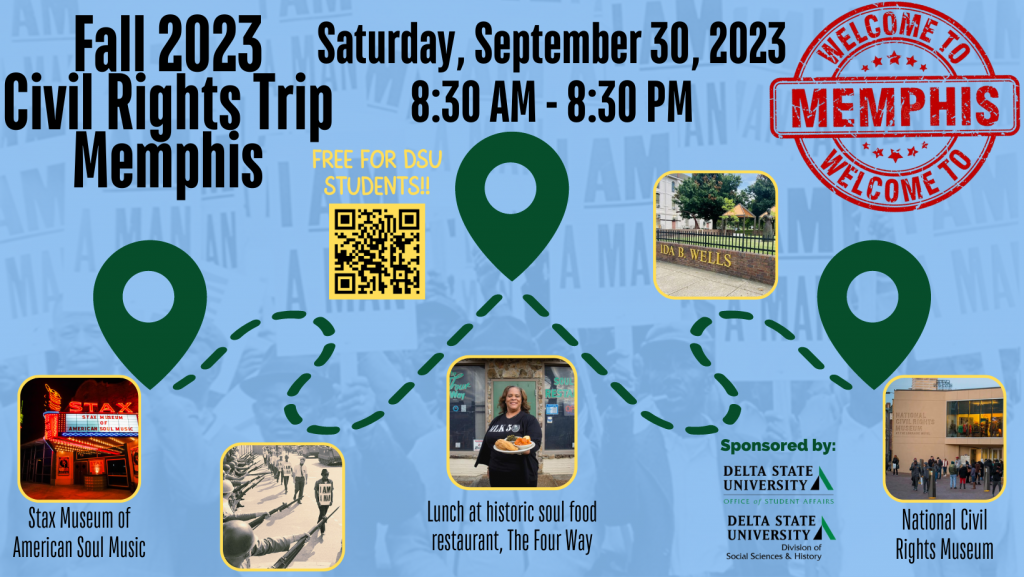 DSU students are invited to join the annual civil rights field trip sponsored by the Office of Student Affairs and the Division of Social Sciences and History. This year's trip will be to Memphis, Tennessee, to the National Civil Rights Museum and Stax Museum of American Soul Music. The trip is free for students.
 Sign up link: www.tinyurl.com/2023DeltaStateCivilRightsTrip.
 What's included:
– Transportation from Delta State to Memphis, Tennessee, and back to Delta State. We will travel in a coach bus.
– Admission to any civil rights sites, museums, and activities
– Lunch at The Four Way Restaurant (menu options in follow-up email later)
– Waters on the bus
What's not included:
– Snacks on the bus for the morning or evening — Please bring your own.
– Souvenir money or other purchases
 Deadline to sign up is Monday, September 18, 2023.