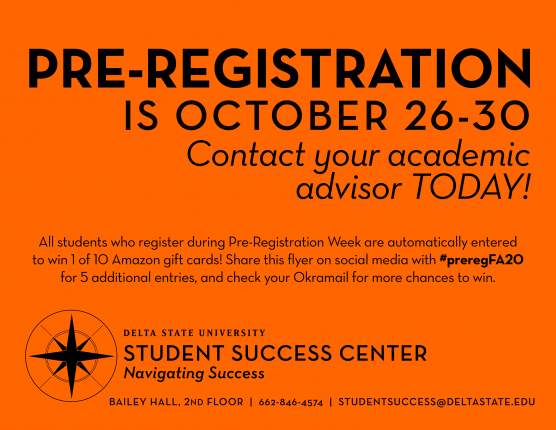 Pre-Registration Week is the first week of the registration period, set aside specifically for current DSU students. During this time, and in the weeks leading up to it, students are encouraged to prepare to pre-register by setting a time to meet with their academic advisors to discuss classes for the coming semester. All students are able to register during this time, but each student's registration period opens in order by classification:
Monday, 10/26: Seniors, Graduate Students, Honor Students, Student-Athletes
Tuesday, 10/27: Juniors
Wednesday, 10/28: Sophomores
Thursday, 10/29: Freshmen
Friday, 10/30: All Students
For more details about the Student Success Center's Pre-Registration Prize Drawing, students can check OkraMail and follow @delta_state_student_success on Instagram. For questions or assistance related to Pre-Registration, email studentsuccess@deltastate.edu or call 662-846-4577.