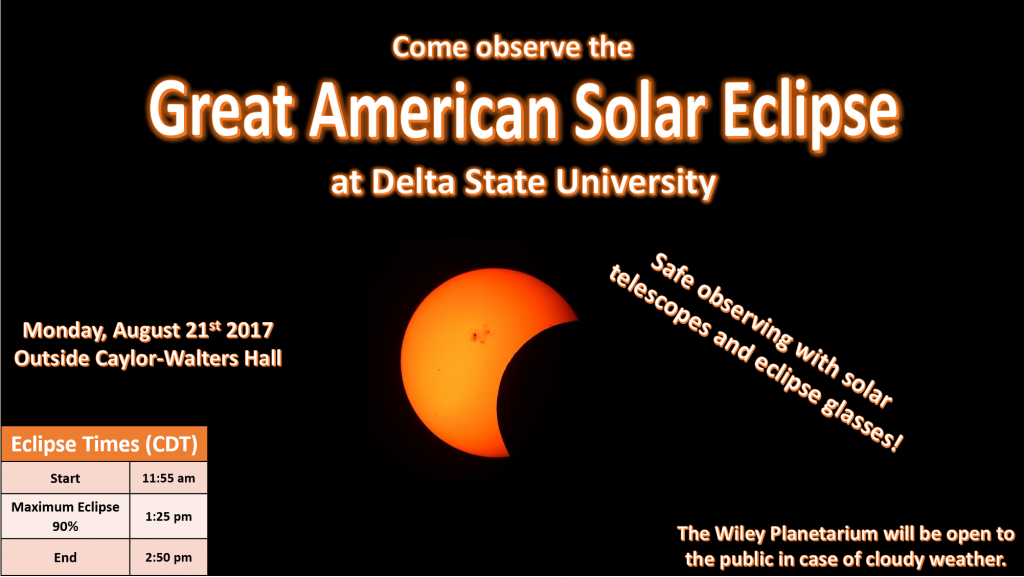 On August 21, a total solar eclipse will be visible across the continental United States. Because of the accessibility to so many people, this will likely be the most photographed astronomical event in history. The nearest major city where one could go to observe this total solar eclipse is Nashville, Tennessee.
The Wiley Planetarium at Delta State University will host an eclipse viewing event. Although the total eclipse is not visible from Cleveland, viewers will be able to see a 90 percent partial eclipse. Solar eclipse glasses and telescopes with solar filters will be available to safely observe the eclipse. Please join us any time during the eclipse outside Walters Hall on campus to observe this spectacular sight.
The eclipse will start around 11:55 a.m. and end around 2:50 p.m., with the maximum eclipse occurring around 1:25 p.m.
Note: In the event of rain or cloudy weather, people are invited to come to the Wiley Planetarium where the presentation "IBEX: Exploring the Edge of Our Solar System" will be shown.
Safety Statement:
-Never look directly at the sun, even during an eclipse, because permanent eye damage or blindness could occur.
-Never look at the sun through a telescope without a proper solar filter. Permanent blindness can occur in an instant.
-You should only observe the eclipse directly with eclipse glasses or viewers which are compliant with ISO 12312-2. Even the darkest sunglasses or other homemade filters are not safe for observing the eclipse.
Additional safety information can be found at https://eclipse2017.nasa.gov/safety.