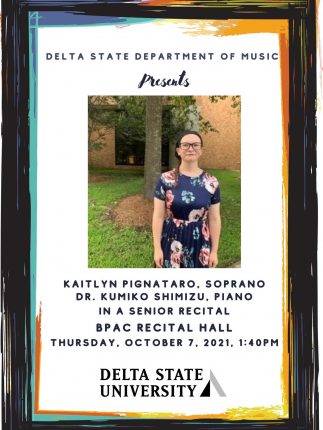 The Delta State University Department of Music will present soprano Kaitlyn Pignataro, in her senior recital on Thursday, Oct. 7 at 1:40 p.m. in the Recital Hall of the Bologna Performing Arts Center. She will be joined accompanied by pianist Dr. Kumiko Shimizu.
The public is encouraged to attend.
Since arriving at Delta State, Pignataro has been involved in choir, opera workshop, marching band and wind ensemble.
She has also served the music department enthusiastically in several ways. Most prominently, she has been the choral librarian and helped run honor choir sectionals. A high-achieving student, Pignataro has been named to the President's honor roll multiple times.
After she graduates, Pignataro plans to pursue a career as a music educator.