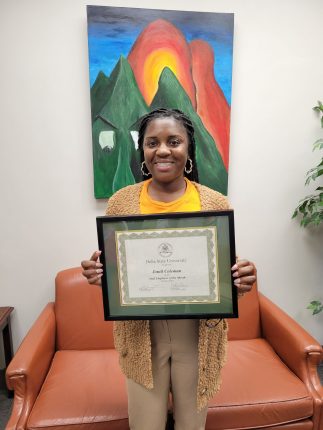 Job title, department:  Coordinator of Academic Support and Developmental Studies
Education:  Bachelor of Arts in Journalism – DSU 2016;  Master of Science in Leadership – Nova Southeastern University 2022; Educational Specialist – DSU May 2023 (pending)
Previous DSU awards:  5 Year Service Award
What does this award mean to you?
Receiving Employee of the Month was an eye-opener for me. It seems like my days merge together,
task-by-task, student-by-student, and there is never a moment where I feel accomplished. However, receiving this award really inspired me and gave me a sense of pride.
What do you like best about your job?
I love having the opportunity to empower students and motivate them through their educational journey. It is enlightening being able to give students the tools for success and seeing what they accomplish with them.
What do you like best about Delta State?
I love that DSU is family
. Over the past years, I have been fortunate to meet and bond with some of the most amazing people
.
What do you like best about living in the Mississippi Delta?
Living in the Mississippi Delta fosters a strong sense of familiarity and connection for me due to my upbringing and family history.
Something most people don't know about you?
I'm a
top-notch private investigator in my spare time.