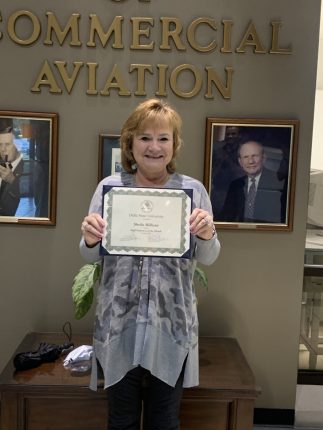 Name: Sheila Millican
Job Title, Department: Senior Secretary, Department of Commercial Aviation
Employee of the month for what month/year: October 2021
What does this award mean to you? Being chosen as Employee of the Month is such an honor to me. It is truly a privilege to be a part of this university and the family that it is. I am grateful to be recognized for the passion that I have for my role, and it encourages me to continue to go above and beyond for my co-workers and my students.
What do you like best about your job? I love working with a team who shares the same dedication to the students that I have. Together we get to watch them learn and grow and become successful, amazing adults.
 What do you like best about Delta State? Delta State feels like home to me. I have walked many miles across the beautiful campus, and I cannot imagine spending my career life anywhere else. Everyone is kind, helpful, and knowledgeable, and I am just happy to be a part of it.